Nursing@Noon Webinar Series
Join fellow alumni, experts and nursing leaders for discussions of the latest research and challenges impacting the nursing profession.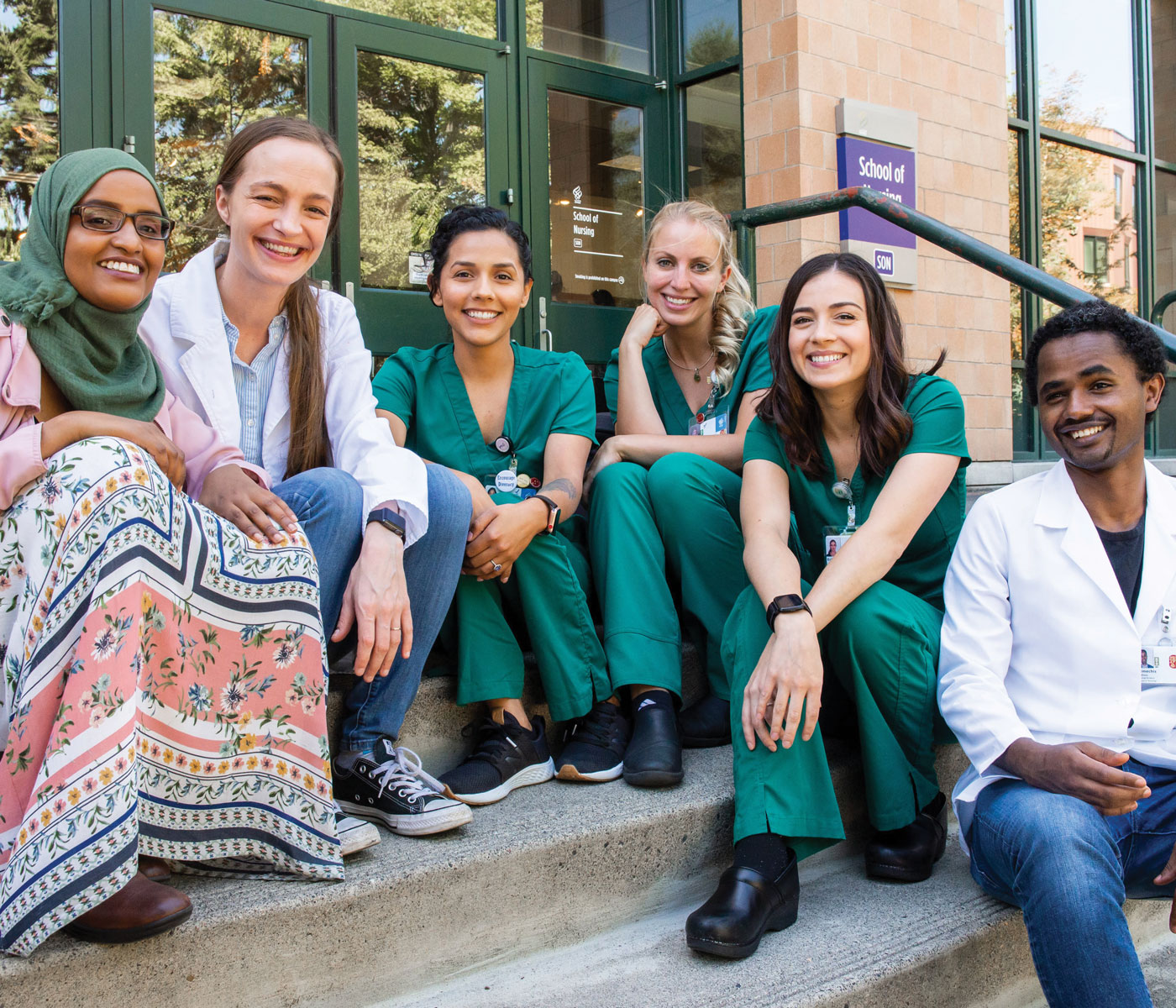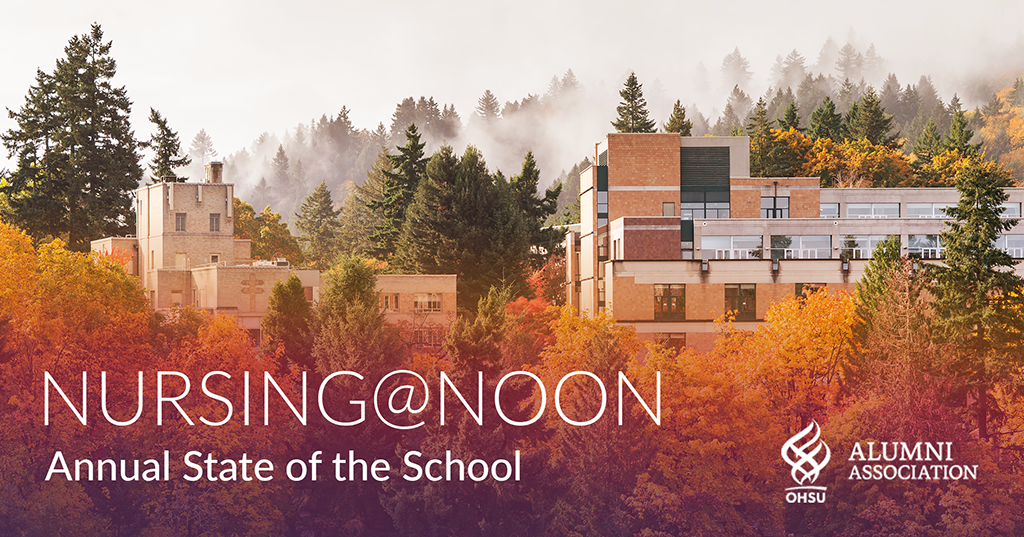 Annual State of the School
OCT 9 | NOON PST
We begin our fourth series of Nursing@Noon looking back over the past year of substantial progress and evolution at OHSU.
Join Dean of the OHSU School of Nursing, Susan Bakewell-Sachs, Ph.D., R.N., F.A.A.N. at the Annual State of the School webinar as she highlights the school's recent accomplishments and outlines areas of focus for the year ahead.
Dr. Bakewell-Sachs has served as Dean of the OHSU School of Nursing and Vice President for Nursing Affairs since July 2013. She has a clinical background as a pediatric nurse practitioner and is a nationally recognized scholar and clinical expert in the care of prematurely born infants, as well as a recognized expert in nursing education. Dr. Bakewell-Sachs is an active member and leader in several national organizations, including the Department of Veterans' Affairs National Academic Advisory Council, and served as Chair of the Board of Directors of the American Association of Colleges of Nursing 2020-2022. Dr. Bakewell-Sachs is a fellow in the American Academy of Nursing.
---
Mark your calendars for more webinars coming this fall.
Join us during your lunch hour to learn about cutting-edge research and innovative programs in the OHSU community. Details and registration information coming soon.
Nov. 13 | 6:00 p.m. PST: Henrietta Doltz Puhaty Lecture – Equity and Justice in Health and Education

Dec. 4 | Noon PST: OHSU School of Nursing Southern Oregon Street Nursing Team
---
The Inclusive Photos Project
April 10, 2023 / Noon PST
Representation matters. When students see themselves reflected in learning materials, it contributes to belonging, retention and academic success. In classes for future health practitioners, the stakes are even higher.
The inclusive photos project at OHSU aims to increase the availability of photos that depict individuals of various skin colors to help future providers develop the necessary skills to address health disparities. Join the project leaders Linda Felver, Ph.D., RN and Pamela Pierce, M.L.S., M.S. as they discuss the importance of diverse representation in learning materials for health science education.
Linda Felver, Ph.D., RN joined OHSU in 1986 and has received numerous teaching awards, including the Dr. Marsha Heims Teaching Scholar Award and the OHSU Faculty Senate Collaboration Award.
Pamela Pierce, M.L.S., M.S. joined OHSU in 2018 as the Repository Librarian. She oversees the Digital Asset Management System and cultivates relationships to develop digital collections.
Successful Aging
Dec. 12, 2022 / Noon PST
Join us for a conversation about the impacts of dementia on family care partners and people living with dementia, presented by Lyndsey Miller, Ph.D., RN. Dr. Miller will share her research examining social and relationship factors that impact the autonomy of the person living with dementia, care-related strain in their family care partners, and the health and well-being of the care dyad.
Lyndsey Miller, Ph.D., RN is assistant professor at the OHSU School of Nursing and an early career investigator with the Oregon Center on Aging & Technology. Dr. Miller received a B.S.N. from NYU and a Ph.D. from OHSU. She joined OHSU in 2018 after completing a post-doctoral fellowship in interdisciplinary aging and family health research at the University of Utah. In her current projects with the Oregon Center for Aging & Technology, Dr. Miller uses in-home monitoring technology to better evaluate behavioral interdependence in couples, dementia caregiver stress, and evolving dementia-related care needs.
Henrietta Doltz Puhaty Lecture: Advancing Health Equity Employing a Nurse-Managed Clinic Model of Care Delivery
Nov. 14, 2022, 6 P.M., PST
Nationally recognized nurse leader Dr. Gloria McNeal discusses a novel nurse-managed model of care delivery that provides primary care to under-served communities.
Often established in response to legislation increasing access to health care, nurse-managed clinics are community based primary health care services, under the leadership of an advanced practice nurse. They emphasize health education, health promotion, and disease prevention, and their target population is usually the underserved. Dr. Gloria McNeal's 40-year career in clinical, community and academic nursing uniquely positions her to discuss this innovative approach to improving access to care for at-risk urban communities.
The Annual State of the School: Accomplishments and Priorities
Oct. 10, 2022 / Noon PST
Welcome to the third series of OHSU Nursing@Noon! We begin by looking back at the successes of the past year of the OHSU School of Nursing and previewing what is to come. What are the strengths and challenges that the school needs to focus on? How will OHSU's commitment and investment increase and diversify its student body to support workforce needs? Join Dean Bakewell-Sachs as she addresses these and other timely issues during her annual State of the School address.
We Can Breathe Clearly Now: Removing Surgical Smoke from Oregon's Operating Rooms
May 9, 2022
The Centers for Disease Control recognizes the harmful impact of smoke created during surgical procedures, and the potential for transmission of bacteria and viruses, including HPV.
In this seminar we examine the multi-year advocacy to eliminate smoke from operating theaters in Oregon. These efforts culminated in the passage of Oregon House Bill 2622 in 2021, making Oregon only the fourth state in the U.S. to mandate smoke-free operating rooms.
Microaggressions in Clinical Medicine
April 11, 2022
Microaggressions can undermine carer-patient relationships, preclude relationships of trust, and compromise the kind and quality of care that patients deserve.
Understanding the harm microaggressions cause in clinical medical contexts is an area of research focus for Dr. Lauren Freeman, associate professor in the department of philosophy at the University of Louisville.
Dr. Freeman will discuss her work and offer ways in which carers can actively work to avoid committing them.
Caring for Patient and Provider in a Learning Organization
March 14, 2022
Empowering individuals to create the results they desire and think in new and expansive ways isn't just beneficial to patient care. Providers, too, benefit from an environment where everyone is continually learning to learn together.
OHSU School of Nursing 2020 Alumna of the Year Dr. Nicole Bennett and business partner and fellow OHSU School of Nursing alumna Anna Long discuss the practice environment they have created at Willamette Health & Wellness to establish a true learning organization that serves and supports both clients and providers.
Trauma-Informed Education: Influence and Impact
Jan. 31, 2022
The impact and influence of trauma on the learning process have only recently become a focus of scholarly research. Is learning impacted by trauma experienced by learners and teachers? Can the educational environment be structured to better acknowledge and address the impact of trauma in learning? How does equity intersect with trauma and can the trauma-informed framework ensure the learning environment is equitable and inclusive for students, faculty, and staff?
Join us as Dr. Rana Najjar, Associate Professor at the OHSU School of Nursing Monmouth campus, addresses these questions and presents the evidence using Trauma-Informed Equity-Centered Education.
Oregon Primary Care Transformation: Expanding Roles for Nurses on Primary Care Teams
Dec. 13, 2021
Patricia A. Barfield, PhD, PMHNP-BC
Building on a growing demand for community-based nursing, the OPACT program expands the primary care nursing workforce by recruiting and educating nursing students, nurses, and community partners to fill essential roles as primary caregivers in community settings.
This practice evolution recognizes and establishes RNs not only as providers but as essential members and leaders within primary care teams.
Creating the 21st Century Nursing Workforce: Building on Our Strengths to Address Post-Pandemic Health Needs
The 2021 Henrietta Doltz Puhaty Lecture
Nov. 8, 2021
Peter I. Buerhaus, PhD, RN, FAAN, FAANP(h)
Leading health care economist and nurse Dr. Peter Buerhaus is well known for his studies on the nursing and physician workforces in the United States.
As a member of the National Academy of Sciences National Academy of Medicine Committee on the Future of Nursing, 2020-2030, Dr. Buerhaus stands squarely in the foreground of thinking about the role of nurses in post-pandemic health care.
The State of the School
Oct. 18, 2021
Susan Bakewell-Sachs, RN, PhD, FAAN – Dean, OHSU School of Nursing
Over the course of a year like no other, the OHSU School of Nursing has continued to fulfill its clinical, educational and research missions with distinction.
Join Dean Susan Bakewell-Sachs as she highlights the School of Nursing's accomplishments and extraordinary responses to the unique challenges of our time.