Establish an Endowed Fund
Endowed funds are critically important to OHSU's goals of attracting and retaining the most talented people and supporting the types of programs that exemplify the institution's missions.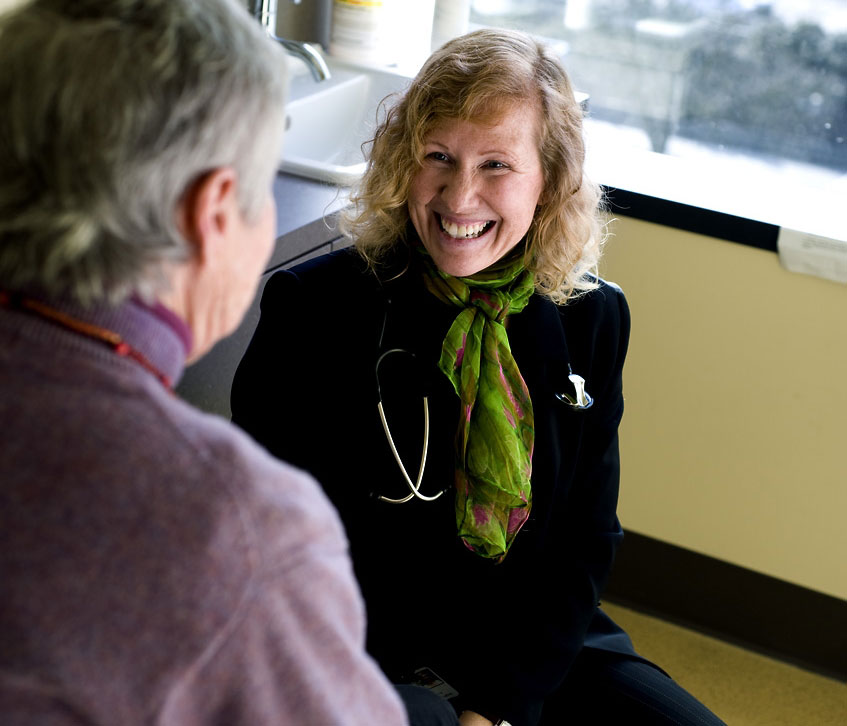 Endowments are forever
In today's competitive academic market, nothing is more powerful than an endowed position to attract exceptional candidates, or to honor our most accomplished current faculty. Endowed support provides a leader with professional prestige, financial sustainability, and the ability to focus their time on research, new discoveries and mentoring. An endowed, named faculty position also promotes globally, through the recipient's professional activities, the donors' generosity and commitment to health and knowledge.
Not all endowed funds support faculty positions. Donors may also choose to name a scholarship, a scholar, or a research fund – even a lab.
Whether it's a chair, a professorship, a scholarship or an innovation fund, donors can feel proud knowing that their gift will continue to provide support in perpetuity to the area they care the most about.
Endowed funds
Provide stable, long term financial resources for OHSU
Provide a legacy for donors, or someone they choose to honor
Fund critical priorities such as faculty support, research, educational scholarships and patient care
Pictured above: Elizabeth Eckstrom, MD, holds the Helen Jo Whitsell Endowed Professorship in Geriatric Medicine in the School of Medicine
Endowment Fund Types
| Fund Type | Investment |
| --- | --- |
| Leadership Position | $5 million |
| Chair | $2.5 million |
| Professorship | $1 million |
| Program Director | $500,000 |
| Scholar | $500,000 |
| Graduate Scholar | $500,000 |
| Laboratory | $500,000 |
| Department/Division Opportunity Fund | $250,000 |
| Faculty Support Fund | $250,000 |
| Innovation Fund | $100,000 |
| Scholarship, Program Support or Awards | $50,000 |
Contact Us
Interested in establishing an endowed fund? Or want to learn more?
Frequently Asked Questions
What is an endowed fund?
An endowed fund is a permanent fund established for a specific purpose by a donor. The assets of the fund are invested to provide earnings that are paid annually in perpetuity to benefit an OHSU program. Each year any remaining income, beyond the annual spending distribution to OHSU and the endowment management fee, is re-invested to preserve and grow the original gift to sustain a legacy for future generations. The management of endowed funds is governed by Oregon law. A quasi-endowed fund is one that the OHSU Foundation Board of Trustees, rather than a donor, temporarily restricts or pools for investment purposes.
Who benefits from an endowed fund?
An endowed fund may support a specific OHSU school, department, research institute or program. It also may support specific positions or purposes such as a faculty professorship or chair, scholarship or fellowship, research activity, visiting lecturer or patient care. An endowment established as a named fund (as designated by the donor) also may create a perpetual legacy for the donor or someone the donor wishes to honor.
Who administers OHSU's endowed funds?
The OHSU Foundation's Department of Finance and Administration provides the day-to-day administration of OHSU's endowed funds. The foundation's investment committee, consisting primarily of OHSU Foundation trustees, provides policy oversight and strategic direction for managing the funds. The board's investment committee contracts with a professional investment consultant for additional expertise, and all investments are managed by professional fund managers. Endowed funds are held and managed by the foundation to meet defined goals, policies and objectives. These policies are set by the board of trustees based upon recommendations of the investment committee. (These policies are available on request.)
What portion of endowed funds goes toward management and operations?
In accordance with standard industry practices, the foundation assesses an annual fee to help pay for the management of endowed funds. The current fee, set by the foundation's board of trustees, is 1.6 percent of the market value of the total pool of endowed funds based on a three-year moving average. This fee covers the administrative costs associated with running a perpetual endowment program.
The revenue generated by this fee helps support OHSU Foundation operations. This funding model is evaluated annually by the foundation's trustees.
How are endowment funds distributed?
For investment purposes endowed funds supporting OHSU are managed together in an endowment pool. The current spending distribution rate as set by the foundation board is 4.5% and is calculated using a weighted average methodology (further details are available upon request).
Investment income is available for spending by account holders 12 months after the endowment's funding goal has been reached. Should the endowed fund become underwater at some point (meaning the current fund value falls below the original principal value), the OHSU Foundation will continue to distribute funds in accordance with the Oregon Uniform Prudent Management of Institutional Funds Act unless requested to suspend further distributions by the donor or at the discretion of Foundation officers.
What is the OHSU Foundation doing to increase endowment gifts?
The OHSU Foundation works closely with donors and potential donors to establish long-term endowment gifts that provide meaningful support for key OHSU programs. The foundation's planned giving and development staff members collaborate with attorneys and financial advisers throughout Oregon to help inform potential donors about the benefits that endowments can provide both to OHSU and to donors.
How are OHSU's endowed funds performing?
While the endowed funds for any institution fluctuate with economic and market conditions, over the long term the endowed funds for OHSU have performed extremely well. With continued prudent financial management and the generosity of OHSU supporters, endowed financial support provided for OHSU accountholders will continue to grow.