Casey is thrilled to announce that a new influx of philanthropic investment is making it possible to reach more Oregonians, faster, with sophisticated diagnostic testing and treatments. Heather Killough and the Roundhouse Foundation made significant gifts targeted at enhancing the Community Outreach Program.
"Even the most brilliant scientific breakthrough in diagnosis or treatment is meaningless if it's not accessible to everyone who needs it. The gifts from Heather Killough, the Roundhouse Foundation and others, make it possible to build upon the momentum we've built over the last 10 years and bring the very best services to all Oregonians," said David Wilson, MD, Paul H. Casey Chair, Department of Ophthalmology, Casey Eye Institute.
The new funding will expand the Community Outreach Program by: Building expertise at the local level; using technology to deliver instant expertise, anywhere; and purchasing a new mobile clinic and refurbishing the original mobile clinic.
Building on a decade of success
A little more than 10 years ago, the Casey Eye Institute and its supporters decided it was time to invest big in prevention. Most blinding eye disease is highly preventable — but only if people have access to timely, accurate diagnosis and good follow-up care.
Not all Oregonians could travel to Portland for specialized care — it was time to take Casey's expertise on the road. With the help of the Oregon Community Foundation, Schnitzer Steel and private philanthropist Heather Killough, Casey launched its Community Outreach Program, which now sends a specialized 33-foot mobile eye clinic throughout Oregon to provide free eye exams.
Over the past 10 years, Casey has built an incredibly strong network of nearly 80 health care partners from every corner of the state. It has provided its patients with crucial services, and they have in turn given Casey important insights into what their communities need. Over the years, it became clear that, to stop preventable blindness in Oregon, Casey needed to find a way to deliver eye care locally on a continual basis — an annual visit from the mobile clinic was not enough.
Casey's community partner agencies agreed — they want to be able to provide basic vision screening and treatment in their own communities. In response, Casey's outreach team devised an innovative three-part plan that is now moving forward, thanks to philanthropy.
Part one: Enhancing expertise at the local level
There is mounting evidence that community health workers (CHWs) can bridge the gap between urban health care experts and rural communities. CHWs understand their local communities, and the unique barriers to care. Casey is building on our existing network of community volunteers by training and certifying CHWs to provide preventive education, diagnostic exams, and follow-up care in their home communities. When the mobile unit arrives, these local partners will have already identified people at risk, making it possible for Casey experts to spend their time following up with patients who need a more definitive eye exam.
Part two: Using technology to deliver instant expertise, anywhere
Thanks to advanced imaging technology, it is possible for Casey experts in Portland to provide real-time advice and advanced diagnostic tests when their rural colleagues request help. Casey experts in imaging, big data and other areas are transforming the field of ophthalmology, and are eager to make this expertise more widely available.
Part three: Purchasing a new mobile clinic
In the fall, a new mobile clinic equipped with several new features will allow Casey to provide even more accurate exams. The new clinic will include:
Two private exam areas to accommodate more patient exams in a shorter amount of time
A stand-alone imaging lane, which will make room for more diagnostic equipment and increase patient privacy
Space for the iScan Comprehensive OCT system, a diagnostic tool that can detect sight-stealing conditions like glaucoma
Refurbishing the original mobile clinic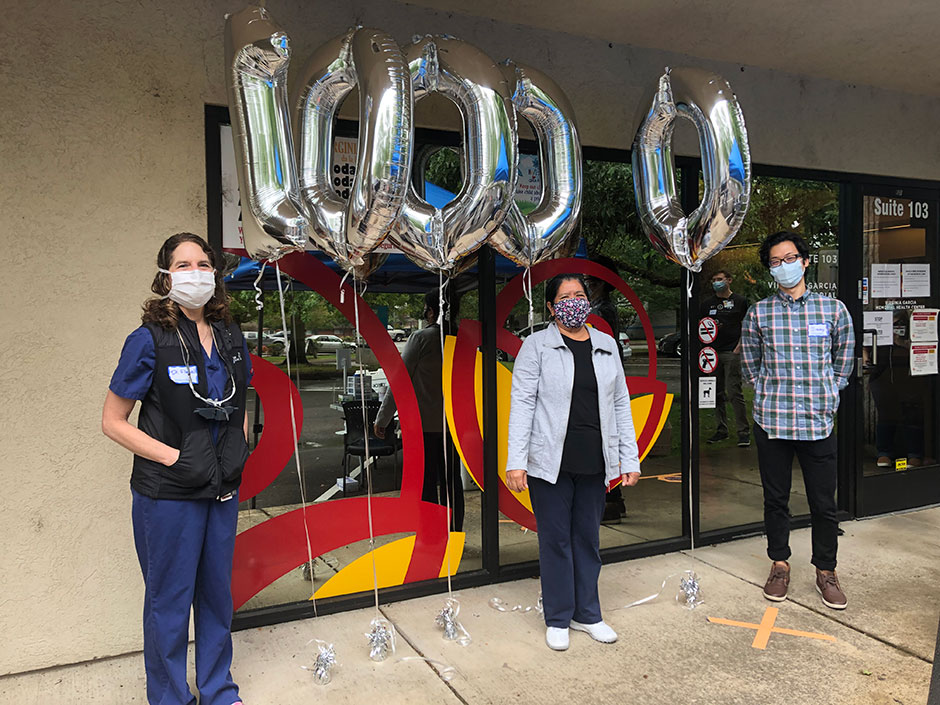 Ten years and 10,000 free eye exams
Since its inaugural voyage in 2010, the mobile eye clinic has crisscrossed Oregon from the state's most remote corners to Portland's urban core, providing:
Free screenings for more than 10,000 adults
More than 265 vision clinics
Referral services for over 2,303 adults who may have serious vision problems
Over 5,800 prescription glasses to participants
Taking it to the people
Our donors make it possible for us carry out our most ambitious plans, and fill significant gaps in Oregon eye care. While there are many vision screening programs for Oregon's children, there are few for low-income adults, for whom Medicare vision coverage is extremely limited.
"These services are really important because I work a full-time job but still unable to afford vision care. I have never had my eyes checked and noticed a change in my sight. Today is a first step to a better life," a patient said.