Two weeks. That's all it took for Donna Hansel, MD, PhD, and her team, together with colleagues at the OHSU Vaccine and Gene Therapy Institute, to build, stock and staff a new clinical testing laboratory for COVID-19 — all from scratch.
The brand-new microbiology lab enables OHSU researchers to process COVID-19 tests in-house, for faster results and increased testing capacity.
"Our focus has been to develop and perform COVID-19 testing on swabs, saliva and blood in order to keep our patients, health care providers and community safe," Hansel, professor and chair of pathology and laboratory medicine, said. "We hope our efforts contribute to the overall statewide effort to reduce the spread of COVID-19."
Ultimately, the lab will play a vital role in giving public health officials a more accurate picture of the community's true infection rate.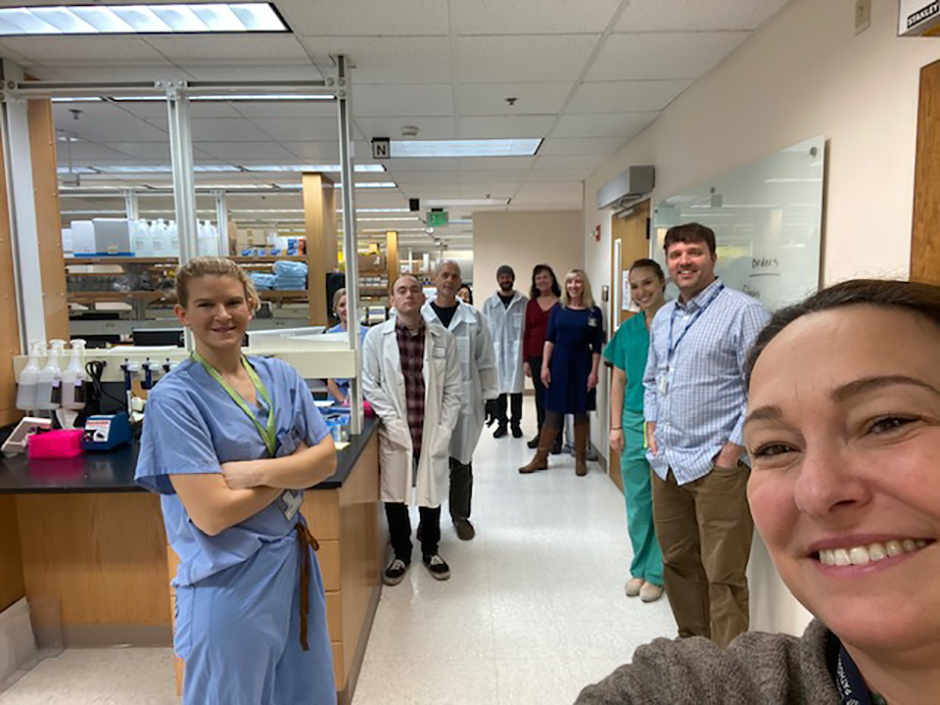 A team effort
The effort to get the lab up and running began in late February with a flurry of phone calls and emails between OHSU research and pathology staff determined to rally behind their clinical colleagues on the frontlines of the COVID-19 response.
At the time, no commercial tests would be ready until April. Guang Fan, MD, PhD, associate medical director for OHSU laboratory medicine, feared that might be too late. So Fan, Hansel, and OHSU Vaccine and Gene Therapy Institute Director Jay Nelson, PhD, and Dan Streblow, PhD, an associate professor at the Institute, pulled together their time, resources and expertise to build the testing lab.
"Our team is working day and night to expand testing and report results because they know what a difference it makes."
The lab is the result of a volunteer effort powered by people from all areas of OHSU eager to aid in the COVID-19 response, including pathology, hospital and School of Medicine administration, basic scientists and housekeeping. Their efforts ranged from finding space to acquiring the often scarce materials necessary for testing.
On one of the last days staff were allowed on campus, a request went out for labs to volunteer their time and any extra materials. The response was overwhelming: By the next morning, more than 800 people had responded.
"I've been so inspired by how much everyone in the OHSU community wants to help in the fight against COVID-19," Hansel said. "Our team is working day and night to expand testing and report results because they know what a difference it makes. Every day, there is a new offer to help. It's incredible."
The impact of testing
At a time when it is still taking a week or more to obtain test results from commercial laboratories, OHSU's lab can usually get results in less than 24 hours. In especially urgent cases, such as someone needing an immediate organ transplant, the lab can process tests within an hour.
Launched on March 24, the lab initially focused on testing for critically ill patients at OHSU. As capacity expands, it will serve a broader group of people.
The lab was supported by the $7 million gift from Phil and Penny Knight and Nike leaders to accelerate efforts to contain, diagnose and treat COVID-19.
In-house testing is one component of OHSU's strategies contributing to statewide efforts to flatten the curve. In an effort to further increase testing capability, OHSU has also established drive-through testing sites at the Gordon Farber Recreation Center in Hillsboro and the Expo Center in Portland for first responders and OHSU Health patients with COVID-19 symptoms.
Hansel says that testing is one part of the solution in the fight against COVID-19 — and that it's important for all of us to unite in slowing the spread of the virus.
"We won't be able to fight this disease alone," Hansel said. "It's not about one person, one lab, one institution, one state or one country. It's about all of us working together to find the solution."