Serena Mott, RN, answers at least 60 phone calls a day. A 2006 graduate of the OHSU School of Nursing, her background includes medical-surgical and resource nursing. In August 2020, she joined the COVID-19 Connected Care Center.
"I was wary about making a change, but we've never done anything like this before. We are all experienced nurses, all having to learn together. It's a positive, supportive place," she said.
That place is actually multiple remote locations; Mott, like most of her colleagues, works from home, using a desktop computer, headset, and a virtual private network (VPN) setup on her phone, which keeps caller information secure. She and the other nurses — about 12 per shift — use a chat software to communicate with each other.
In March 2020, anticipating a surge in questions regarding COVID-19, the Andrew and Corey Morris-Singer Foundation donated $1.6 million to OHSU to expand access to health care professionals. Shortly thereafter, OHSU unveiled the toll-free hotline for people anywhere in the state to seek guidance about symptoms and care for COVID-19. The generous grant allowed OHSU to increase staffing for the hotline and associated telemedicine services.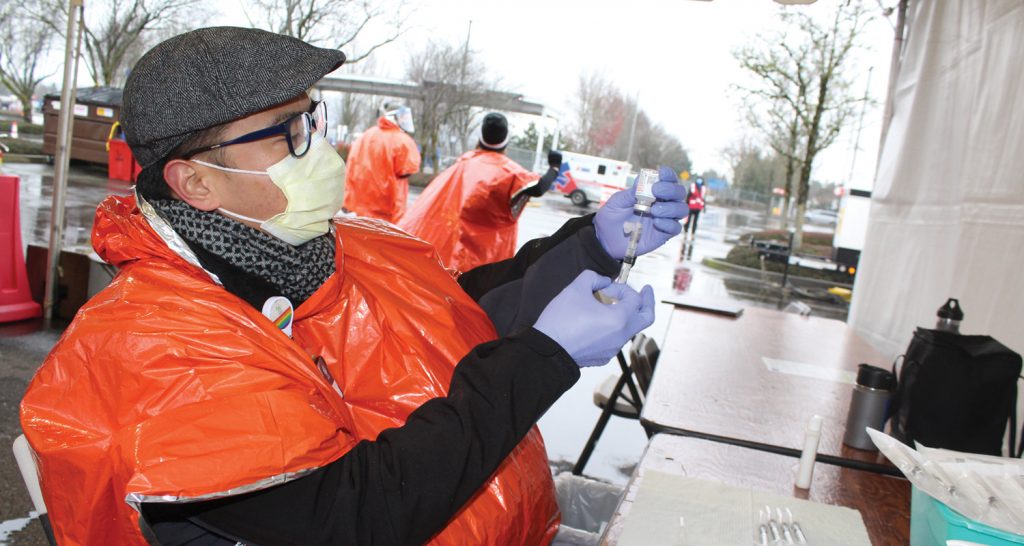 When Mott first joined the Center, she explained, many of the calls she fielded involved COVID-19 testing: where callers could get tested, or calling people with positive test results (most negative test results were sent to MyChart, with nurses calling those who did not use MyChart) and then advising them on next steps in their care. Sometimes she wrote letters to patients' employers explaining the need for quarantining. Or she helped callers access virtual visits with providers. Nurses also have information about health resources by county as well as options such as financial services that can assist patients.
James Christensen, RN, is a charge nurse at the Center who works closely with Mott. He remembers helping a patient who lacked housing who'd tested positive for COVID-19 in the middle of the winter. "We were able to get breathing medication to the patient and get them into a hotel while they were isolated and recovering, and contact their local food bank and make sure they had basic needs met," he said. "We're proud of being able to take care of patients in that way."
Assessing how sick a person is can be difficult over the phone. When face to face, someone might say they aren't in pain, but their limp tells a different story. Nurses at the COVID-19 Connected Care Center must quickly evaluate a situation by knowing what questions to ask and how to encourage callers to share crucial details. Sometimes they ask open-ended questions like, "Can you tell me more about this?" Or if someone has a cough, they ask when it started or what it feels like.
"If you need us, call us. We're here to keep you and the community safe."

Serena Mott, RN
Mott and the Center's other providers are often the initial contact when someone's ill and doesn't know what to do — even if it's not COVID-19.
"Sometimes people don't understand how sick they are," said Mott. "They need to be told to go to the emergency department. I treat callers like they're my family: I would want my family to err on the side of getting care."
Lately callers are now more likely to ask questions about vaccines: availability, scheduling or side effects. Sometimes simply the fact that they're speaking to a real and knowledgeable person quells callers' anxieties.
"We don't just tell callers to go on the website. We stay on the phone with them. People want to have their concerns heard — even if they already know the answer. Connection brings hope," Mott said. "If you need us, call us. We're here to keep you and the community safe."