Oregon Health & Science University researchers are developing an entirely new approach to scientific imaging to learn how the seemingly random movements of tiny molecules are actually a well-orchestrated operation at the center of how cells work.
The W. M. Keck Foundation has awarded research duo Catherine Galbraith, Ph.D., and James Galbraith, Ph.D., $1 million over three years to develop a one-of-a-kind imaging and computational system. Their system will seek to decode molecular aggregates — collections of proteins or ribonucleic acid that frequently rearrange inside cells and are involved in cellular information processing.
The W. M. Keck Foundation's research grants support scientific projects that are distinctive and novel in their approach, question the prevailing paradigm, or have the potential to break open new territory in their field.
Despite more than 100 years of study, the dynamic organization of the insides of cells remains a mystery. About 10 years ago, scientists discovered that proteins inside cells organize without membranes, the thin layers that usually encase cellular organelles. Instead, these proteins organize by forming phase separations, similar to oil droplets in water.
Many researchers are now convinced that phase separations are part of a more general class of molecular aggregates that are key to cellular processes, such as reading DNA and making proteins, as well as immune responses and even the reproduction of SARS-CoV-2 virus. Improperly functioning phase separations may lead to protein accumulations that underlie diseases such as Lou Gehrig's, Alzheimer's, Parkinson's and some cancers.
Until now, the study of molecular aggregates has largely been based on first-hand observations: Conventional imaging technologies can't zoom in close enough to decipher individual molecules within aggregates, let alone track their rapid movements within cells.
"Better understanding of how these small variations in molecular organization control physiology and lead to disease could lead to better therapeutic targets."

Catherine Galbraith, Ph.D.
The Galbraiths will use the W. M. Keck Foundation grant to develop a new type of microscope that can accurately measure the individual proteins and molecules as they assemble into groups inside a cell. Their system will also use deep learning to evaluate the resulting images and precisely track the biomolecular steps that proteins take to form aggregates and pinpoint how those steps are tied to specific cellular functions.
"The impact of this work generously funded by the Keck Foundation will be far-reaching for understanding how phases regulate physiology and disease. Instead of identifying a phase as something that looks and behaves like an oil droplet in water, we will be able to see individual molecules coalescing into an aggregate," said James Galbraith.
"We will be able to connect the aggregates to specific cellular outputs while, at the same time, capturing the heterogeneity of the molecular landscape throughout the cell interior. Better understanding of how these small variations in molecular organization control physiology and lead to disease could lead to better therapeutic targets," said Catherine Galbraith.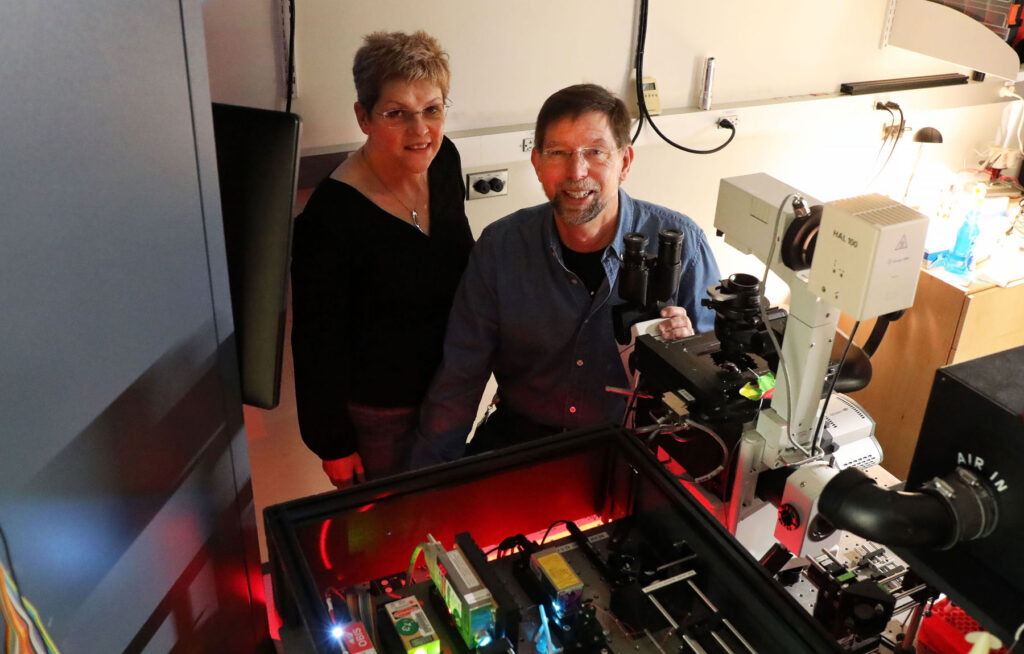 Both Catherine and James Galbraith are associate professors of biomedical engineering in the OHSU School of Medicine, and Discovery Engine Investigators with the OHSU Knight Cancer Institute. They were recruited to OHSU in 2013 from the National Institutes of Health, where they collaborated with Nobel Laureate Eric Betzig, Ph.D., on the development of live-cell super-resolution microscopy.
About the W. M. Keck Foundation
The W. M. Keck Foundation was established in 1954 in Los Angeles by William Myron Keck, founder of The Superior Oil Company. One of the nation's largest philanthropic organizations, the W. M. Keck Foundation supports outstanding science, engineering and medical research. The Foundation also supports undergraduate education and maintains a program within Southern California to support arts and culture, education, health and community service projects.
This story was originally published on the OHSU news hub.
Photo at top: A laser system used to shine the light on molecules inside of cells in the Galbraith's lab at the OHSU Robertson Life Sciences Building. Thurs., Jan. 20, 2022. (OHSU/Christine Torres Hicks)