Meet Sudarshan, Amy and Naoki. These three young OHSU Knight Cancer Institute researchers are focusing on how immunotherapy and precision therapies might change the cancer world.
Each of the OHSU researchers are making real progress in better understanding how immunotherapies and precision therapies — focused on individual characteristics of a person's cancer — might fight tumors. Here is more about their work, and their dreams for beating cancer, in their own words.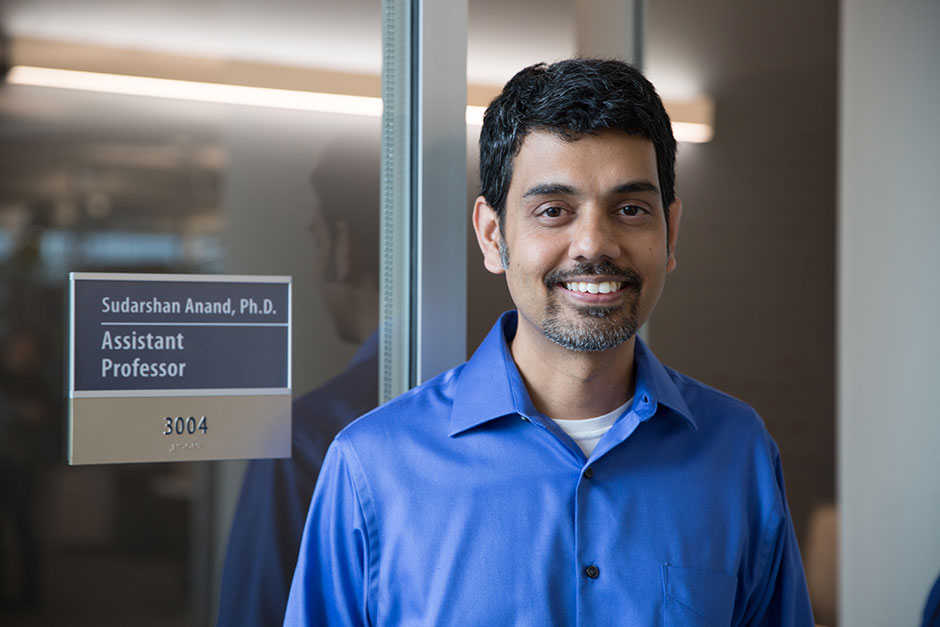 Sudarshan Anand, PhD
Sudarshan Anand, PhD, is an assistant professor of Cell, Developmental & Cancer Biology in the OHSU School of Medicine and a member of the Knight Cancer Institute. His research focuses on understanding how cells that aid and abet cancer growth — especially blood vessel cells — respond to agents that damage DNA, like chemotherapy and radiation. A greater understanding of these processes can give scientists clues as to why specific therapies work in specific cases — or don't — and how to better fight the tumors.
Anand earned his PhD in immunology at Johns Hopkins University, and was a post-doctoral scholar and research scientist at Moores Cancer Center at the University of California San Diego before joining OHSU in 2014.
"Immunotherapy is now making a huge difference for a number of cancers, resulting in some fantastic responses. The problem is these new immunotherapies only work for a fraction of patients. What we're trying to do now is figure out a way to increase this fraction. We manipulate something called microRNAs within the tumor blood vessels to attract immune cells to these tumors.
I'm really excited about immunotherapy. I think it's going to change the lives of thousands of patients. It is already doing that, but I think it's going to expand.
One of the things that really attracted me to OHSU was how collaborative this place is. There is easy access to a wide range of experts. There is a spirit of shared credit, and there are no hierarchies.
At many institutions, generally there is a pecking order on who gets the first dibs on human tissue for research, for instance. I find that is rare here. It's equal opportunity. Anybody with a good idea and with a vision of how they want to do good science has that opportunity.
I'm a very optimistic person, but I think the funding climate makes federal research dollars highly competitive. Only 10 to 20 percent of grants get funded. That's why private and other non-federal funding can be so important. Even forty or fifty or sixty thousand dollars can make a big difference.
I'm very, very fortunate that we got two pilot grants from the Knight Cancer Institute for $50,000 each — the Barbara Ann Miller Pilot Project Award, which was made possible by Eugene Dive Club's Dive for a Cure, and The Hillcrest Committee Award. We also received a $40,000 grant from the Medical Research Foundation, administered by the OHSU Foundation.
These pilot grants helped us generate data that convinced the National Institutes of Health to give us two five-year grants this summer. So now we're in good shape. But if we had not had those $40,000 or $50,000 pilot grants, we would have been limited in the scope of our science and may not have won those bigger grants."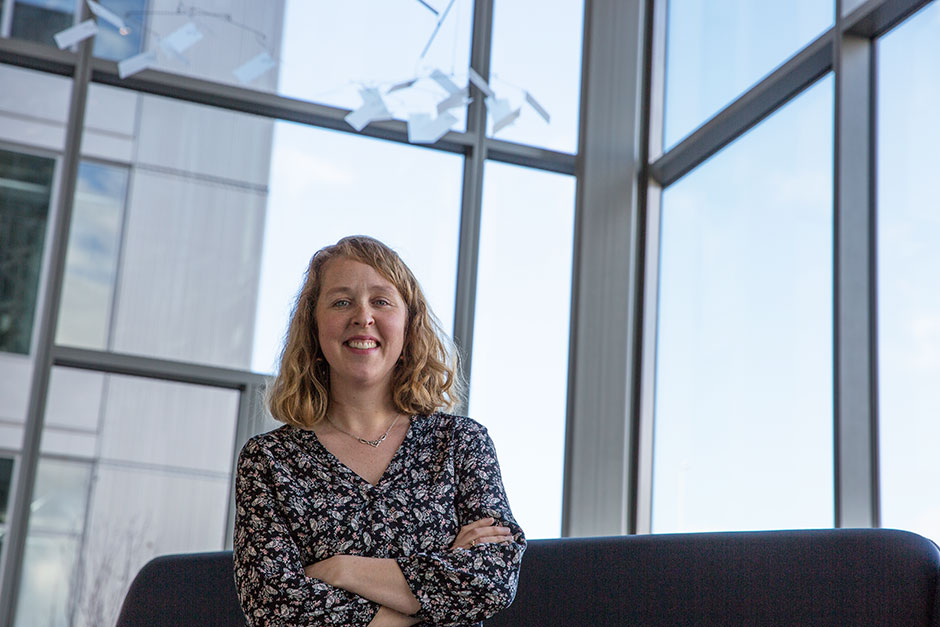 Amy Moran, PhD
Amy Moran, PhD, is an assistant professor of Cell, Developmental & Cancer Biology in the OHSU School of Medicine and a member of the Knight Cancer Institute. Her research focuses on understanding the action of white blood cells called T-cells within the microenvironment of prostate cancer. Understanding this environment may lead to better immunotherapy treatments for this disease.
Moran earned her PhD in microbiology, immunology and cancer biology at the University of Minnesota and performed post-doctoral research at the Earle A. Chiles Research Institute. She joined OHSU in 2017.
"My uncle, who died of metastatic prostate cancer in 2011, was known for always wearing a prostate cancer research awareness bracelet. I saw him on the day he passed away and took the bracelet from his wrist, making a commitment to myself and my uncle that this would be a disease I would seek new treatments for over the course of my career.
I came to OHSU in large part because of the opportunity to do translational research and the energy of the clinicians here to cooperate with basic scientists. Lisa Coussens has built a department here that is tightly interwoven with clinicians, and she encourages collaboration and communication between physicians and scientists.
This translational research space is my 'true north.' Is the science enjoyable and are we learning something? Do I have an opportunity to share what we're learning with the clinicians here to impact patient care?
With our combination therapies — chemotherapy and radiation, along with immune-based therapies and therapies that target small molecules in the cancer — we have so many more treatment options to really delay tumor growth. In many ways, cancer is almost more of a chronic disease now as compared to 20 years ago. That's actually hopeful — because that buys time for another big breakthrough.
Some of these breakthroughs are started with philanthropic donations to scientists. The NIH funding climate makes it difficult to pitch high-risks ideas in grants and therefore, these ideas are initially funded by local, philanthropic donors.
We had a successful project, funded by the Collins Medical Trust, that helped us perform single-cell RNA sequencing of white blood cells in metastatic lesions of prostate cancer patients. It was an incredibly high-risk project — and it launched my ability to go compete for NIH dollars.
My lab has the luxury of taking big risks with philanthropic donations. And that's where we have made some big breakthroughs."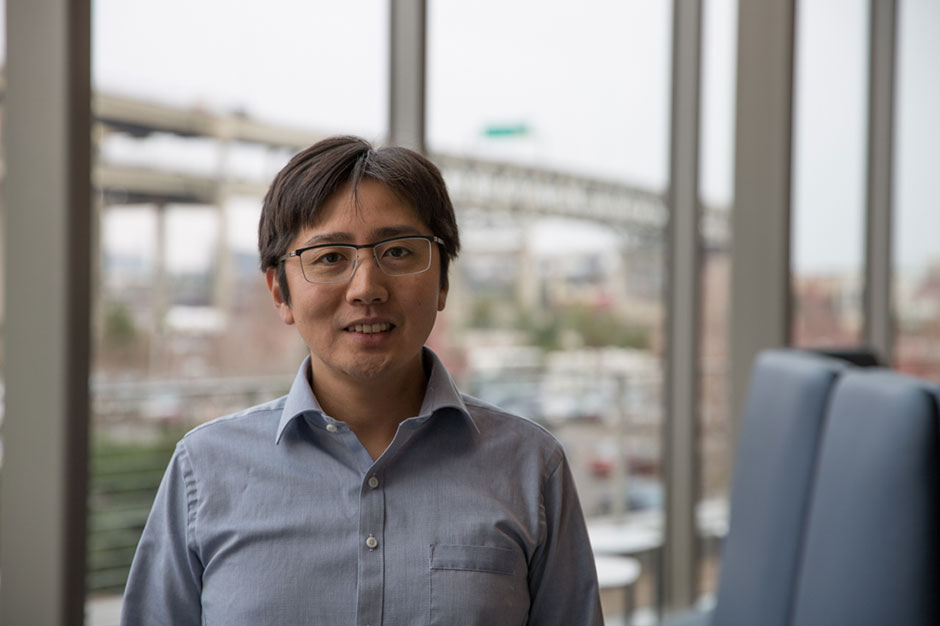 Naoki Oshimori, PhD
Naoki Oshimori is an assistant professor of Cell, Developmental & Cancer Biology in the OHSU School of Medicine and a member of the Knight Cancer Institute. His research focuses on the signaling between cancer stems cells and immune cells and how cancer stem cells progress toward malignancies. He hopes that his research can lead to new methods for cancer detection and treatment.
Oshimori earned his PhD in biophysics and biochemistry from the University of Tokyo in his native Japan, then did postdoctoral research at The Rockefeller University of New York. He joined OHSU in 2016.
"Elaine Fuchs at Rockefeller was an excellent mentor for me, to help me learn skin stem cell biology. And Lisa Coussens here at OHSU is an outstanding tumor biologist with a strong track record in skin cancer research. The reason I wanted to come to OHSU is that it is a logical transition for me to launch my research program with tremendous intellectual and environmental support.
Cancer stem cells are typically resistant to treatment. We also believe they are protected by other cells in the tumor microenvironment. Our research focus is to identify critical determinants for cancer progression by learning more about cancer stem cells and their environment, which I believe will help doctors identify high-risk patients, and lead to the development of more effective treatments.
My reward day-to-day is working with my lab members and seeing the research progress we make.
Early cancer detection is clearly saving lives. But we still don't know enough about some cancers — a skin cancer like squamous cell carcinoma, for instance — to know which ones are higher risk to become more dangerous. I believe our research can help provide knowledge to develop new ways to treat some of these early cancers. And treat them in less invasive ways, and at lower cost."