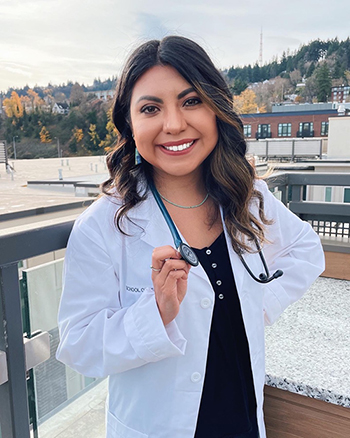 Past and present, near and far, connections surround Lenora Waconda, M.P.H., M.D. Class of 2025.
For Waconda, connections hold value, purpose, meaning. She finds them in her family, in her home city of Albuquerque, New Mexico, around Portland and at the OHSU School of Medicine. These everlasting links to people and places have inspired her educational journey, leading to eye-opening experiences and newly discovered passions. As the second-year medical student looks toward a future that bridges her love for data and public health, she reflects on how the feeling of connection at OHSU has already left an enduring impact.
"When I talk to friends that go to other medical schools, they're like, 'Your experience is unique. You're really close to the people in your class,'" Waconda said. "And I'm like, 'Yeah, I love my class.' OHSU seems so big, but at the same time, it's super small. Everyone kind of knows everyone. I love that aspect, and I think that's what I'll miss when I graduate."
Waconda's interest in public health and community service is generations in the making. Her great-grandfather, Miguel Trujillo, was vital in establishing voting rights for Native Americans in New Mexico. Her grandmother, Josephine Waconda, was a beloved public health nurse in New Mexico, an assistant U.S. surgeon general and the first Native American woman to earn rank of rear admiral in the commissioned corps of the U.S. Public Health Service.
When she was little, Waconda would walk through her grandmother's house and see awards lining walls and adorning bookcases. She used to think they were just pieces of art. Now, she realizes the legacy behind them, and they empower her.
"It wasn't until my grandmother passed away my freshman year of college that I really dug deep into her career, what she did and what she accomplished," Waconda said. "The impact she had not only within our tribe, but other Natives in New Mexico, the Southwest and across the United States — I want to make that same impact."
Waconda meshed her loves of science and data, earning a B.S. in biology from Arizona State University and an M.P.H. in epidemiology from the University of New Mexico, her grandmother's alma mater. A stint between degrees as a wellness coach for the Notah Begay III Foundation unearthed her passion to help underserved populations.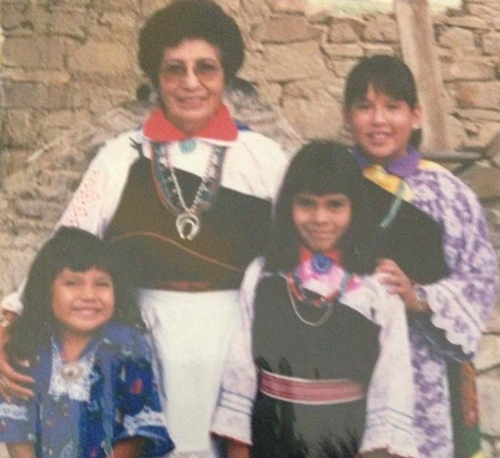 "The impact she had not only within our tribe, but other Natives in New Mexico, the Southwest and across the United States — I want to make that same impact."

Lenora Waconda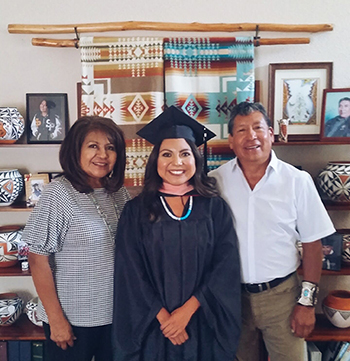 After attaining her master's, Waconda began work as a substance abuse epidemiologist at the Albuquerque Area Southeast Tribal Epidemiology Center, where she also conducted contact tracing during the onset of the COVID-19 pandemic. She was immersed in data. She was making an impact. It was almost perfect. But something was missing.
Connections.
"I loved it. But I soon began to notice that I didn't know these people. They were just numbers — just data," she said. "I didn't know their faces. I didn't know their stories. My grandmother, she knew so many people. When she passed away, I can't tell you how many people came up to me, my dad, his siblings and her grandkids thanking us, saying, 'You don't even realize how impactful your grandmother was, but she changed my life.' I thought, 'Wow. I wish I could make that connection with people, too.'"
Though Waconda was looking for a solution, medical school wasn't top of mind. Then, a colleague told her about the Wy'east Post-Baccalaureate Pathway, a program established by the OHSU Northwest Native American Center of Excellence that prepares prospective American Indian and Alaska Native medical students.
The more Waconda explored the opportunities at OHSU, the more she realized how it could fulfill her passions and foster new connections. At their surface, public health and medicine are two distinct worlds. At OHSU, however, she could dig deeper into both fields to unite them. She applied to the Wy'east Pathway and was accepted. After completing the 10-month program, she was accepted into the OHSU School of Medicine.
Waconda arrived in Portland in late 2020 and immediately began planting roots. She met new people through the Wy'east program and joined the advisory board for the Oregon Rural Practice-based Research Network. She also became involved with the OHSU chapters of both the Association of Native American Medical Students and the Student National Medical Association. She values and participates in OHSU service learning and community outreach, helping coordinate care for underserved populations in Portland.
OHSU will leave its impression on Waconda long after she graduates. She will leave with newly formed relationships and a deeper understanding of how to incorporate public health into medicine. Waconda is leaning toward pursuing primary care, like family medicine, psychiatry or internal medicine, which will enable her to continue forming meaningful bonds with people. As she contemplates the future, she is confident her experience and education at OHSU will promote trust and rapport with those under her care.
Since arriving in Portland in late 2020, Waconda has made countless connections and forged relationships across OHSU and the city. Though she aspires to return to the Southwest someday, her Pacific Northwest ties will remain.
"I love where I come from, but being involved here has helped me appreciate Portland and OHSU," Waconda said. "I can go back home. I can go work wherever else I want to. But this place — I'll always be connected to it."
And like her grandmother before her, Waconda is called to make an impact — to make connections.
"I remember when she passed away, I can't tell you how many people came up to us saying, 'You probably don't even realize how impactful your grandmother was, but she changed my life,'" she said. "I was like, 'Wow. I want to make that connection with people, too.'"