Christopher Ponce Campuzano was born in a small fishing town on the Pacific Coast of Mexico. His parents made tortillas; his dad also worked in the fields. It was a simple life without many opportunities — until his parents decided to move the family to the U.S. in search of a better life for their children.
Today, Ponce Campuzano is a first-year MD student at the OHSU School of Medicine — and the school's first Deferred Action for Childhood Arrivals (DACA) medical student.
"My parents took a chance," he said. "And now I'm here."
Make it happen
Ponce Campuzano's family started their life in the U.S. living with an aunt in Austin, Texas. Six people in her one-bedroom apartment. His dad worked construction; his mom cleaned houses. At night, they both worked janitorial jobs.
In school, Ponce Campuzano began seeking belonging and status through gangs and fights. He failed classes. He didn't care if he finished high school.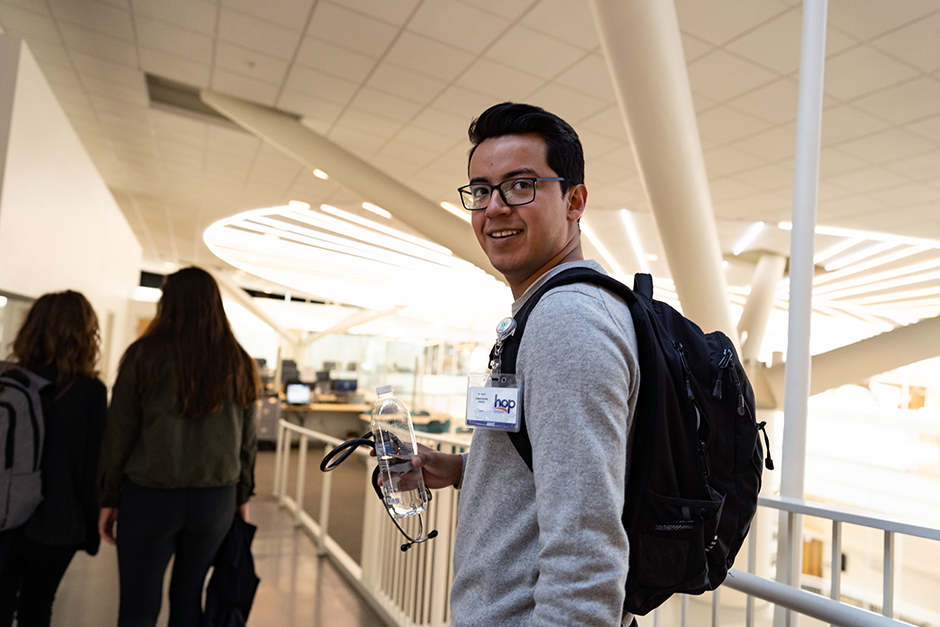 But his parents persevered. They moved to a new neighborhood with a school specializing in science, technology, engineering and math (STEM). There, he joined the robotics club, and soon discovered his passion for math and science.
In Ponce Campuzano's senior year of high school, President Obama announced the DACA program, which grants legal work authorization to qualifying undocumented immigrants who came to the U.S. as children prior to 2007, as well as temporary protection from deportation for a renewable period of two years.
Excited, Ponce Campuzano woke his parents to share the news.
His parents said it sounded too good to be true. They feared answering the questions on the DACA form about how they had gotten into the country. They had always equated their safety with hiding.
Ponce Campuzano remained focused on the DACA path to legitimacy. During his first semester at Texas Tech University, he decided to submit a DACA application. But the process seemed overwhelming. He approached a professor at Texas Tech's law school for help.
"He said he'd do it pro bono if I'd let his students work on the application," Ponce Campuzano said. "Since then, we've become amazing friends."
"I'd always heard, 'No, no, no, you can't. But finally, I could."
Ponce Campuzano was granted DACA status. He felt enormous relief and, for the first time, a sense of security. He didn't have to hide anymore.
Opportunities opened up. Ponce Campuzano could finally take his first plane ride — to attend the Society for Advancement of Chicanos/Hispanics and Native Americans in Science (SACNAS) conference in Los Angeles.
That's where he learned about OHSU's Equity Research Program, sponsored by the Center for Diversity and Inclusion. He applied for a summer internship and was accepted in 2017.
"I'd always heard, 'No, no, no, you can't,'" he said. "But finally, I could."
Powered by philanthropy
In December last year, Ponce Campuzano was accepted into the OHSU School of Medicine — the beginning of fulfilling his dream of making a difference for families like his own and others who struggle to access the health services they need.
"I was so happy," he said. "I called my parents, and my mother started crying. It was my grandmother's birthday and also the Virgin Mary's birthday, which is a big deal for her. I called my family in Mexico. Many of them haven't been to high school or middle school or school in general. They were so excited when I told them I was going to be a doctor."
"We didn't have to worry about how we were going to pay for school. I'm so grateful."
Ponce Campuzano was awarded the OHSU Presidential Scholarship, which covers his tuition, and the Niles Family Scholarship, which covers his expenses. Because of these two generous awards, he can prioritize his schooling.
"When I found out about the scholarships, I called my father and told him to take a day off work," he said. "We didn't have to worry about how we were going to pay for school. I'm so grateful."
Standing ground
Even with DACA, obstacles remain. As an undocumented student, Ponce Campuzano's activities are restricted. He can't apply for credit cards. He can't leave the country. He can't get a loan unless a U.S. citizen co-signs on it.
The fate of DACA itself remains up in the air; the Supreme Court is reviewing it, though a decision will likely linger into the 2020 election season.
Ponce Campuzano understands he's in a precarious position. "I know it's a risk for OHSU to do this. The DACA program could stop anytime. And my medical education would end."
"OHSU understands where I'm coming from. And they gave me a chance."
He's grateful for the "all are welcome" message in 2017 from OHSU's then President Joe Robertson and follow-up message clarifying OHSU's commitment to DACA. (OHSU's policy is to decline to share confidential student information such as immigration status or act on behalf of the federal government in enforcing immigration laws.)
"OHSU understands where I'm coming from," he said. "And they gave me a chance."
Ponce Campuzano is active in organizations dedicated to diversity in STEM and immigration reform. During a trip to Washington, D.C., last year, he was able to share his DACA story and discuss immigration issues.
This year, his visit to D.C. was different: rather than affirming the value of a program to the president who created it, he is fighting a changing tide that would squelch his dream of becoming a physician serving communities like his own in the U.S.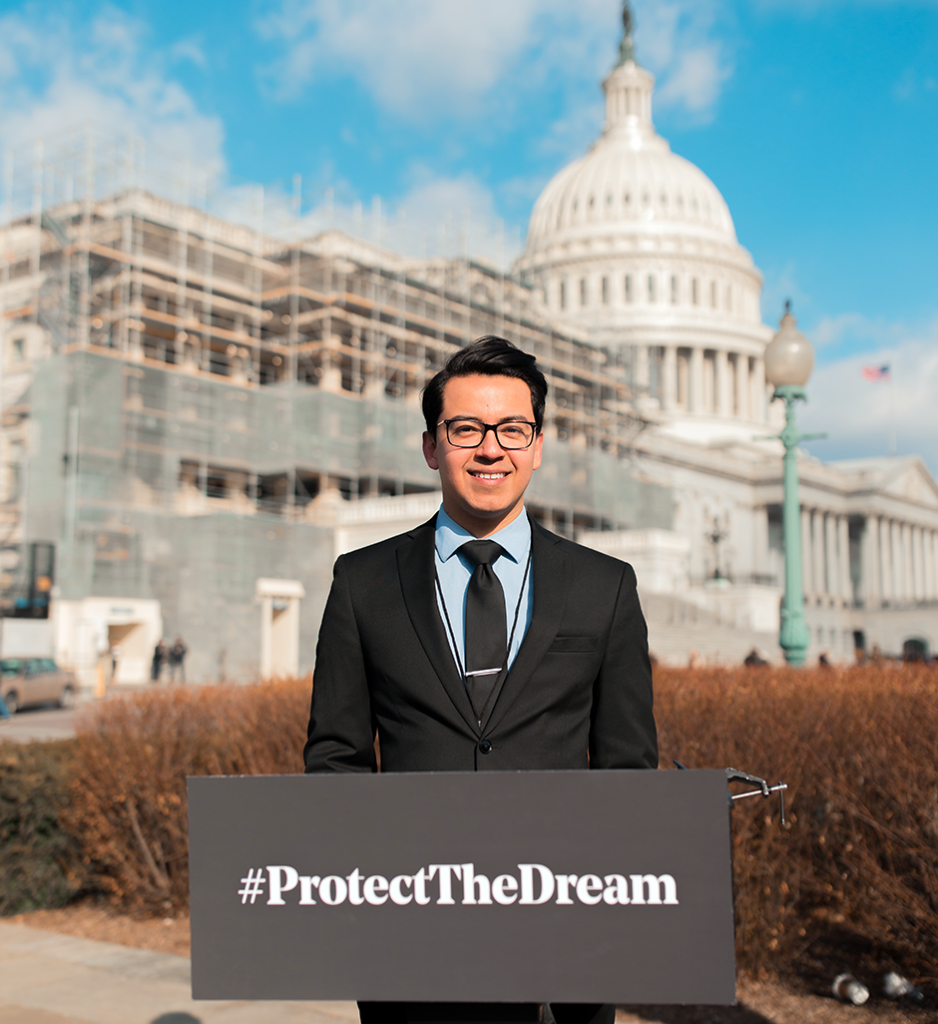 There isn't a day Ponce Campuzano doesn't think of his family. "They have been here a long time, but every day is a risk. They can't leave the house without the risk of getting stopped and questioned. It's a part of life we've gotten used to, but doesn't stop the threat of them being deported."
It also means his family can't fly to Portland to see him. "It was heartbreaking not having my parents at the OHSU School of Medicine's White Coat Ceremony, after everything they've done for me," he said.
But during a recent visit home, he announced he had a surprise. He reached into his backpack and pulled out his white coat.
"They never thought they'd get the chance to see this," he said. "This keeps me going. It motivates me."
Forging ahead
Since starting medical school, Ponce Campuzano has been pleased at the support from both faculty and students. Although being far away from home is difficult, the help and mentorship he finds here goes a long way, and he's joined the Latino Caucus and the Latino Medical Association.
But what he'd really like to do is set up medical care options through OHSU to reach out to Portland's Latino community.
"There's a huge barrier with medicine and the undocumented population," he explained. "They're trying to stay under the radar. Even questions like 'Where are you from?' can be overwhelming. They worry about raising suspicion, especially at massive hospitals that log everything. Many would rather just not go, or they'll take whatever remedy they know from Mexico."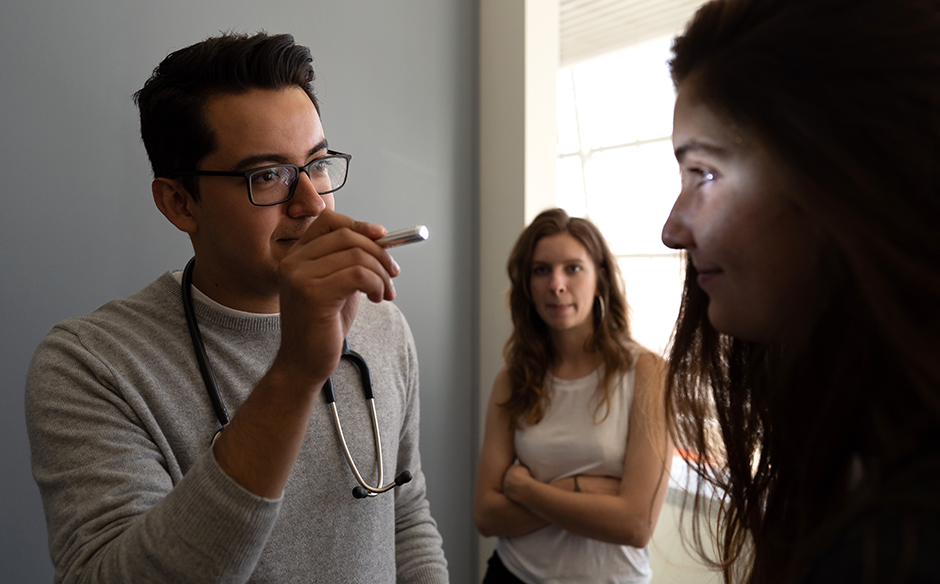 Eventually he'd like to pursue pediatric cardiology or pediatric oncology. "Kids have always had the biggest impact on me," he said. "Honestly, they are the most innocent and vulnerable. It's so unfair to see them in the hospital. They deserve nothing but the best."
It's taken a lot to get to this point in Ponce Campuzano's journey. Despite the uncertainty, he remains dedicated to helping break barriers not only for him, but also for future generations.