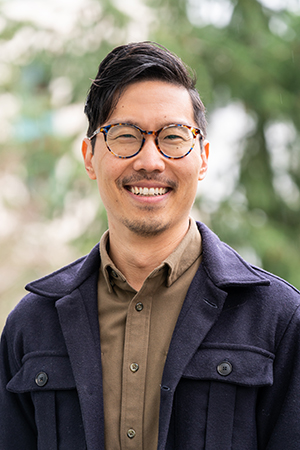 The son of South Korean immigrants, Brian Park, M.D., R '18, M.P.H., recipient of the Walter C. Reynolds, M.D. '49, Community Service Award, was pushed from an early age by his parents to become a physician. However, he felt an aversion to the medical profession after witnessing how the health care system treated his parents when his younger sister, Catherine, struggled with a serious medical condition.
Park recalls being brought along on health care appointments and, at age 6, being asked to act as interpreter between Catherine's medical team and his parents. He spiraled between shame of not understanding medical terminology and anxiety that he had not correctly interpreted important information for his parents.
"I wanted to run as far away from medicine and health care as possible just because it was such a place of injury, if not, at times, outright trauma for me and my family," Park said.
After graduating from University of Minnesota-Twin Cities with dual majors in psychology and film studies, Park moved to New York to pursue a career in screenwriting. He freelanced for the film industry until depending on an unpredictable revenue stream became too stressful.
Ready to accept full time work in any field, Park took a role as a care coordinator for a Harlem medical clinic program serving teenagers with Type 2 diabetes. Most of the patients and families the program served identified as Dominican-American. He worked with patients who experienced poverty, intergenerational trauma, structural racism, underfunded educational systems and bullying at school. He often accompanied families on doctor's visits as a patient advocate.
"It was like seeing mirrors of my family's experience," Park said. "I got to hold space for the teenagers and their families, and something about that experience resonated deeply within me."
"I believe it's each of our responsibility to practice a public love that we have for one another as neighbors and fellow human beings."

Brian Park
He reconsidered a career in health care and began studying to become an M.D. at the University of Minnesota Medical School.
Park was miserable in his first year, struggling with classwork and doubting his career choice. A mentor introduced him to a local community health organizer who reconnected Park with his passion: working for health equity and focusing on community-level health influences. Inspired, Park endeavored to make his M.D. studies become a means to changing the health and health care experiences for underserved and underrepresented communities.
"I want to create different kinds of relationships that aren't based on professional titles," Park said. "To try to move in the same direction based on our shared values, and to work together toward our shared vision for what the world could and should be."
For his residency, Park was drawn to OHSU School of Medicine's joint residency program in Family Medicine and Preventive Medicine.
Park completed his residency and continues to practice at the OHSU Richmond Clinic, a Federally Qualified Health Center that provides health care for underserved urban populations. He is also an assistant professor of family medicine in the OHSU School of Medicine and oversees diversity, equity and inclusion (DEI) activities within the department.
In his continued effort to improve health care experiences for all, Park founded and is now director of OHSU'S RELATE Lab, which aims to cultivate a more humanizing and inclusive health care system. During his residency, Park co-founded the Relational Leadership Institute (RLI), which is housed within the RELATE Lab.
"Sometimes I feel like I was given my dream job right out of residency," Park said. "And more importantly, I was offered a dream group — I couldn't imagine a better group of colleagues to work with on creating a more human-centered, equity-promoting health care system."
Through the RLI, a course in leadership Park co-developed and facilitates encourages participants to consider the limitations of traditional, hierarchical forms of leadership and shift to a more human-centered model that fosters collective input and builds consensus. The RLI has expanded nationally to the University of North Carolina and the University of Utah, as well as national health networks, including the Oregon Community Health Information Network and Cambia Health.
The Health Equity and Leadership at Richmond Clinic (HEAL-R) program is a community organizing initiative of the RELATE Lab. Co-founded by Park, HEAL-R brings together patients, community-based organizations and community members experiencing systemic harm (such as racism or classism). Working together, the HEAL-R team share their experience and expertise to guide priorities for collective action, then promote policy changes at the local and state levels that advance health for all community members.
"In my wisest moments, I take this as a reminder to keep building on the path where all of us can really move together in creating a more just system, just as Dr. Reynolds did before us."

Brian Park
Through their efforts, the HEAL-R team has influenced several changes in government policy, including increasing the Tax Increment Financing funding for affordable housing in Portland; passing an Oregon law mandating that prescription drug labels be translated into each individual's preferred language (including 14 non-English languages); and developing a social connection program for isolated individuals during the physical distancing mandate of the COVID-19 pandemic. Currently, the HEAL-R team is working on a campaign to address health care gaps for people transitioning out of prison. The HEAL-R model has expanded to Washington and Montana.
"I believe it's each of our responsibility to practice a public love that we have for one another as neighbors and fellow human beings," Park said. "The experiences my family had in health care and the ways I continue to witness those experiences for families like my own make me angry. But I try to normalize within myself that it's OK to feel anger, so long as you're moved to do something about it. I've just been really lucky that I had colleagues to work with that want to move in that same direction."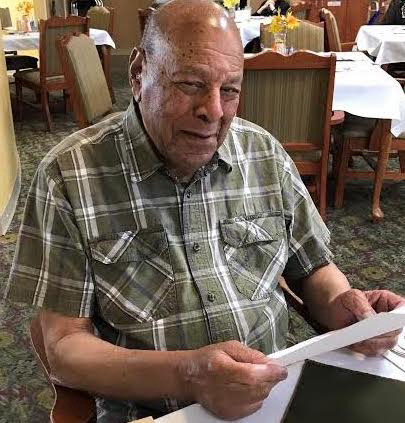 After completing his residency, Park questioned whether it would be possible to do racial justice work in Portland, given the racial demographics and lack of diversity in the city. But mentors and friends advised him that Portland needs advocates who will focus on advancing health equity.
Park is overwhelmed to be the first recipient of the Walter C. Reynolds, M.D. '49, Community Service Award, named for the physician, community leader and first Black graduate of the University of Oregon Medical School, now the OHSU School of Medicine.
At his practice in the Albina district of North Portland, Dr. Reynolds' philosophy was to offer treatment to everyone who came into his clinic, regardless of background, race, gender or ability to pay. The award carrying his name recognizes alumni who have demonstrated service that substantially benefits a local community.
Park has emulated Dr. Reynolds by making justice, equity and belonging the focus of his own health care career, but he said he suffers from imposter syndrome in comparison to Dr. Reynolds. Though humbled, Park is inspired to continue upholding Dr. Reynold's legacy.
"In my wisest moments, I take this as a reminder to keep building on the path where all of us can really move together in creating a more just system, just as Dr. Reynolds did before us."