Current fourth-year students at the OHSU School of Dentistry are anxiously preparing to take the American Board of Dental Examiners (ADEX) licensure examination this spring.
In order to pass the ADEX exam, students must prove their proficiency as they implement several dental procedures, including filling and sealing damaged teeth, performing a root canal and prepping teeth for a dental bridge implant.
OHSU School of Dentistry alumnus and emeritus faculty member Don Sirianni, D.M.D. '64, is a regular presence at the school. He continues to take great interest in current students as he observes their progress in mastering essential dental skills. He remembers well the stress of completing the test required for licensure in Oregon.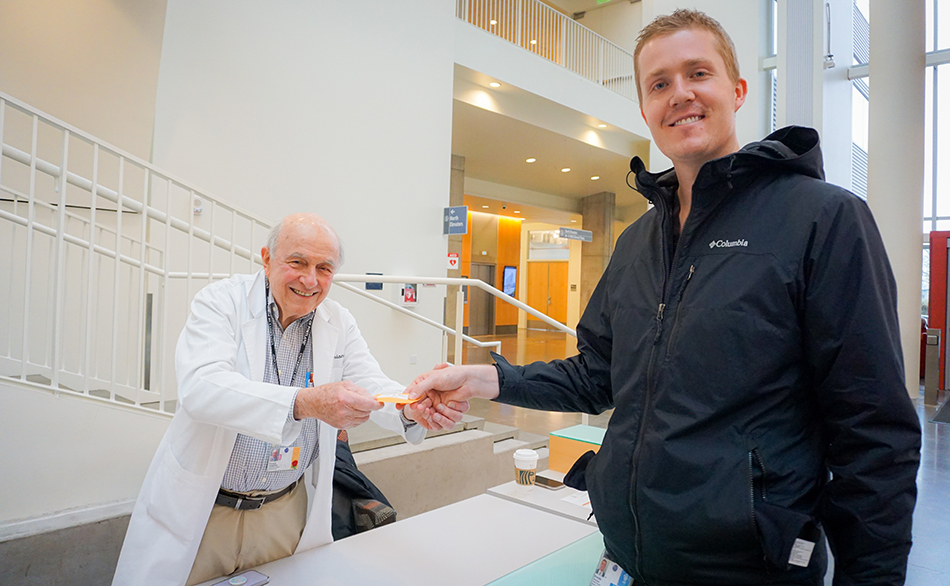 When Sirianni took the exam, these skills were demonstrated on actual patients, which made the test difficult to administer in a uniform manner.
"We did everything on people, which is two-fold: number one, the patient shows up," Sirianni said.
The second challenge was that the patient's needs may not have aligned with the skills the student had to demonstrate, so the administrator of the exam may not have accepted the patient.
"If they aren't accepted, you can't take the exam," Sirianni said, though sometimes students were able to work on a backup patient.
"I believe in the school. I believe in their mission. I believe in the way they teach and in their integrity. I believe in dentistry.

Don Sirianni
The exam has changed in recent years to equalize the experience for all students. Currently, as a student completes the exam, they demonstrate their competency on typodonts, a type of manikin mouth filled with artificial teeth designed with matching built-in infections and abscesses. Although testing on artificial teeth was an improvement, the teeth the students have practiced on during clinical labs are not the same as the teeth they will work on during the exam.
That is when Sirianni stepped in. After an alumni staff member presented him with a way to help students better prepare for the ADEX exam, he quickly offered his support.
"I really love the school," Sirianni said. "I appreciate the opportunity to be able to come back and give back, both as an instructor and monetarily."
The 3D printed teeth purchased through Sirianni's donation included replicas of all of the teeth the students might be tested on during the exam. The school surveyed the students, asking them to select two teeth each that they most wanted to focus on for extra practice. After they submitted their requests, Sirianni was on hand to meet the students and present them with the teeth they had chosen. Without this donation, students who wanted extra practice on 3D teeth would have had to buy them themselves, adding more stress to their exam preparation.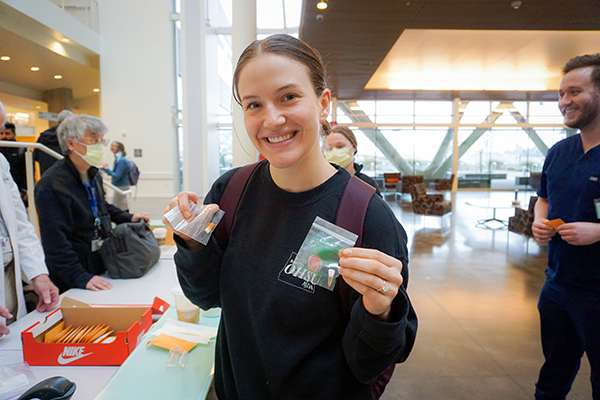 In dental practice, each tooth is assigned a number depending on where they are located in the mouth. Brooks Hunsaker, OHSU School of Dentistry D.M.D. '23, chose No. 9 (a central incisor) and No. 20 (a lower left quadrant second bicuspid) after researching which teeth may be included on the ADEX exam. As Hunsaker explained his selection, Sirianni told him, "Congratulations. I think you've made a very good choice."
Hunsaker is grateful for Sirianni's support.
"This is probably the most nerve-wracking exam or competency that we have to do as part of dental school," Hunsaker said. "To have something that we can practice on to make us more confident for the ADEX exam means a lot to us."
As she was handed the teeth she had chosen, also a No. 9 and a No. 20, Taylor Glovsky, D.M.D. '23, explained the importance of this gift.
"We haven't practiced on these types of teeth; they are different from the teeth we work on in clinical," Glovsky said. "I am thankful for this opportunity. It's been a while since I've worked on plastic teeth, so this will be good practice for the exam."
Though he would prefer his donation remain anonymous, Sirianni was willing to share his story in the hope that it might inspire other alumni to also consider supporting the school.
"I believe in the school," Sirianni said. "I believe in their mission. I believe in the way they teach and in their integrity. I believe in dentistry."
---
Help Dr. Sirianni support students through the OHSU School of Dentistry Scholarship Fund