When Rachel Meek, D.M.D. '22, began studying at the OHSU School of Dentistry, she had no American Indian dental role models with whom she could identify. Meek is a member of the Cherokee Nation of Oklahoma. She felt fortunate to connect with an upper-class student mentor who was also a member of the Cherokee Nation. Like her, he was attending school on an Indian Health Service (IHS) Scholarship.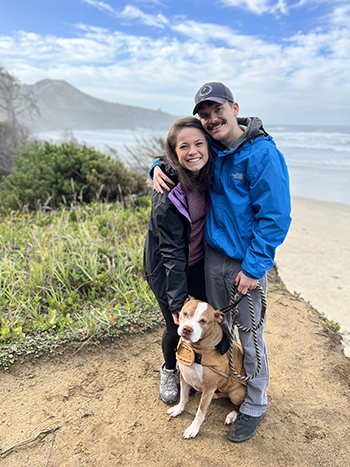 "Once he graduated, I didn't really know anybody else," Meek says.
Meek found community support after Mark Mitchell, B.S., M.A., former associate dean of admissions of the School of Dentistry, suggested she attend a conference of the Society of American Indian Dentists.
"That has been like my home," Meek says. "Many of my amazing mentors and friends come from the Society of American Indian Dentists. I didn't even know about it until Mark Mitchell gave me the opportunity to go and make those connections."
Meek has completed one year of her three-year IHS commitment to deliver health care to the underserved American Indian population. As a staff dentist at the Siletz Community Health Clinic, she is excited to push herself and grow in her abilities.
"I can be that person who can validate experiences and feelings and give advice and suggestions."

Rachel Meek
Meek practices minimally invasive dentistry whenever possible by focusing on managing dental disease rather than on simply restoring a damaged tooth. She prefers to offer non-invasive medicaments and education to her patients as a first option; she applies silver diamine fluoride, places glass ionomer cements and prescribes povidone-iodine and fluoridated toothpaste.
"If I can see a 14-year-old who's got a lot of cavities but tell their parents and that patient that we can try something first where we don't need to use a drill, I prefer it," Meek says.
The Siletz dental clinic is in a remote location with no dental specialists nearby, leading Meek to push herself to become comfortable handling more complex care when a minimally invasive approach falls short. She has presented treatment plans and personally handled restorative dental procedures including restoring implants, dentures, root canals, crowns and bridges.
In the past, the Siletz Community Health Clinic, like many tribal and IHS clinics, has been served by dentists who are not American Indian dental practitioners. When Native patients were being seen by someone who didn't share their background, culture or goals, it often led to mistrust, misunderstanding and poor experiences for the patients.
"I'm not Siletz," Meek says. "But when my patients share something about their ancestor, I let them know how much my ancestors are important to me, and that builds a little bit more trust."
Meek has more flexibility practicing at the Siletz clinic than a private office allows. One of her favorite responsibilities is working with preschoolers through the Head Start program. She often invites her young patients to come to the clinic for a "happy visit."
On one visit, she'll invite children to sit in the exam chair. On another visit, Meek will perhaps tilt the chair back, all in an effort to help children gain comfort with the clinic before they have their first exam.
Along with her successes, Meek also faces challenges. Many of the children she cares for are foster children who regularly move on to new locations, making it difficult to establish consistent dental care. Among her adult population, many of her older patients have spent time in prison or have a history of substance use disorders and recovery treatment. Meek often manages patients who are on a pain contract.
Adequate staffing for the patient population can also cause stress. There are only two dentists, both Native, who work in the clinic, so Meek presses to see as many patients and complete as many procedures as possible each day.
"I'm not leaving every day super energized. I'm pretty tired," Meek says. But she adds, "I'm excited about caring for this community."
Meek feels strongly that the American Indian population needs more access to Native health care providers. She is encouraged by plans to bring the Northwest Native American Center of Excellence's Wy'East Medicine program to the OHSU School of Dentistry in 2024. Dean Ron Sakaguchi, D.D.S., M.S., Ph.D., M.B.A. and Senior Academic Dean for Academic Affairs Gary Stafford, D.M.D., have invited Meek to serve as a volunteer faculty member for the program.
"That's exciting and an important thing for me to do," Meek says. She is eager to be a mentor for Native students. "I can be that person who can validate experiences and feelings and give advice and suggestions."
Meek is proud to be an OHSU School of Dentistry alumna and hopes programs like Wy'East will help support more American Indian students to consider joining the profession.
"I think about all the careers I didn't choose because I didn't look like I could do that," Meek says. "But if I saw someone who looked like me, I might have considered it."

Meek is optimistic about the future of dentistry for American Indian patients and dentists.
"I'm confident, especially with more and more people to look up to, more and more mentors, people to get engaged in programs like this, it's going to change," Meek says. "I think we're going to see a lot better access and acceptance of care too."