Aiden Barber is a friendly force of nature who loves sushi, LEGO, and playing Xbox with his pals. His shoe is a tribute to the special people in his life, like his cousin Michael, who's currently serving in the Army. "Michael is a hero to me, because he's so brave," explains Aiden. "So I made a camouflage shoe that will go with his uniform."
Brain vascular malformation
Although they are not twins, Aiden and his sister share a birthday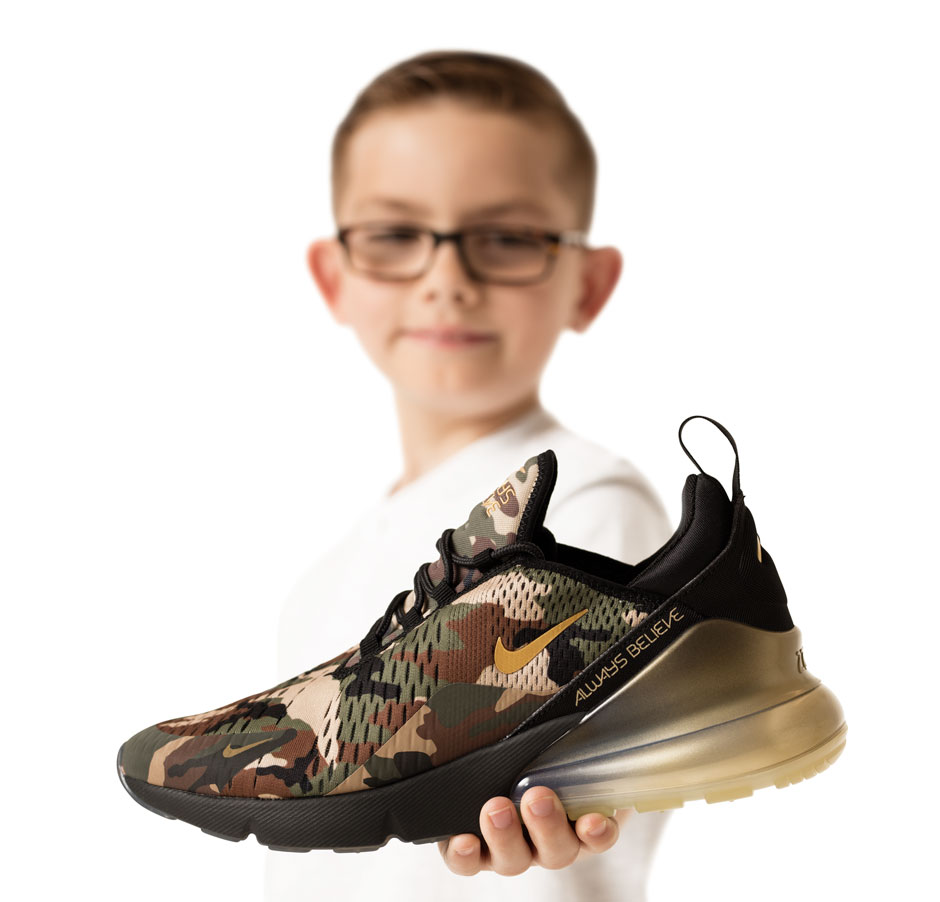 Aiden knows a thing or two about being brave—in 2015 he was diagnosed with a brain vascular malformation. After two years of observation, including numerous MRI scans, it was determined that he would need surgery. Recalling the experience, Aiden admits, "I was scared when they wheeled me in the operating room because there were a lot of crazy machines.
"When I saw the doctors I knew I would be safe because they're so good at what they do."
His camouflage kicks feature a cool image of his brain, complete with small titanium plates now implanted in his skull. You'll also find the initials AB, which have a special significance. Not only are they Aiden's initials, they're also the initials of his beloved big sister Abigail, who is exactly one year older than him. (They share the same birthday!)
"I dream of a world where everyone is nice to each other and there is NO BULLYING."
While the AB represents Aiden and Abigail's initials, it also stands for his powerful personal motto, Always Believe.
"I always believed that I would survive, and I did."
Aiden says he's grateful for the opportunity to create a signature shoe, and even more grateful for the young designers who came before him. "Donations help pay for new stuff, like the iMRI machine they used during my surgery," he says.
"I like to think a Freestyle kid like me can help make things like that happen."