Chloe Swientek is a spunky, self-proclaimed tomboy with an awesome sidekick—her goofy yellow lab, Clarke. (His paw prints are featured prominently on her shoe.) "I love Clarke because he's really good at snuggling and he's always so happy to see me when I come home from the hospital," she explains.
Soccer to play and football to watch
England, to see the corgis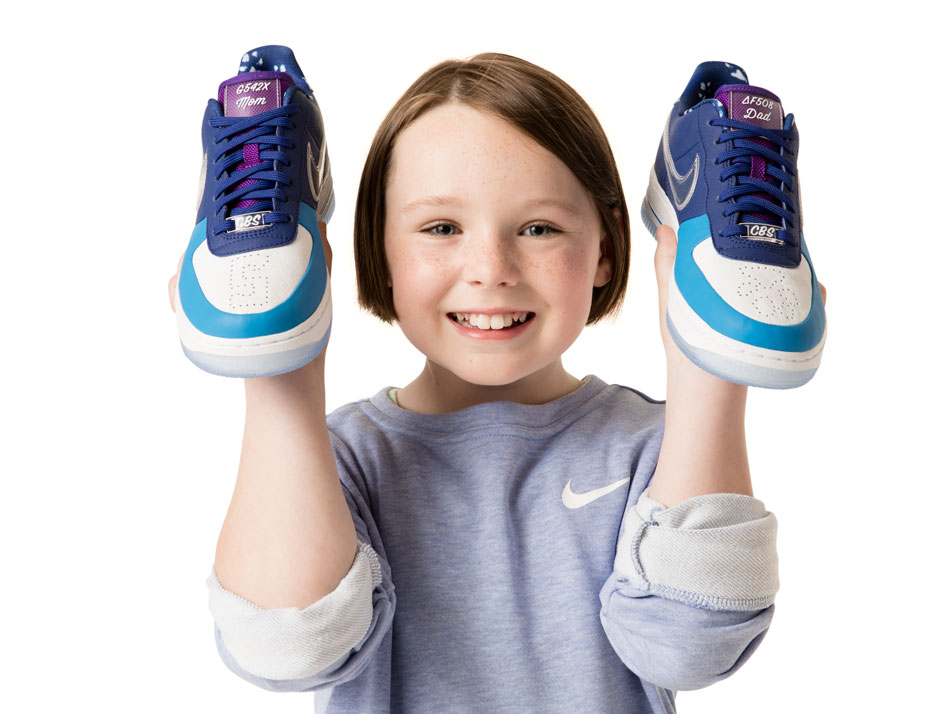 Chloe's shoe also has an important story to tell—one that's all about her journey living with cystic fibrosis, a genetic disorder that affects the lungs and digestive system.
The swoosh features the word breathe, the genetic mutations that cause Chloe's CF appear on the tongue, and a pair of lungs are tucked away on the sockliner. Replicated on the outsole is Chloe's port, an implanted device that makes it easier for her to receive medications. And on the midsole, a special message shares Chloe's greatest wish: Cure CF.
"They're my heroes. They're so funny and nice and caring—they bring me joy every day."
Chloe isn't about to let her disease get in the way of doing the things she loves, like playing soccer and basketball. (That's her jersey number on the toebox.) Besides playing sports, she enjoys drawing, reading, and making people smile. In fact, she says it's one of her greatest talents.
Chloe's can-do positivity will serve her well in the future, as she plans to be a doctor when she grows up. "I think it's awesome that doctors get to help people when they're sick and cheer them up," she says. As for her own medical team at Doernbecher, she has nothing but good things to say. Simply,
"They're my heroes. They're so funny and nice and caring—they bring me joy every day."
For the CF team who cares for this charismatic little girl, the feeling is mutual.