Donovon Dinneen was only two years old when he was struck with a rare bacterial infection that quickly spread throughout his body. Doctors only gave him a 10 percent chance of survival; to save his life, they had to perform partial amputations on all four of his limbs.
Rare meningococcal infection, leading to quadruple amputation and kidney transplant
Standing on his head and running really fast on his knees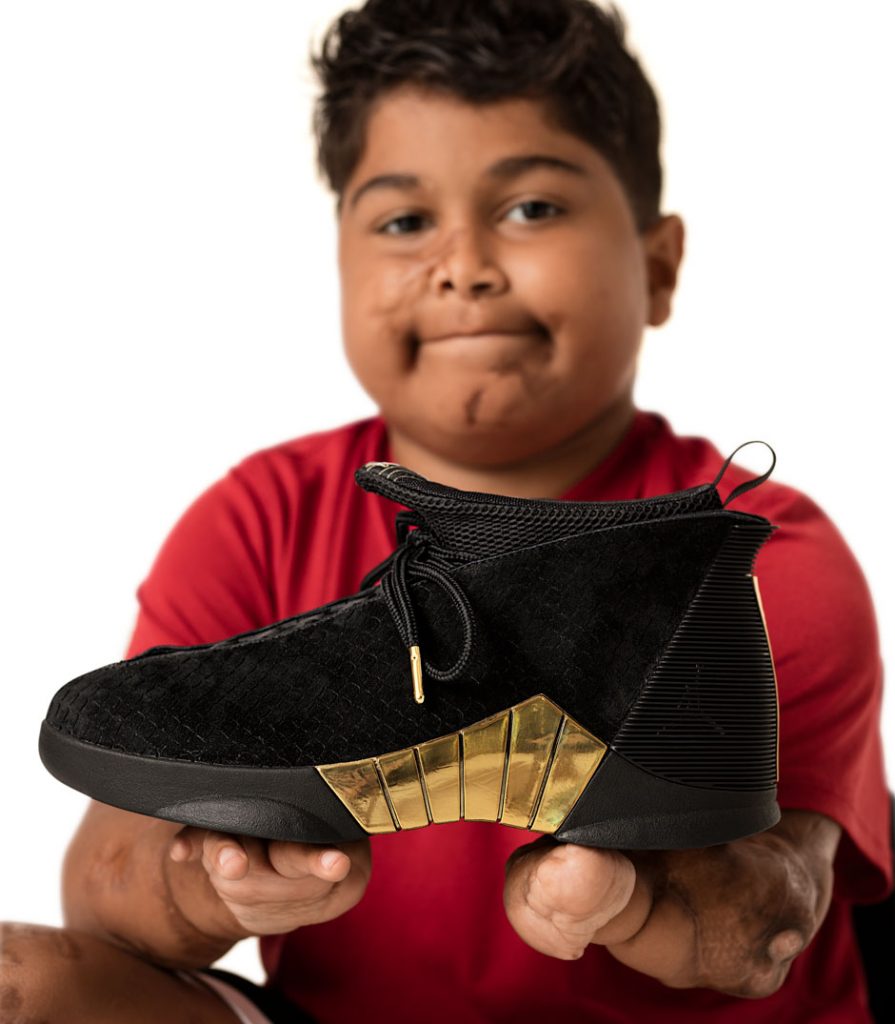 But here's the thing about Donovon: this thoughtful, charming boy is a fighter. Not only did he overcome the odds, he's since faced multiple surgeries to correct the damage from the infection and recently underwent a kidney transplant. (He cheerfully named his new organ Kidney Bob.)
Donovon's bold shoe is a tribute to his incredible strength. In a nod to his favorite anime series, the upper features rich black suede embossed with a dragon-scale pattern. Gold metallic accents include Donovon's birthday and the Japanese symbol for protection. But the real action is on the sockliner; that's where you'll find Donovon's fierce alter ego, Donoku.
"He has powers to protect people, like keeping them safe from getting sick," he explains.
When he's not designing super-powered shoes, Donovon loves reading books, playing basketball, and spending time with his close-knit family. "He loves his brothers so much," says his mom, Shawnda. "He hugs them every morning when they wake up."
"My secret to staying positive is just be happy. It'll help you get through the hard stuff."
While Donovon still has more surgeries ahead, he's learning to adapt to his physical challenges and says they've even resulted in a few super skills: "I'm really good at standing on my head, and I can run really fast on my knees," he grins. One day soon, he'll be able to sport his shoes on new prosthetic legs.
"My secret to staying positive is just be happy. It'll help you get through the hard stuff."
Throughout his medical journey, Donovon says his mom has taught him a valuable lesson, one that he hopes every kid will learn: "It's cool to be different. My mom says that she likes different, and I'm different!"