Hometown: Beaverton, OR
Diagnosis: kidney cancer, kidney transplant
Shoe: Air Max Triax 96
When life throws Bransen "Boom" Fernando a challenge, this kid comes out swinging. Diagnosed with bilateral kidney cancer at just seven months old, he managed to live nearly 12 years with half a kidney before it started to fail last year.
In the search for a kidney donor, 11 candidates stepped up — and it turns out that his dad's crossfit coach, Melissa, was a near-perfect match. To honor her selfless act, Bransen included a cheerful graphic of her favorite character, Snoopy, on his shoe.
To celebrate the brand-new kidney he received at Doernbecher, Bransen's shoe features a kidney print on the sockliner, the date of his transplant on the tongue, and a donkey for his favorite dialysis nurse, Pam. "She was so nice to me, and she just really likes donkeys," he explains. "So I put one on my shoe for her."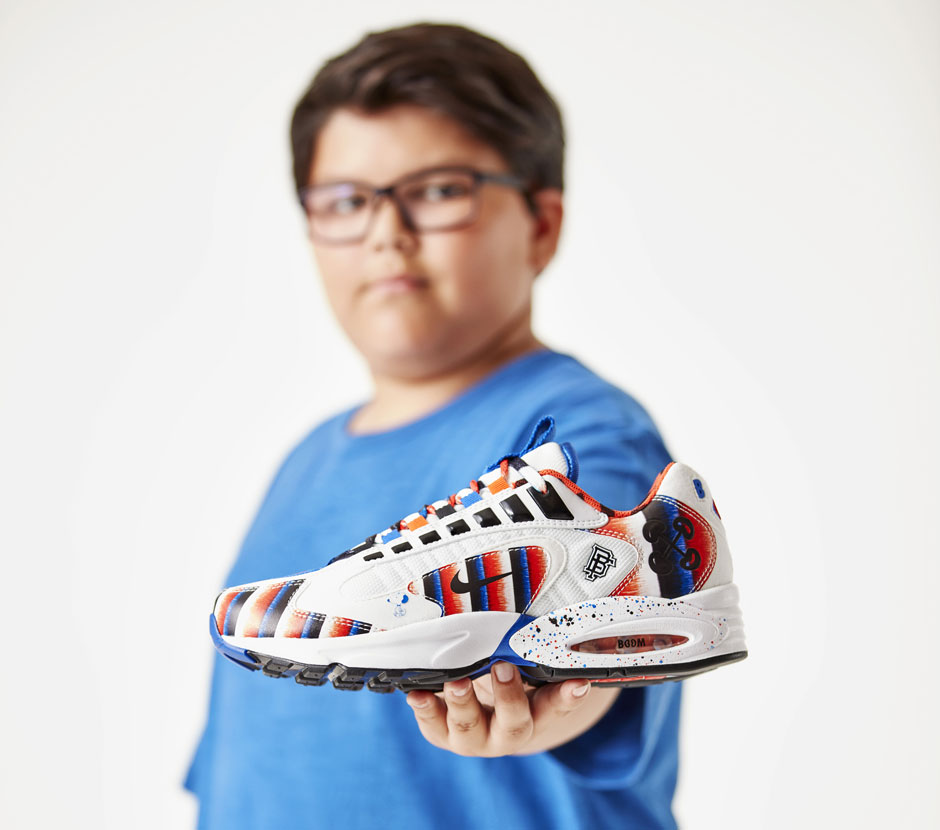 Flip the shoe over, and you'll find Bransen's nickname "Boom" in bold letters. "One day I was playing baseball, and when I got up to bat, my mom yelled, 'Go boom, Bransen!'" he says. "It must have worked, because I got a double, and that's been my nickname ever since."
With a new kidney to care for, Bransen has switched from baseball to golf and hopes to be a professional golfer one day. However, you'll still find plenty of baseball-inspired motifs on his shoe, like his own personal logo and colors from his favorite teams.
While this charming, good-natured teen is passionate about sports, his first love is family. That's why he included a bumblebee on his shoe to represent the other "Bs" in the family — his siblings Benjamin and Brielle. Even his dogs Bonnie and Bosco are featured as a pawprint surrounded by a heart.
Bransen says being part of the Freestyle design team is the perfect way to give back to the doctors that did so much for him: "I would give them all big hugs if they were here. And I would thank them for saving my life."
"When I got up to bat, my mom yelled, 'Go boom, Bransen!' It's been my nickname ever since."