Hometown: Hillsboro, OR
Diagnosis: Type I diabetes, celiac disease and depression
Shoe: Nike SB Zoom Janoski RM
Desiree was just a regular fourth-grader who enjoyed writing, swimming, and theater — then a diagnosis of type I diabetes and celiac disease turned her world upside down. The news threw her into a deep depression and in one particularly dark moment, Desiree even contemplated ending her life.
"My mom found a note that I had written, and asked me if I needed to go to the hospital to get some help," she says. "I said yes, and I'm so glad I did."
During a three-day stay at Doernbecher, doctors were able to connect Desiree with resources and mental health support to help her deal with the emotional aspects of her chronic illnesses. "Basically, they taught me that my life is worth fighting for," she says.
Now that she's learned how to manage her diseases, Desiree is back to doing the things she loves, like creating cool visual effects with theater makeup and baking gluten-free treats. "My brownies are really good," she smiles.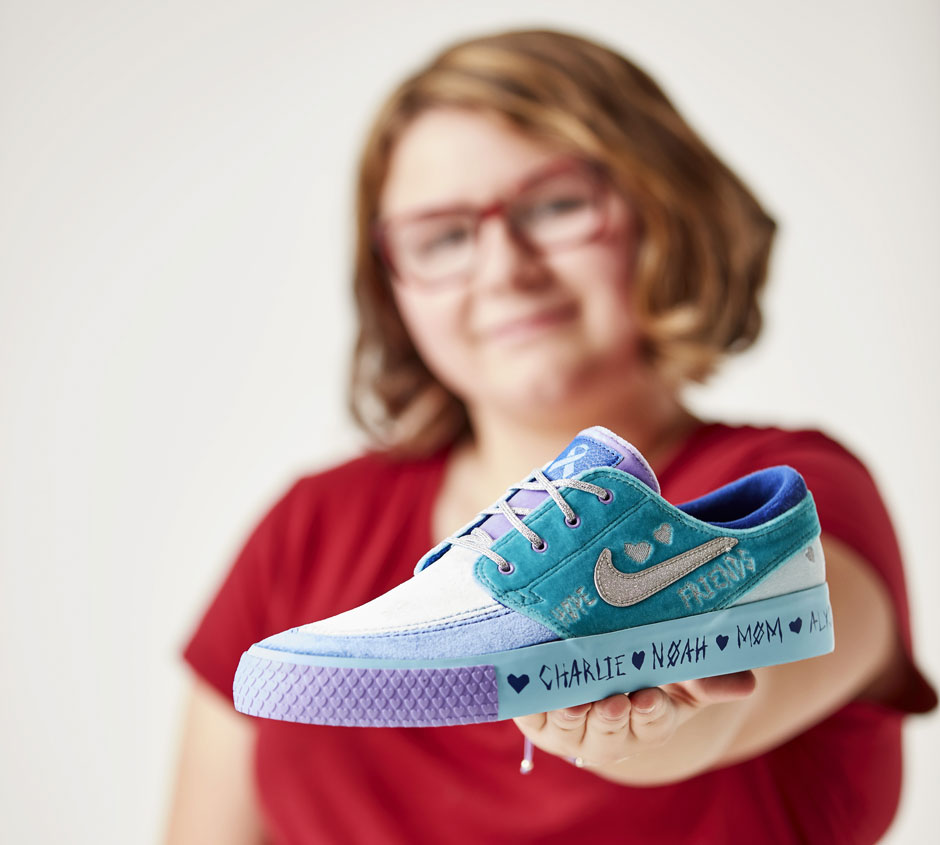 Her velvety shoe was a labor of love for Desiree, who went through over 100 colored pencils until she found the perfect palette. The midsole is circled with the names of family members, while the back features the name of her beloved therapy cat, Charlie. A blood droplet graphic on the outsole represents all the finger pokes she does to monitor her blood sugar, and on the sockliner you'll find lyrics from her favorite band, Twenty One Pilots.
Desiree admits that the stigma around mental health can make it tough to talk about. "It's a little scary to share my story," she acknowledges. "But if I can help just one kid avoid what I went through, then it will all be worth it."
In that spirit, this thoughtful, empathetic girl offers a few words of advice to other kids who may be struggling with depression. "It's okay to speak up," she says. "If you need someone to talk to, go to your parents, your counselor, or your principal. Or if you see me somewhere, you can just come up to me and I'll help you."
"It's a little scary to share my story. But if I can help just one kid avoid what I went through, then it will all be worth it."