Hometown: Richland, WA
Diagnosis: traumatic brain injury
Shoe: React Element 55
Kahleah is a source of light and inspiration to everyone who knows her. A devastating car accident left her with multiple skull and facial fractures, but it did nothing to diminish her bright outlook on life. Perhaps the best way to describe this vibrant girl is through the lyrics of her favorite song, "Colors" by the Haschak Sisters:
Like a rainbow outta the clouds
gotta let your light shine
come on, shout it out loud
On her shoe, a riot of bright colors and glittery materials come together in a reflection of Kahleah's sparkly personality. "It's really cool and pretty," she says. "I wanted to make a shoe that brightens people's days and helps them stand out."
Her shoe also features her favorite emojis, a green ribbon to symbolize traumatic brain injury, and the initials of all her family members (a rattle represents her new baby sister). Kahleah says, "My mom, my siblings, and my dad never left my side and I wanted to express that on my shoe. No matter where I go, they'll always be with me."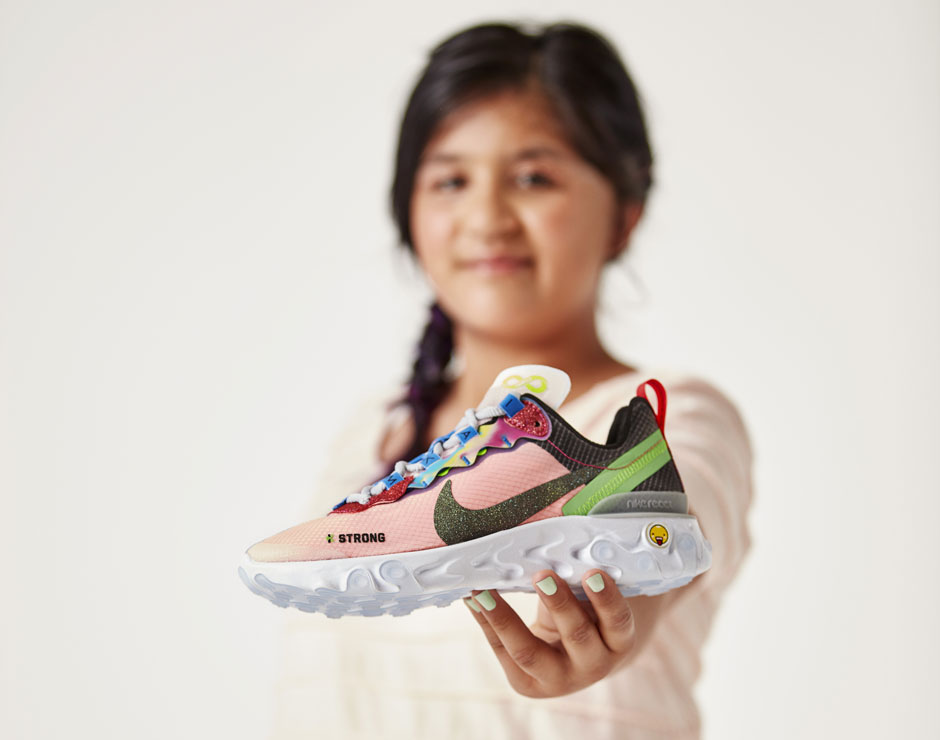 As for the phrase "K-Strong," that became the family's rallying cry after the accident. "In the PICU, they didn't think Kahleah was going to make it," explains her mom, Irma. "That's when I decided that the entire family had to be 'K-strong' to help her get strong too. It's been our theme ever since."
When she's not designing colorful kicks, Kahleah expresses her creativity in other ways, like singing, dancing, doing arts and crafts, and baking the best cupcakes ever. Someday, she'd like to open her own salon so she can help others look and feel their best. "Me and my mom will run it together," she smiles.
As a member of The Super Six, Kahleah says that if she could have any superpower, it would be the power of healing. "Nobody should have to live in pain," she says. "I would cure everybody if I could so that they could feel strong and happy."
The power to heal has served Kahleah's Doernbecher team well as they help her along on the road to recovery. Of the doctors who worked so hard to save her life, she says, "I love them. They're my superheroes."
"I wanted to make a shoe that brightens people's days and helps them stand out."