Hometown: Bend, OR
Diagnosis: brain cancer
Shoe: Nike Zoom Pegasus Turbo 2
Sawyer was training as a competitive gymnast when he started feeling dizzy at practice. "It kind of felt like there was a ping pong ball in my head when I did flips," he explains. A brain scan revealed an egg-sized tumor in his brain, which would require surgery and more than 30 rounds of radiation.
Sawyer's treatment required a long stay at Doernbecher, which meant missing time with his friends, family and classmates. So to support him from afar, they came up with a surprise: every Friday, kids and teachers at his elementary school wore a special green "Team Sawyer" tee featuring his favorite animal, a panda bear.
That gesture of solidarity served as the inspiration for Sawyer's shoe, which features the same "Team Sawyer" logo and a friendly panda munching on Nike's trademark swoosh. A blue pawprint on the outsole represents his dog Izzy, and on the tongue tab, you'll find the names of his medical team.
"Dr. Selden is my hero," he says. "He did such a good job on my surgery."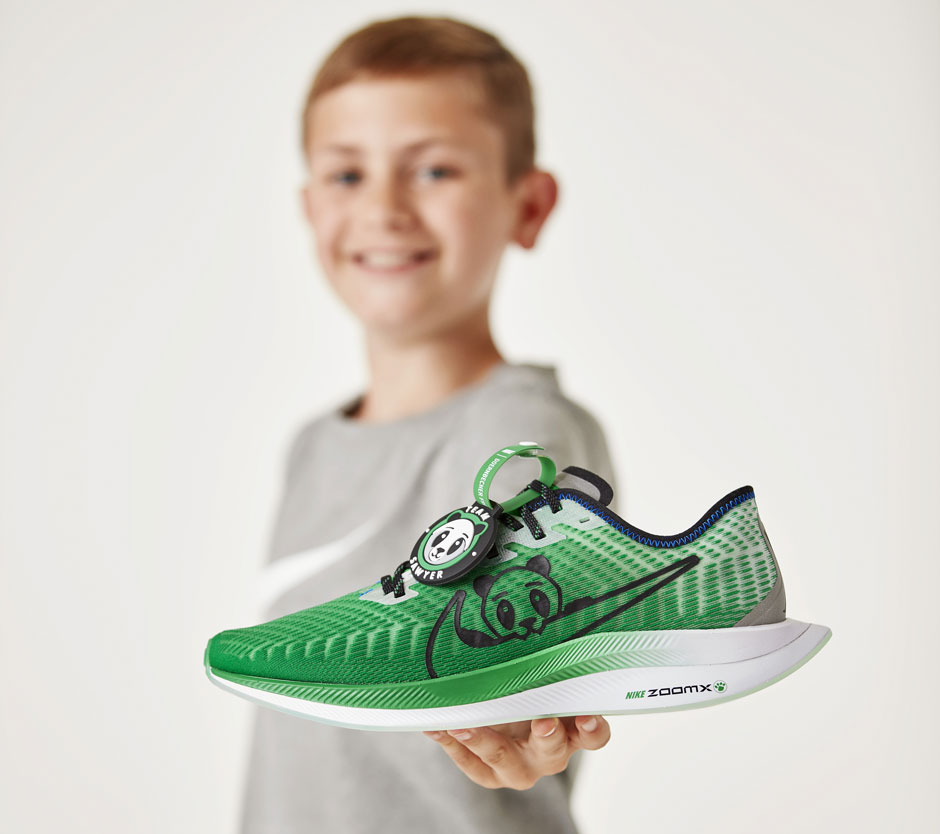 With his treatment mostly behind him, Sawyer now visits Doernbecher only for tests and checkups. And after every clean brain scan, he celebrates in typical daredevil fashion — by doing a handstand
in the hospital.
Now happily back home in Bend, Sawyer loves cooking, tumbling, playing with his cousins at the family ranch and hanging out with his twin brother, Finn. "He's two minutes older than me and is always saying stuff like 'when I was your age,'" grumbles Sawyer.
Sawyer says he'd like to be two things when he grows up: "First, I'd like to be taller. I'd also like to be a chef."
If that doesn't work out, this gregarious kid would do well to consider a career in sales, because his Freestyle sales pitch is pretty hard to refuse:
"Not only is my shoe for a good cause, it's also perfect for dancing, tennis and doing flips. So go ahead — join Team Sawyer!"
"Not only is my shoe for a good cause, it's also perfect for dancing, tennis and doing flips."