Hometown: Eugene, OR
Diagnosis: Hodgkin lymphoma
Shoe: Air Force 1 LV8
Zion is a smart, insightful girl who loves science, reading and music. Last year, a routine sports physical revealed a lump in her neck that turned out to be lymphoma. Two days later, she began the fight of her life at Doernbecher.
For her custom shoe, Zion decided to go with embossed white leather for a clean, classic look that captures her personal style.
The embroidered roses across the Swoosh are a nod to her cancer treatment. As Zion points out, "When you're starting treatment, you feel pretty small, like a closed rosebud. But your bravery helps you bloom and in the end, you grow beautiful and strong."
Zion is still in the midst of her journey, with more treatment ahead of her. That's reflected on her shoe, which features the word "survivor" printed on the sockliner and outsole. It's a word of great significance to Zion.
"Throughout all this, people have called me lots of kind things, like 'courageous' and 'strong.' But out of all of them, 'survivor' is the word that feels the most empowering, because it reminds me that I'll get through this," she says. "I want to inspire all the other kids out there who are survivors too."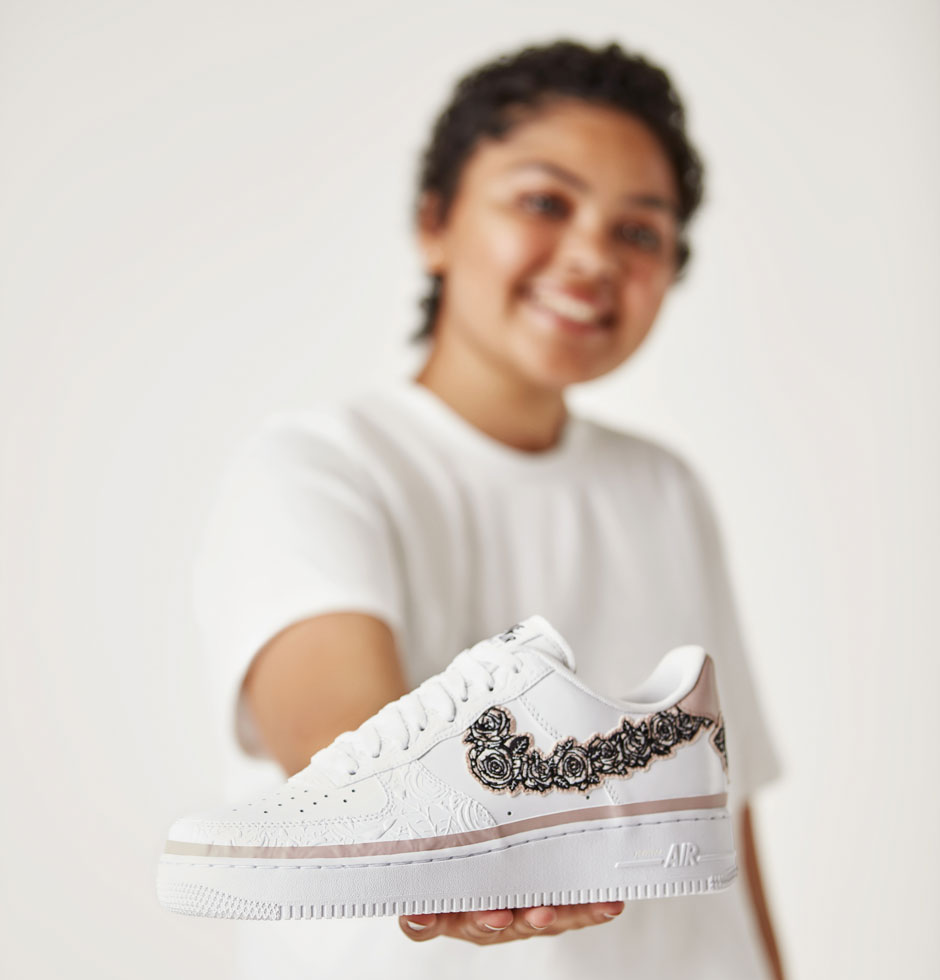 If Zion sounds wise beyond her years, it's because she is. But behind all that wisdom, there's also a silly, fun-loving teen who enjoys playing the piano, hanging out with her friends, and singing every chance she gets. She's also an awesome big sister to one-year-old Penelope. "Penny is so much fun," she says. "She makes me laugh even when I'm feeling down. I call it 'baby therapy.'"
Through it all, Zion says she's grateful to have a dedicated team at Doernbecher in her corner.
"It helps to know that the doctors have my back and are fighting for me and with me," she says.
One day she hopes to be a pediatric oncologist so she can help other young patients in their own fights against cancer.
"I want to inspire all the other kids out there who are survivors too."