Age: 13
Hometown: Salem, Oregon
Diagnosis: Sickle cell anemia
Shoe: Nike Blazer Mid '77
In every origin story, the hero faces impossible challenges, only to conquer them and emerge better and stronger. The same goes for Ayman Wamala, which explains why he identifies so closely with powerful Anime characters and super heroes.
Ayman was born in Kenya and diagnosed with sickle cell anemia at an early age. "When it was really bad, it felt like I was getting hit with a sledgehammer all over my body," he explained. When his family moved to Portland four years ago, Ayman began treatment at OHSU Doernbecher Children's Hospital. "The doctors there gave me medicine, and I've definitely gotten better and stronger," he said.
Ayman's larger-than-life personality is a perfect fit for his career aspirations: He hopes to be an actor. He's already started his resume by starring as one of the main characters in the stage production of Jumanji at his school.
When not on stage, Ayman enjoys playing soccer, cooking and sharpening his wilderness survival skills. "I like to be ready for anything," he said proudly.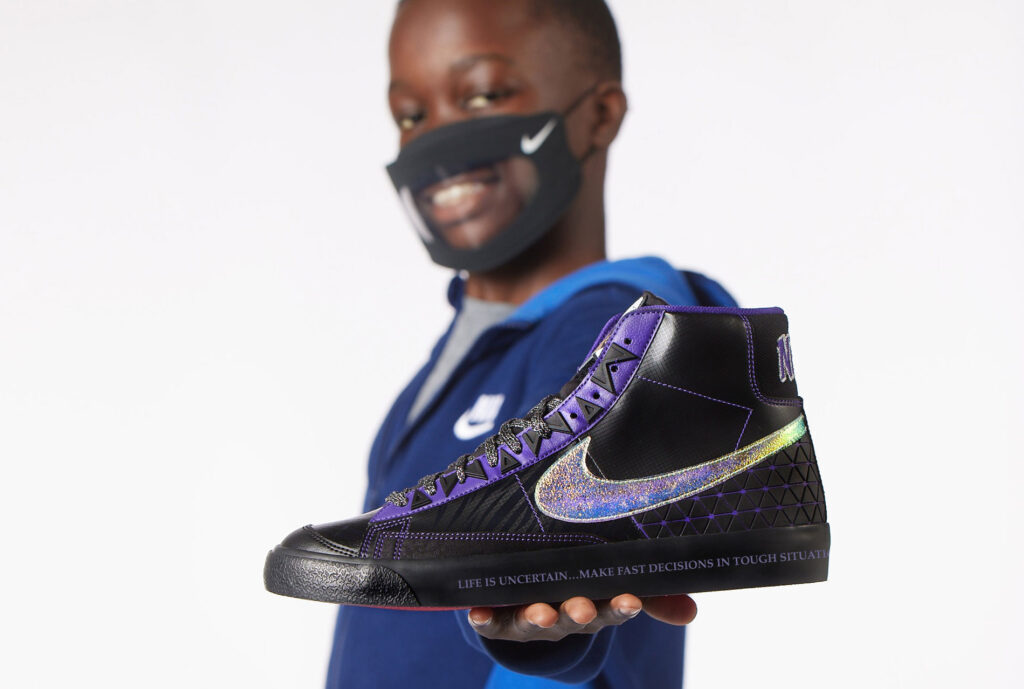 As for his signature Blazer Mid '77, it's powered by Ayman's alter-ego: a mysterious, mind-reading character you'll find on the tongue of the shoe. Triangular shapes represent protective armor, while subtle tiger stripes hold a secret: they glow bright blue in UV light.
The red blood cells on the outsole represent Ayman's condition, while the words Hope, Strength and Perseverance around his logo help guide you on your daily travels. And because a little extra wisdom never hurts, the phrase Life is uncertain … make fast decisions in tough situations runs along the midsole. "I think that phrase relates to a lot of people's lives," Ayman said. "Whether it's COVID-19 or some other unexpected challenge, you have to be able to adjust to it, then rise above it."
Spoken like a true hero.
"Life is uncertain … make fast decisions in tough situations."