Age: 16
Hometown: Kelso, Washington
Diagnosis: Von Hippel-Lindau
Shoe: Nike SB Zoom Stefan Janoski
Most kids dream of visiting Disneyland one day, or maybe Hawaii. Not Catalina Vazquez. This adventurous 16-year-old has her sights set on a far more exotic location: the Galapagos Islands. "I think it's so cool that the turtles and iguanas there evolved so differently, because they were so isolated from everything else," she explained.
Catalina's love for the Galapagos Islands serves as the inspiration for her Zoom Stefan Janoski. Hand-drawn flowers reflect her love of nature, while a butterfly graphic on the top symbolizes metamorphosis. "I've gone through a lot of changes, so I'm kind of like a butterfly," she said.
Those changes have been a consistent part of Catalina's life. At just three days old, she was diagnosed with Von Hippel-Lindau disease, a rare hereditary condition that causes tumors to grow in multiple organs throughout the body. The tumors have affected Catalina's eyes, spinal cord and brain, requiring five surgeries to remove them.
Despite a difficult medical journey, like a butterfly Catalina continues to emerge, and is determined to stay strong and bring awareness to her disease while she's at it. That's why you'll find a DNA helix along the side of her shoe, as well as a powerful statement from the VHL Alliance:
The cure is in our genes.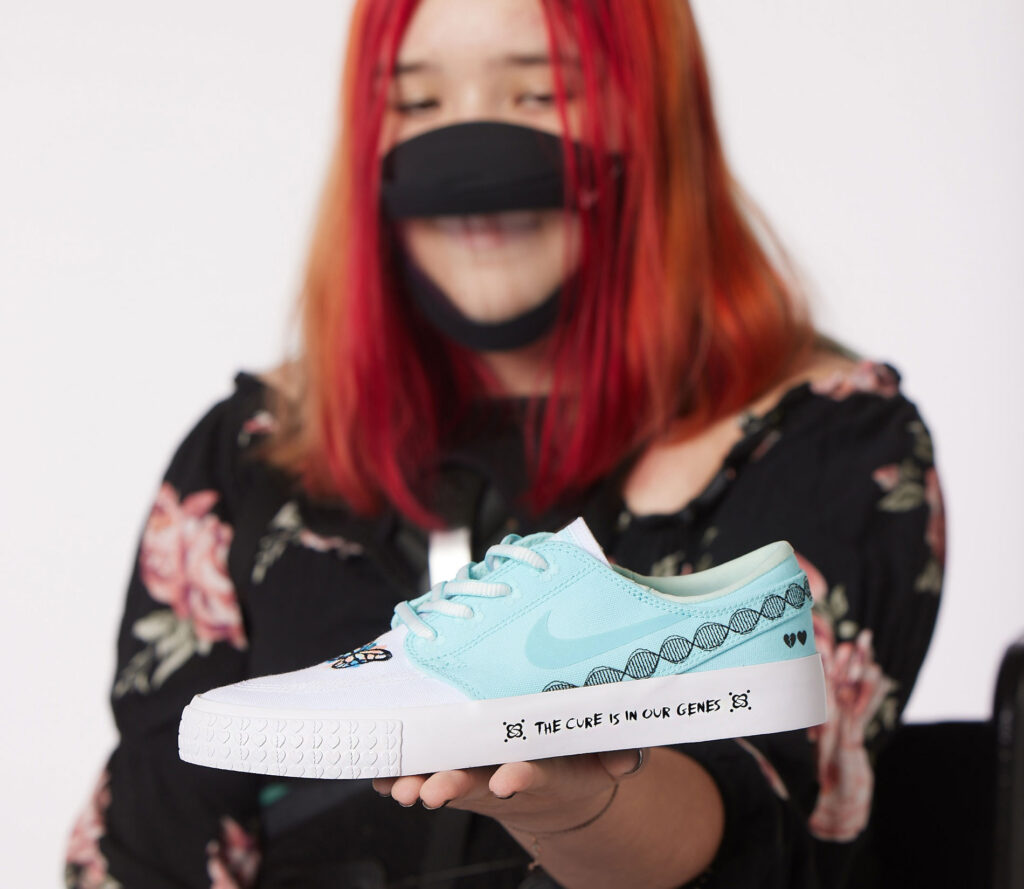 When she's not designing shoes, Catalina loves expressing her creativity in other ways, like drawing realistic sketches of her favorite musicians.
She also enjoys gardening and spending time with her three horses: Kit Kat, KT and Nugget. Catalina plans on following in her mom's footsteps and going into massage therapy, but with a twist. "My mom works on humans, but I love horses, so I'm going to combine the two and become an equine massage therapist," she smiled.
Catalina's can-do outlook is captured on her collection's label, which reads Inspire Others Daily. That's something Catalina's mom, Bethanie, says her daughter does constantly. "No matter what challenges she's facing, Catalina continues to push through," she said. "I think she inspires a lot of people, including me."
Catalina's can-do outlook is captured on her collection's label, which reads Inspire Others Daily.