Age: 15
Hometown: Portland, Oregon
Diagnosis: Spina bifida
Shoe: NikeCourt Zoom Vapor Cage 4
Behind her quiet humility, Maylee Phelps is kind of a big deal. She's an accomplished junior wheelchair tennis player, currently ranked #11 in the world, and hopes to represent the United States in the 2028 Los Angeles Paralympics. Of course, that plan also includes a glimmer of gold.
Maylee was born with spina bifida, a condition where the spine and spinal cord fails to develop properly. She's had a lot of surgeries at OHSU Doernbecher over the years to help improve her mobility and is now learning to use forearm crutches.
"All my doctors are great," she said. "They keep me playing wheelchair tennis and feeling good so I can keep doing the things I want to do."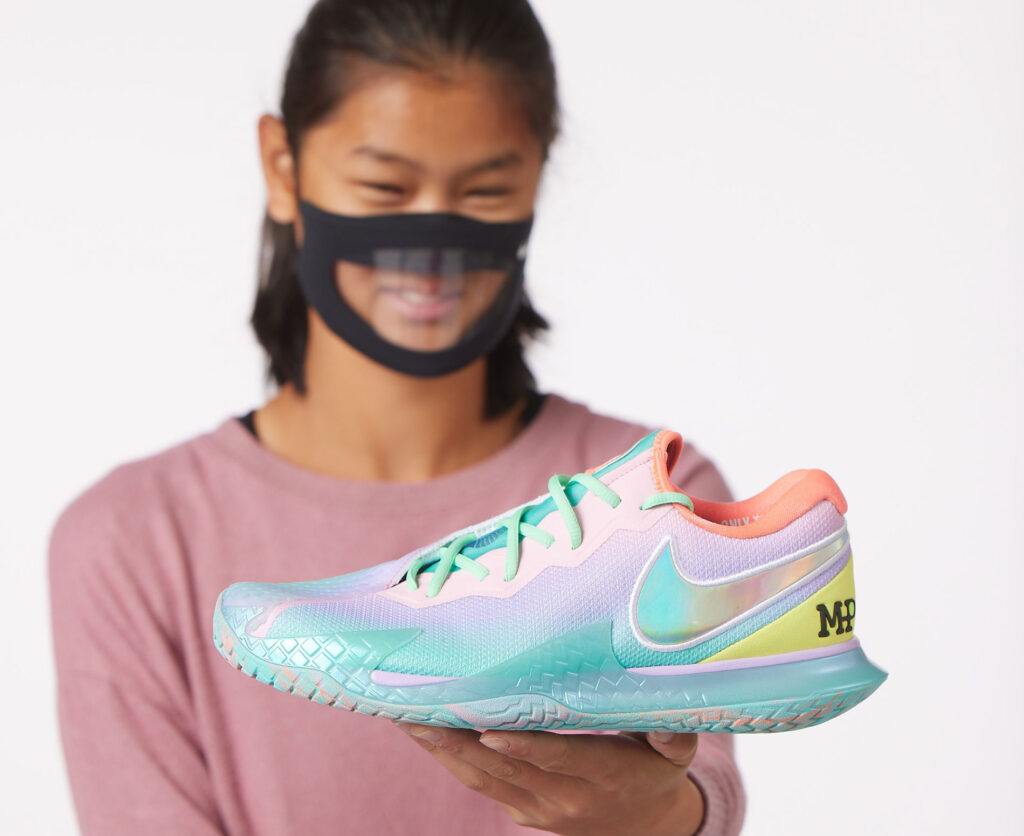 Some of those things include doing arts and crafts, playing with her pug Otis and baking. (Her specialty is raspberry macarons.) Following her Paralympic career, Maylee plans to open her very own bakery, which is good news for humans and canines alike. "I want to make yummy treats for both people and dogs," she smiled.
Maylee's Air Zoom Vapor Cage 4 is loaded with personal touches, like hand-drawn stars and a cool marbled outsole featuring all her favorite colors. To help bring awareness to adaptive athletics, she included a spine graphic on the tongue as well as a blue spina bifida ribbon on the heel. Along the midsole, you'll find a reminder to Keep Pushing no matter what life throws your way. "That phrase helps keep me motivated on the court and in life," Maylee explained. "I thought it might help other people, too."
"All my doctors are great. They keep me playing wheelchair tennis and feeling good so I can keep doing the things I want to do."