Age: 11
Hometown: Dayton, Oregon
Diagnosis: Krabbe disease
Shoe: Air Jordan 5 Retro Low
Two months after Michael "Spitfire" Wilson was born, he was diagnosed with Krabbe disease, a rare genetic condition that destroys the protective coating of nerve cells in the brain and nervous system. The disease is often fatal, but Michael had a hero in his corner: his older brother Marshall.
"Marshall had Krabbe disease too," Michael explained. "Because of his symptoms and diagnosis, the doctors knew to watch for it in me when I was a baby and were able to catch it a lot sooner. My brother helped save my life. Five years after that, he grew his angel wings and passed away."
Because Michael's disease was diagnosed early, he was a candidate for a life-saving stem-cell cord blood transplant that can essentially stop Krabbe disease before it starts degenerative progression.
The procedure was done at OHSU Doernbecher on February 10, 2011, and was 100% successful. "I call it my re-birth day," Michael smiled.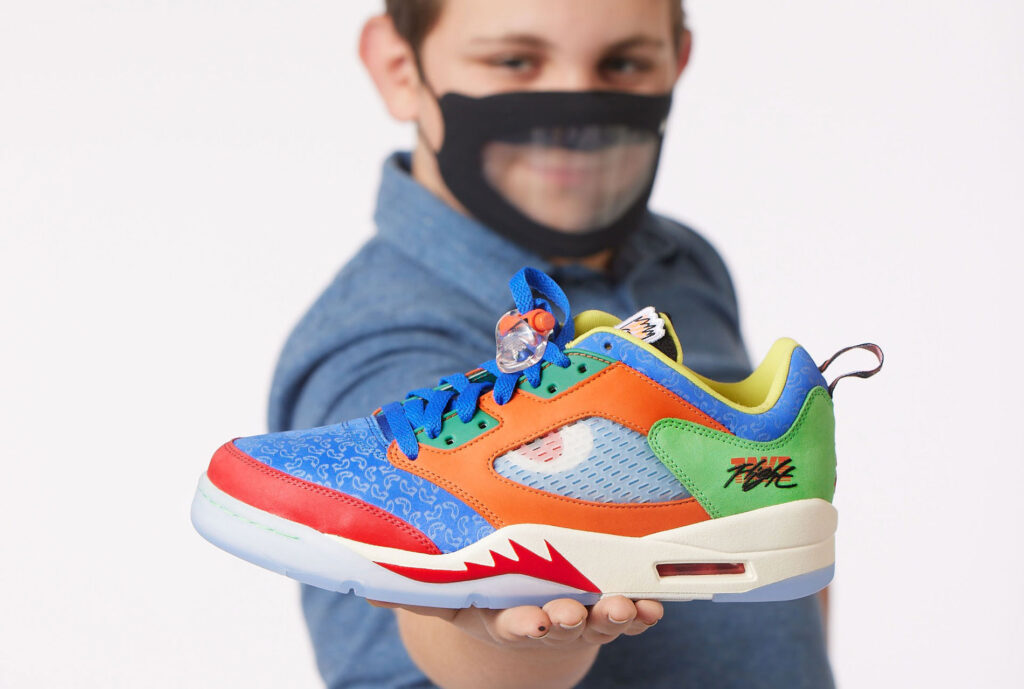 Ten years later, Michael is just a happy kid with a serious love for airplanes, sharks and mac 'n' cheese. His high-flying Air Jordan 5 Retro Low proves it. A fierce shark glides along the side, while a mac 'n' cheese print is lasered throughout the suede upper, and cool interchangeable patches on the tongue let you customize your own style. When you're ready to take the shoe off? Just pull the "eject" loop on the heel tab.
Michael's motto – Take Flight – adorns the shoe, and represents his desire to be a pilot. "Sometimes when I get really down, I imagine flying through the air, dunking the basketball and winning the ultimate championship like Michael Jordan did," he said excitedly. "When people see those words, I want it to make them feel powerful like me."
Michael says he has a secret weapon that's helped him get through even the toughest challenges: "I have a happy soul!" he exclaimed. Beyond feeling happy, he's also profoundly grateful to his entire medical team at OHSU Doernbecher.
"They have done an amazing job taking care of me and fixing me up," he said. "Without my team, I would not be in the world today."
"They have done an amazing job taking care of me and fixing me up. Without my team, I would not be in the world today."