Age: 17
Hometown: Tualatin, Oregon
Diagnosis: Granulomatosis with polyangiitis
Shoe: Nike Dunk Low
Zoe Taaffe is one in a million—literally. When she was a sophomore in high school, she was diagnosed with an autoimmune disease that causes severe inflammation of the blood vessels. It's so rare, only one in 1.2 million pediatric patients have it.
"For months, I had all these weird symptoms like random swelling, coughing, rashes and fever," said Zoe. "But no one could connect the dots until I got to Doernbecher. They said, 'Let's admit you to the ICU and figure this out.' And they did."
Stabilizing Zoe required multiple blood transfusions, plasma transfusions, steroids and chemotherapy. While the long hospital stays weren't much fun, they did provide Zoe with an up-close look at her chosen profession.
"I've always loved the medical field, and originally I wanted to be a surgeon," Zoe explained. "But after being in the hospital, I decided that I want to be a nurse. My nursing team has a special place in my heart because they really showed me the meaning of kindness and compassion. That's the kind of positivity I'd like to bring to the medical field."
Zoe's positivity is apparent everywhere on her Nike Dunk Low. At first glance, it just looks like a cool tribute to her favorite team, the Oregon Ducks. But look close, and you'll notice Zoe's name cleverly hidden in the zebra-like print. Look even closer and you'll realize that it's more than a zebra print; it's a subtle nod to the stretch marks that the steroids created on Zoe's body.
"Just like a zebra's stripes, I believe that everyone is unique," she said. "I'm also a huge advocate for body positivity on social media—young kids need to learn to love their bodies no matter what. This experience taught me that what you're going through doesn't define you—it's what you do with it that counts."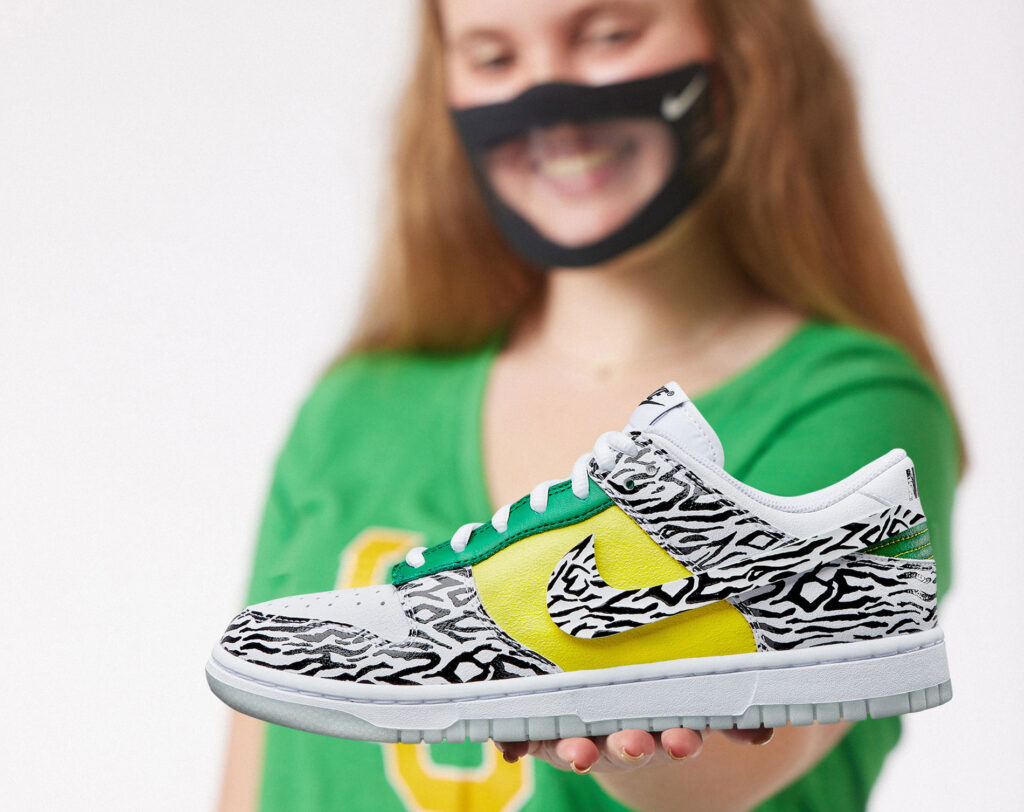 Zoe's feel-good shoe also features a glow-in-the-dark outsole, an Oregon Duck-inspired nursing symbol on the sockliner, the word fearless on the laces and interchangeable Velcro Swooshes that let you change up your look.
Now that Zoe is able to manage her condition, she's back to her favorite activities, like baking, writing music and leading her lacrosse team to more victories. Zoe is thrilled her signature shoe will help other kids like her.
"I think my shoe is a constant reminder that we're all special in our own way, we all have rare qualities, and we're all one in a million," she emphasized. "I hope it inspires people to be fearless and get out there to achieve whatever they want."
"This experience taught me that what you're going through doesn't define you—it's what you do with it that counts."