This year more than 350 OHSU students will head out to rural Oregon for an unforgettable hands-on learning experience. After, many of them will decide to devote their careers to small-town health care. What makes this kind of training so powerful?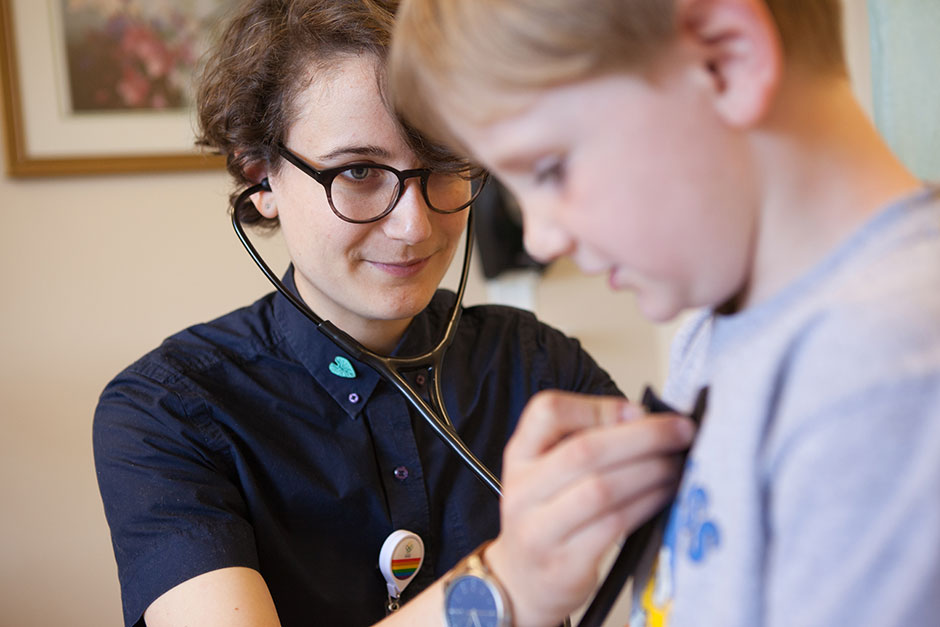 One person can make a big difference
Fourth-year medical student Jay Ruby was not yet sure what kind of medicine she wanted to practice, or where she wanted to live after medical school. But she did know this: "I want to practice where I can be as useful as possible."
Ruby was nine weeks in to a 12-week training rotation in Klamath Falls, as part of OHSU's new Campus for Rural Health and the Oregon Rural Scholars Program. Under the supervision of local physicians, she treated a variety of patients at the Cascades East Family Medicine Clinic and was part of a community health project team. It was an inspiring experience.
"Training in a small community, you know you are helping where you are really needed. There are fewer specialists and fewer resources — you can make a bigger impact," Ruby said.
Ruby's experience reflects a larger trend: Oregon faces a health care provider shortage, and rural communities are bearing the brunt of the impact. Longtime rural practitioners are aging and starting to retire, and they aren't being replaced. At the same time, rural communities are contending with sluggish economies and rising rates of chronic disease and drug addiction, among other health issues, according to the U.S. Centers for Disease Control and Prevention.
"Training in a small community, you know you are helping where you are really needed. There are fewer specialists and fewer resources — you can make a bigger impact."

Jay Ruby, fourth-year medical student, OHSU School of Medicine
For those who have chosen to practice in rural areas, the challenging environment is an opportunity to show what you're made of.
"You have to be creative," said Joyce Hollander-Rodriguez, M.D., regional associate dean for the rural campus. "You learn that every health practitioner in a rural community is very important. You develop a strong sense of accountability. And that's immensely gratifying."
You get to try things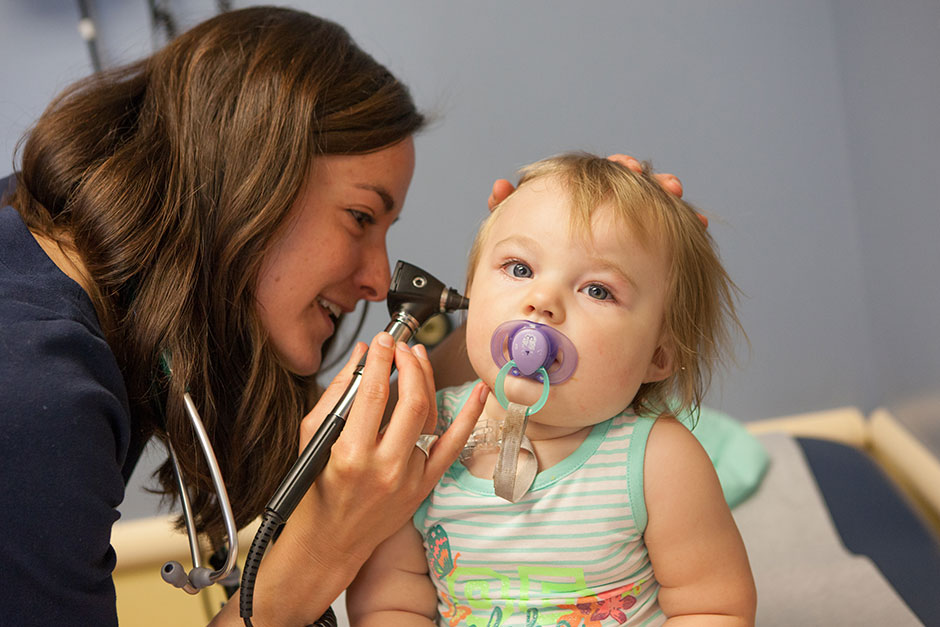 Rural training encourages students to try new things and push themselves beyond what they thought possible. Katie Metzger, who will graduate from the OHSU School of Medicine's physician assistant program in August, noticed that once she left Portland, she started getting more opportunities for hands-on practice. Katie has completed rural rotations in Coos Bay, Coquille and Klamath Falls.
"At the Sanford Children's Clinic in Klamath Falls, I got to treat patients with a wide variety of conditions. I wouldn't have seen them in Portland, because they would have been at a specialty clinic."
"Most of our local family doctors go far beyond what they would do in an urban community. In a small town, a family doctor takes on multiple roles. You do what needs to be done."

Wendy Warren, M.D., practices family medicine in Klamath Falls
The same dynamic plays out over the long term. Wendy Warren, M.D., has been practicing family medicine in Klamath Falls for 25 years. She's also become an expert in delivering babies.
"Most of our local family doctors go far beyond what they would do in an urban community," said Warren. "In a small town, a family doctor takes on multiple roles. You do what needs to be done."
You are part of a community
Those who seek out careers in rural health care are drawn to the idea of becoming an active, visible member of the community. Lisa Pearson, M.D., '17, just completed her fourth year of medical school and will be starting as a first-year resident at the Cascades East Family Medicine Residency Program. She was also part of OHSU's Rural Scholars Program and completed a 12- week rotation in Enterprise, Oregon. Based on her experiences, she has decided to practice in a rural community.
"I like the idea of getting to know everyone in the community, and the continuity with patients. You get to follow people throughout their lives, even through generations. In Enterprise, the local doctors and nurses would donate their time to the free clinic. It's harder to ignore people suffering in the community when they are your neighbors," she said.
The rural campus puts a strong emphasis on community engagement. For example, this year students in Klamath Falls are working with Cascade Health Alliance, Klamath Tribal Health & Family Services, Sky Lakes Care Management, Klamath County Public Health, Healthy Families and Oregon Tech to identify ways to help pregnant women and new mothers access tobacco cessation programs. The community project introduces students to health care challenges facing rural communities and provides a way to give back.
The project also encourages interprofessional teamwork. In contrast to most health care education programs, where students learn in disciplinary silos, OHSU's rural campus puts students from all disciplines together immediately — they share housing, join up for activities and collaborate on the community health project. During their rotations, Ruby and Metzger lived in a large group house that included dental, medical, pharmacy and physician assistant students.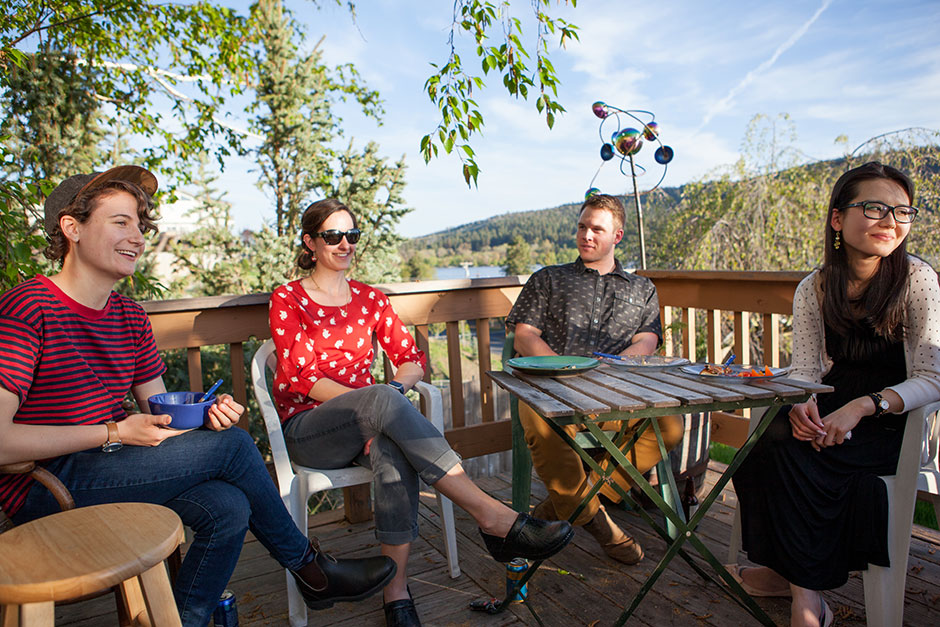 "It's been awesome to live with students from other disciplines. Interacting casually at home, you learn to respect each other as people and as professionals," said Metzger.
Local health care providers who serve as faculty and preceptors to the program get to expand their sense of community, too. Opening up their practices to include promising young students increases their job satisfaction, making it more likely they will stay in rural Oregon. The rural campus in Coos Bay recently surveyed its program faculty. One hundred percent responded that mentoring a student was intellectually stimulating and professionally satisfying.
An opportunity to make things better
Sky Lakes Medical Center President and CEO Paul Stewart has been working to improve community health in Klamath Falls for more than 20 years. He was instrumental in launching the Cascades East Family Medicine Residency program with OHSU; and now his partnership is helping to further transform OHSU's rural training capabilities.
In 2016 Sky Lakes and OHSU launched an exciting $50 million partnership called the Oregon Rural Health Initiative. The initiative's immediate focus is to raise charitable funds needed to recruit a dean for the Campus for Rural Health and build a new facility that will house the rural campus offices and Sky Lakesowned primary care clinics, where OHSU students and residents train.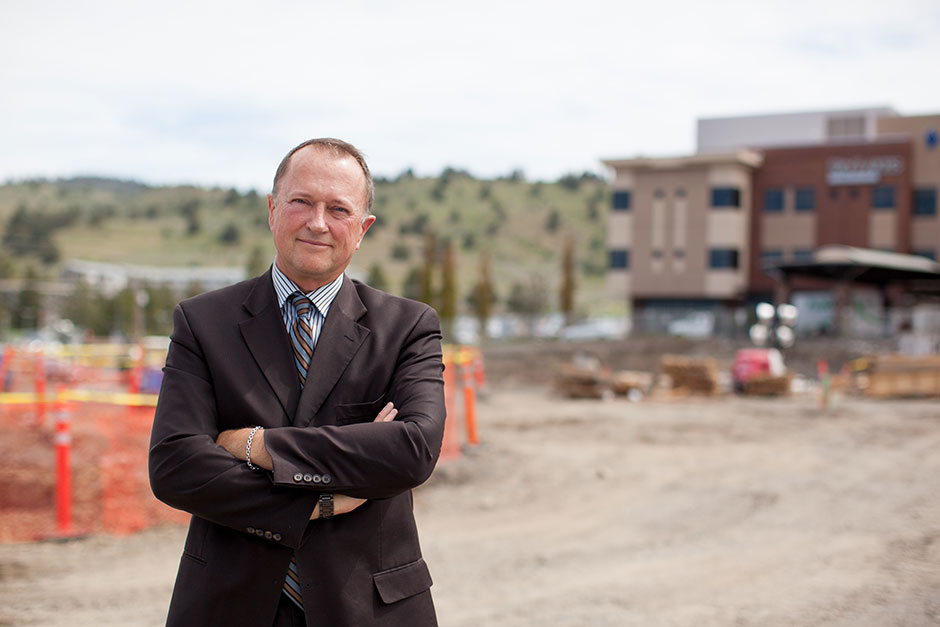 Stewart is excited about the immediate opportunities the new partnership brings, but he's most interested in the long game. "We need a health system where providers are clearly aligned and focused on education, prevention and wellness — while also fixing things that go wrong.
"With the Oregon Rural Health Initiative, we can influence a new generation of providers who will not only stay in Klamath Falls but also focus on the overall health of the community. I'm seeing it already in the students who choose to come here — they're asking, 'How can I make the community a better place?'" said Stewart.