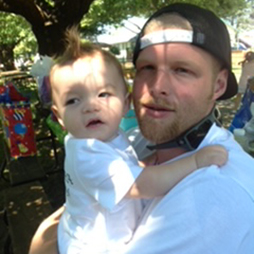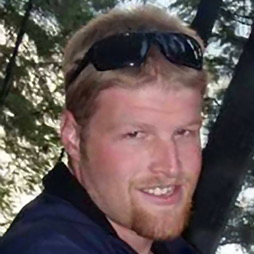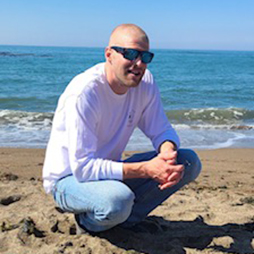 A lot of people miss Adam Arrambide.
He was earnest, spiritual, considerate, a best friend and a loving brother and father. To Jesseye Arrambide, B.S.N., '00, he was also a loving son.
"His life was taken way too early and too suddenly," she said. "I want him to be remembered for the sweetheart that he was."
On Feb. 27, 2021, at 11:30 p.m., Adam was shot outside of a restaurant in southeast Portland. His friend, William Peters, was also shot and died at the scene. Their brothers, who were with them at the restaurant, witnessed the gun violence. Around midnight, Adam arrived via ambulance at OHSU. After five hours in the operating room where he received over 200 units of blood and blood products, Adam died on the operating room table. He was 36 years old.
"When the surgeon came out to tell the family that he died, I remember telling the surgeon to please tell everybody in the operating room, 'Thank you so much for everything they did for him,'"

Jesseye Arrambide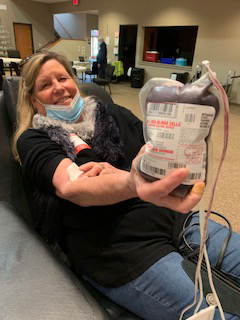 Today, Jesseye Arrambide does all she can to honor her son. She is involved with advocacy groups like the Brady Campaign and Moms Demand Action, which seek solutions to the rising gun violence crisis. On Oct. 30, 2021 — what would have been Adam's 37th birthday — she and her husband donated blood to honor his memory. She called on friends and family to join her and organized another blood drive this year.
Arrambide also made a gift to the Donald D. Trunkey Center for Civilian and Combat Casualty Care. Established in April 2020, the Trunkey Center connects trauma providers and investigators from across OHSU and the VA Portland Health Care System to leverage expertise and resources to advance trauma research and care.
Arrambide, a surgical nurse of over 40 years, has navigated the exhaustion and stress of an operating room. She identified with the center's mission to confront gun violence and bring more collaboration and support to health care trauma providers.
"I've tried to be as outspoken as I can after Adam's death to bring awareness to how big the issue is and to personalize it for people," she said. "Surgeons, anesthesiologists and nurses work so hard to save lives, and this senseless gun violence doesn't need to happen. … I turn on the TV every morning and hear about the latest shooting, and the outcome is so often the same: 'They were taken to a local hospital where they did not survive.' I'm so sick of hearing that."
According to the Centers for Disease Control and Prevention National Center for Health Statistics, there were approximately 48,800 firearm-related deaths in the United States in 2021, the largest figure on record. Though 2021's gun death rate per capita (14.8 per 100,000 people) is below the nation's peak of 16.3 per 100,000 people in 1974, the rate has steadily been rising over the last decade.
The data shows an uptick in gun violence locally, too. Reports collected by the Portland Police Bureau indicated 313 injury and non-injury shooting incidents in 2019. There were 662 in 2020, and 965 in 2021. From the beginning of 2022 through the end of September, there have been 997.
"Surgeons, anesthesiologists and nurses work so hard to save lives, and this senseless gun violence doesn't need to happen."

Jesse Arrambide
Researchers such as Kathleen Carlson, Ph.D., an associate professor of epidemiology at the OHSU-PSU School of Public Health, consider this an epidemic. Carlson, who is also a core investigator with the VA Portland Health Care System's Health Services Research Center of Excellence, studies gun violence as a public health issue and examines the range of injury prevention and injury control. In January of 2022, Carlson received an OHSU Faculty Excellence and Innovation Award to develop the OHSU Gun Violence Prevention Research Center.
On Nov. 1, Carlson presented on the epidemiology of gun violence in the Marquam Talks lecture series. In her lecture titled, "Gun Violence as a Public Health Issue," she discussed the epidemiology of gun violence and shed light on the public health response. The lecture was recorded and is available to watch.
OHSU is also partnering with a local nonprofit, Healing Hurt People, to break cycles of violence by connecting victims treated at OHSU to rapid-response counselors. The program, which serves people of color between the ages of 10 and 35, hopes to prevent retribution against victims of violence by engaging and supporting them and their families.
Initiatives like the Trunkey Center, lectures about gun violence as a public health crisis and community partnerships all aim to better understand and confront firearm-related injuries and deaths in Portland and across the country.
Arrambide is grateful to OHSU for its efforts, not only in finding solutions to gun violence, but for trying to save her son's life.
"When the surgeon came out to tell the family that he died, I remember telling the surgeon to please tell everybody in the operating room, 'Thank you so much for everything they did for him,'" she said. "There are victims of gun violence and families who go through all this grief. But there are also people that come home from work who had to go through this negative experience. … The mental anguish providers go through, it's just not right."