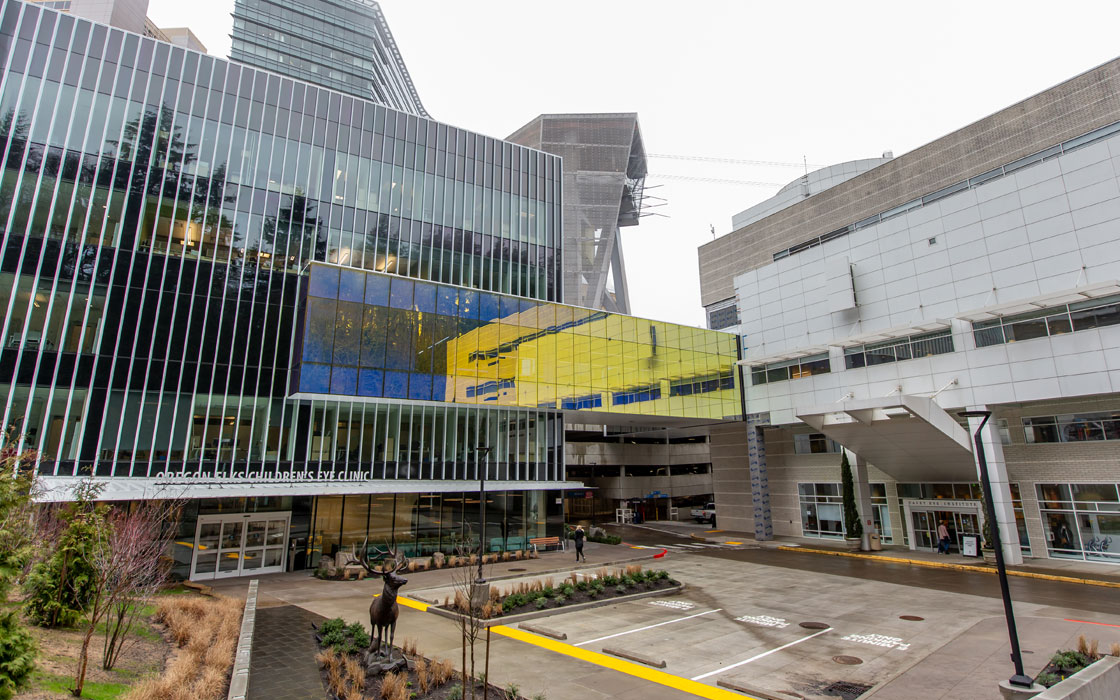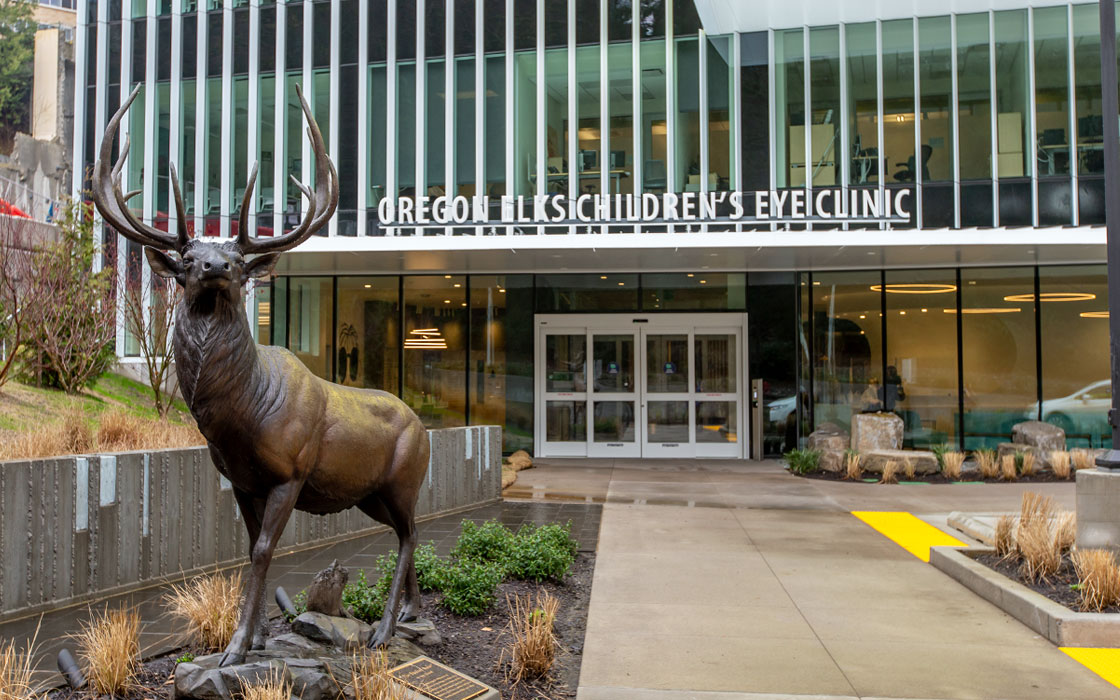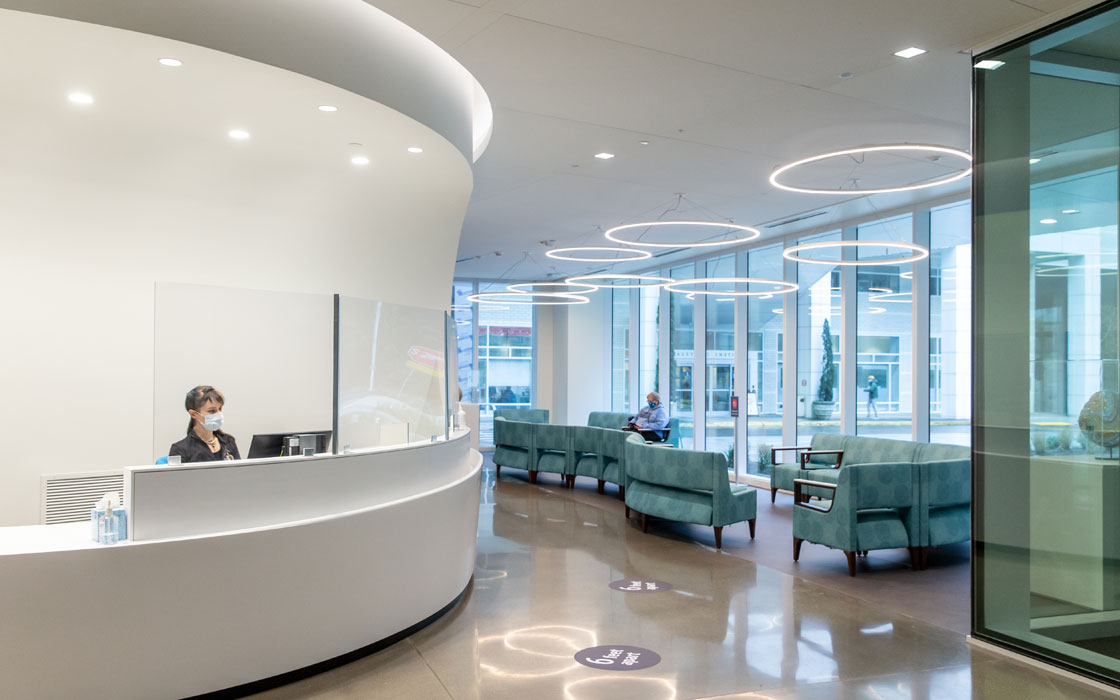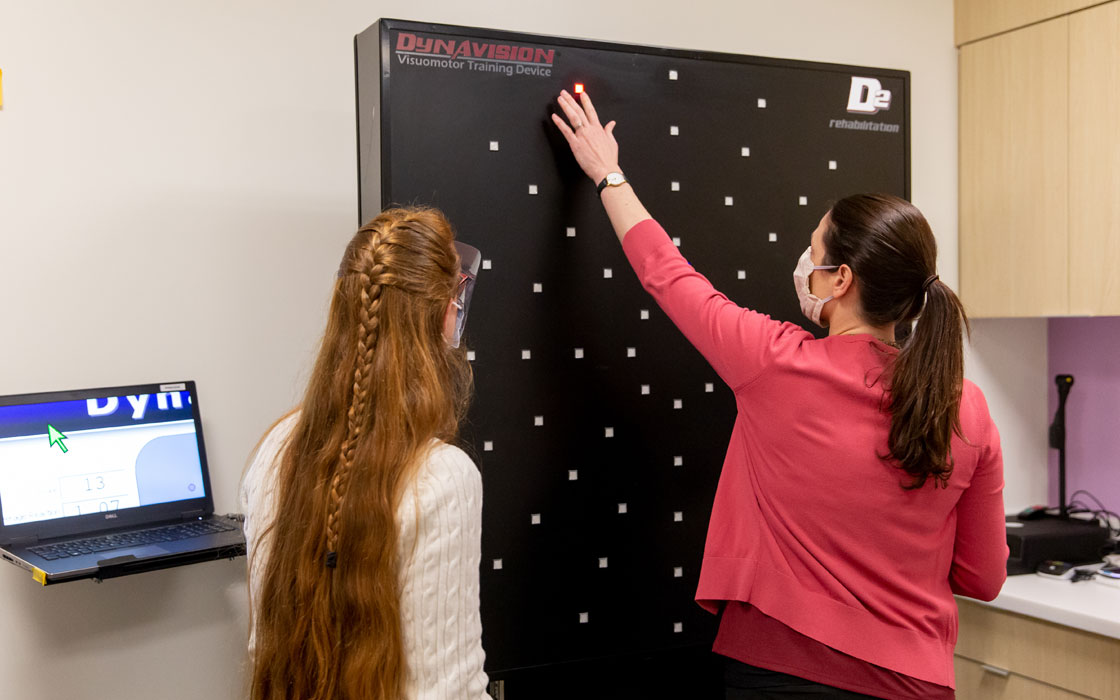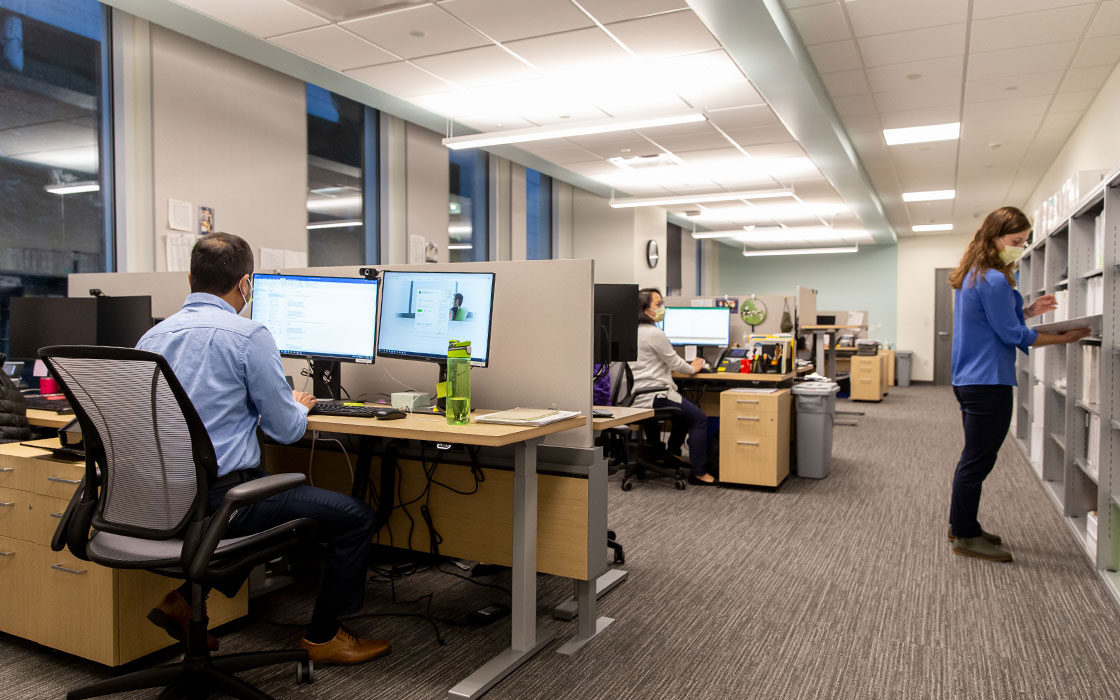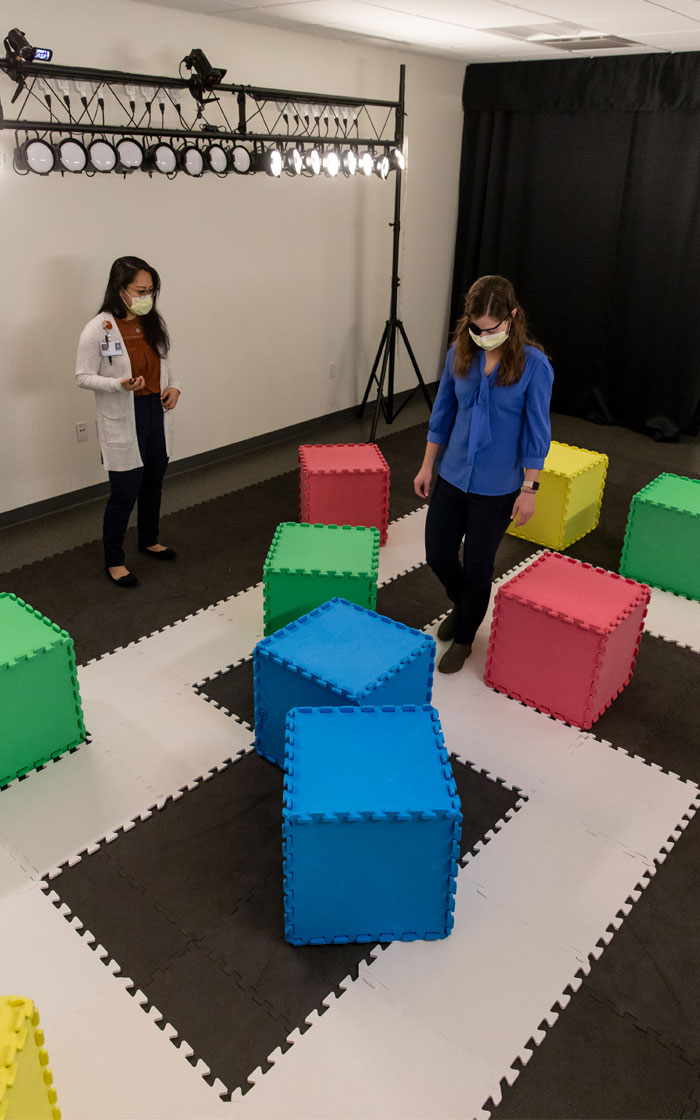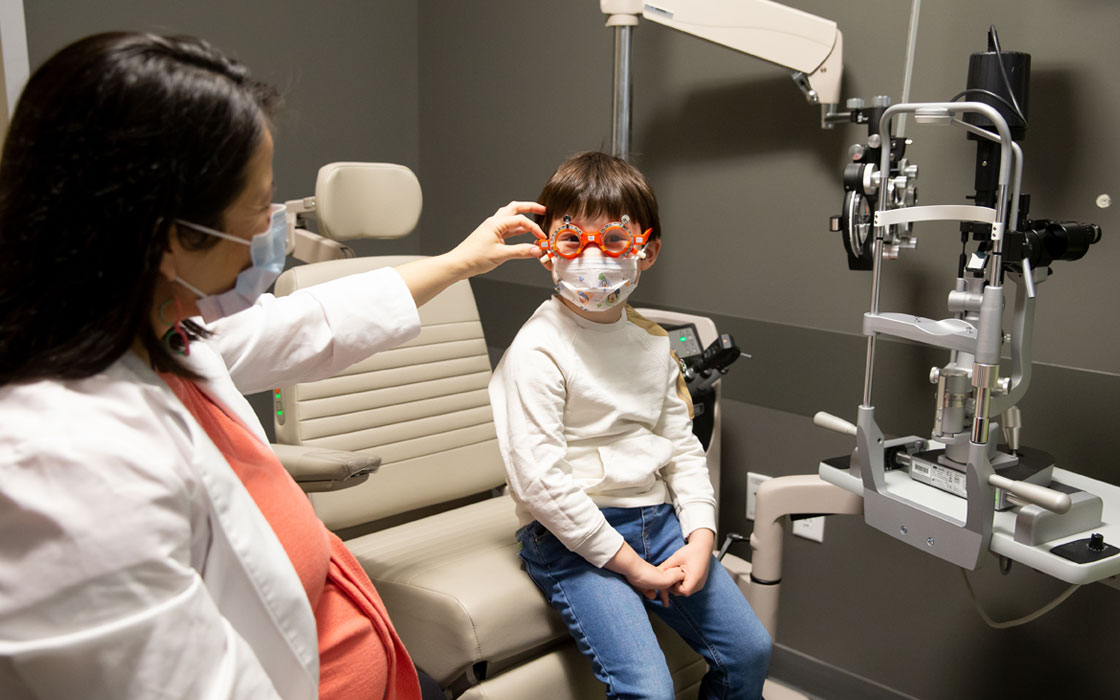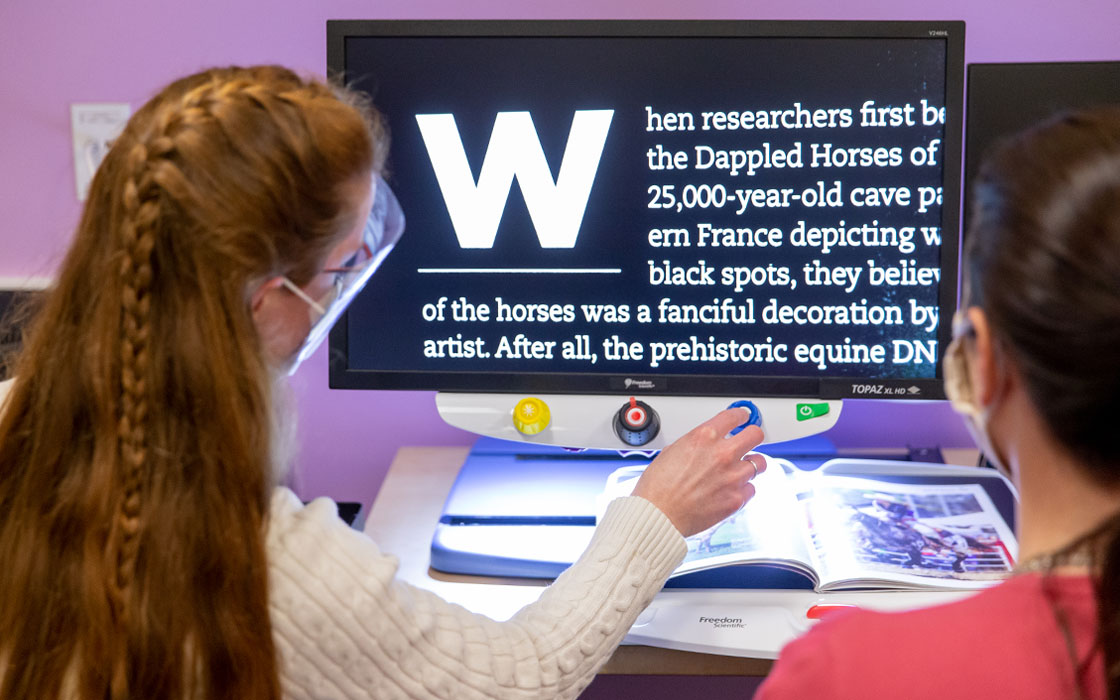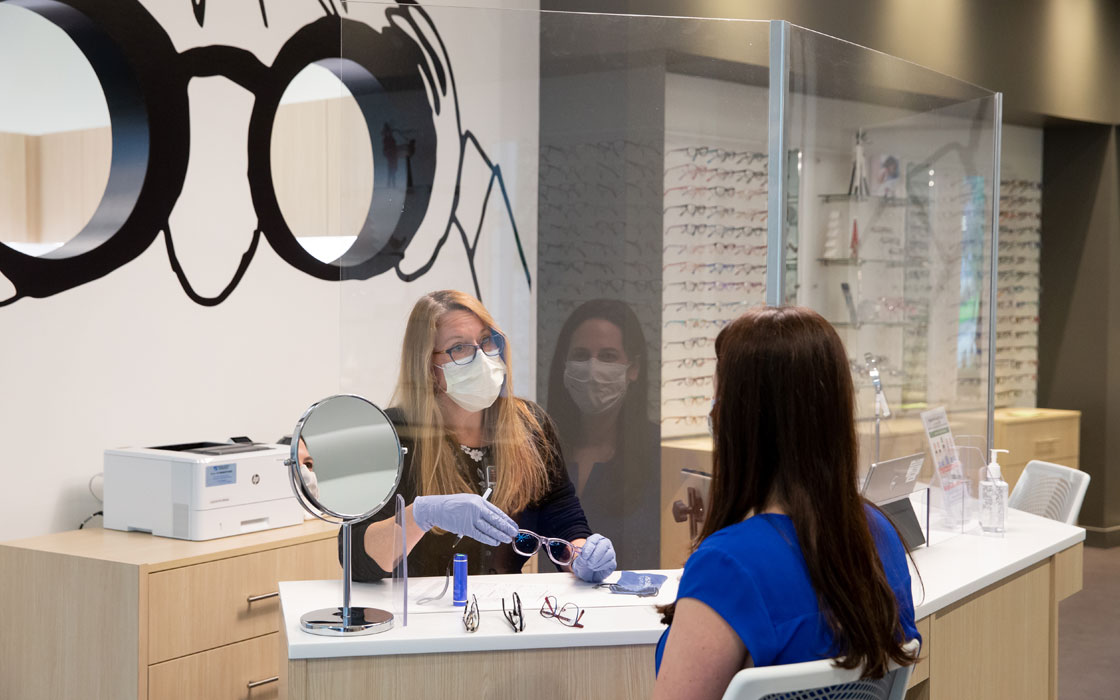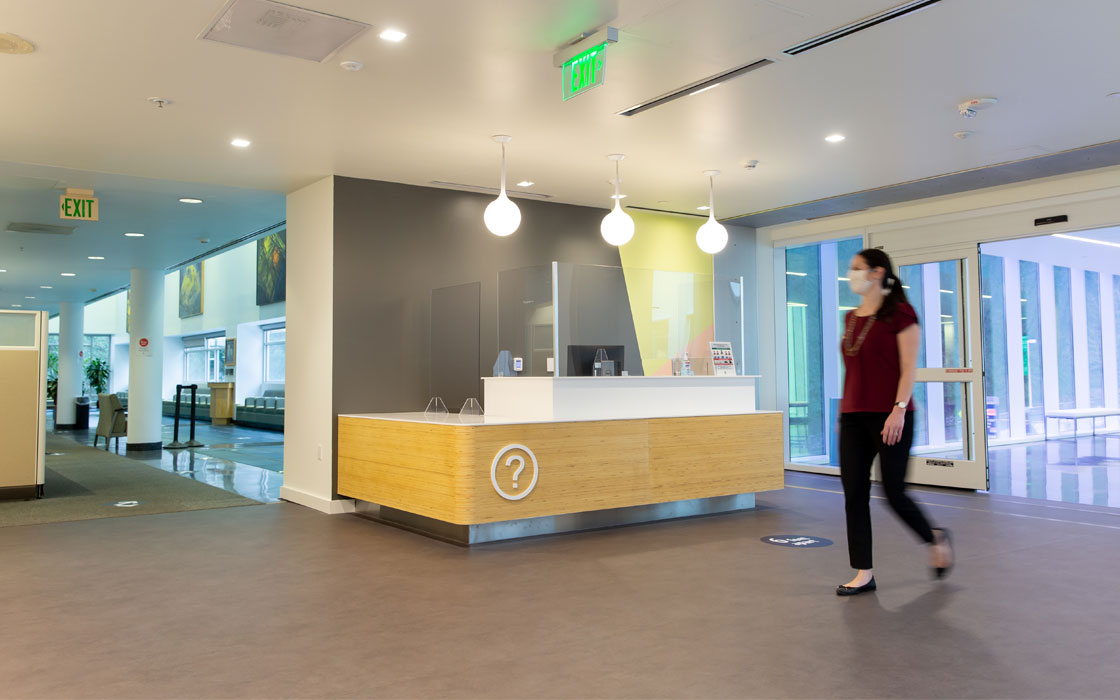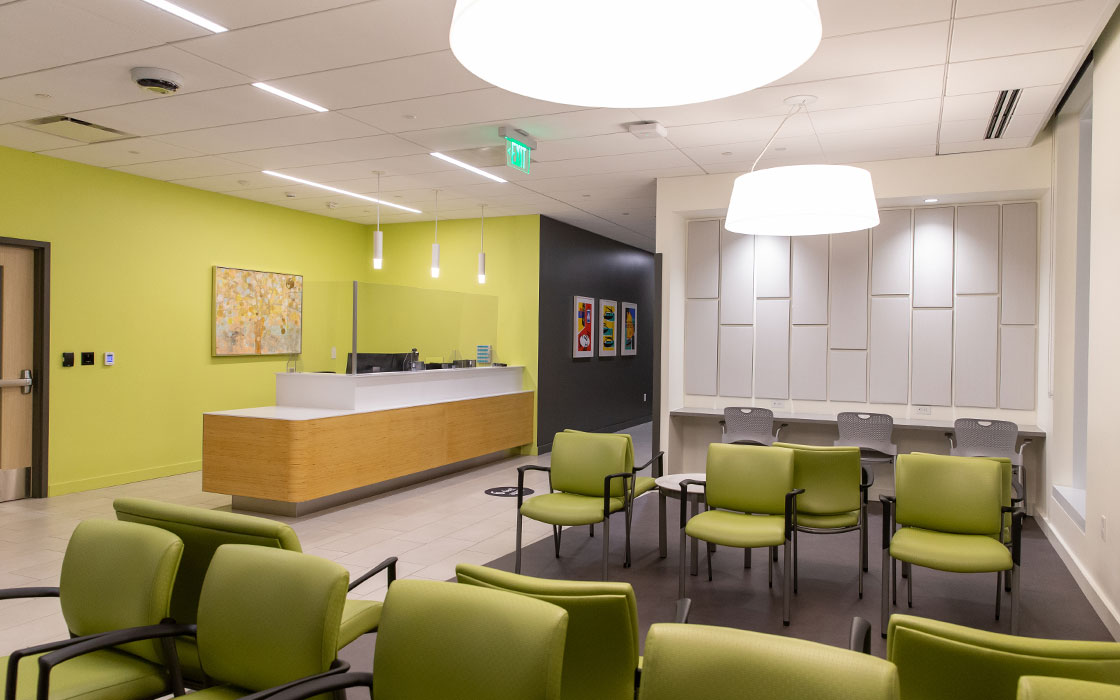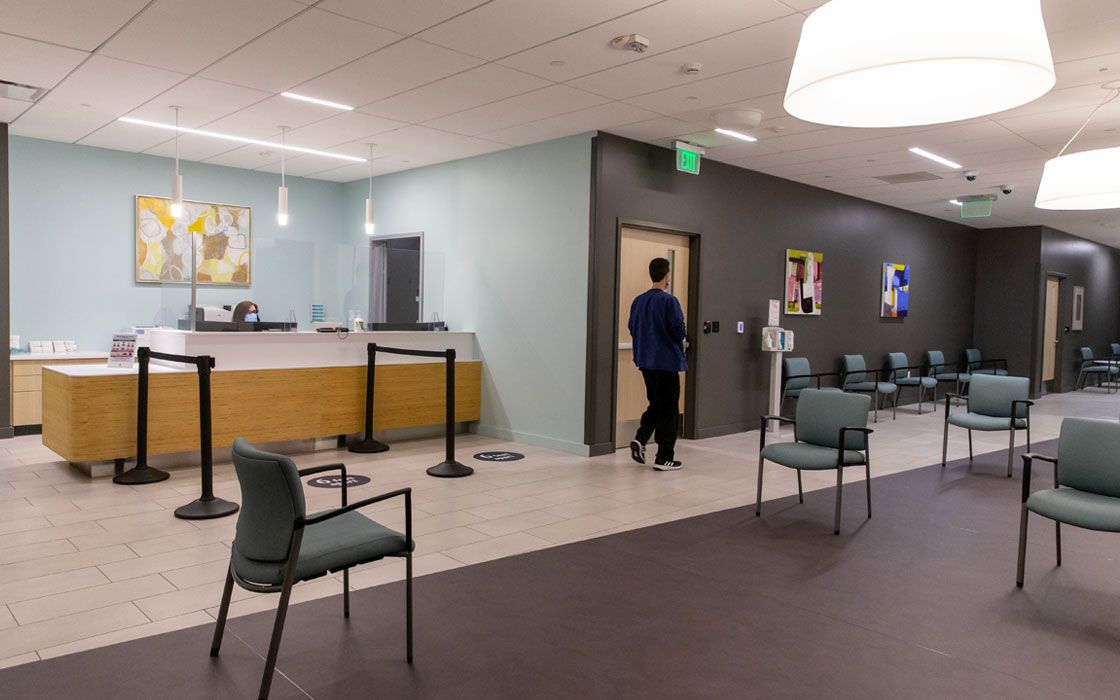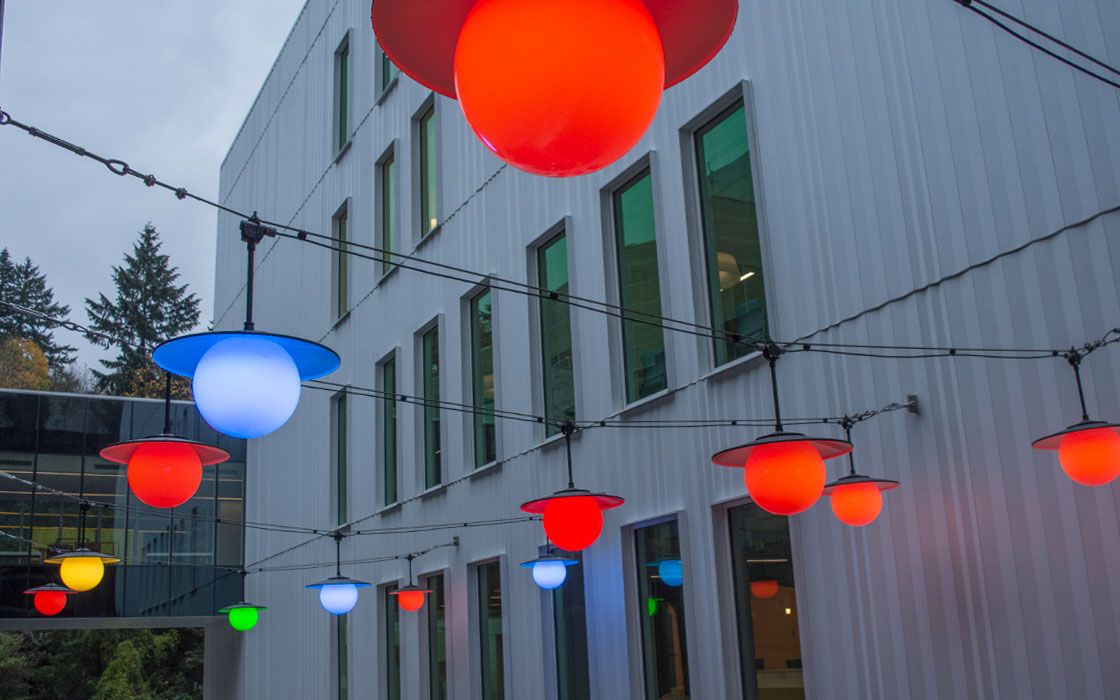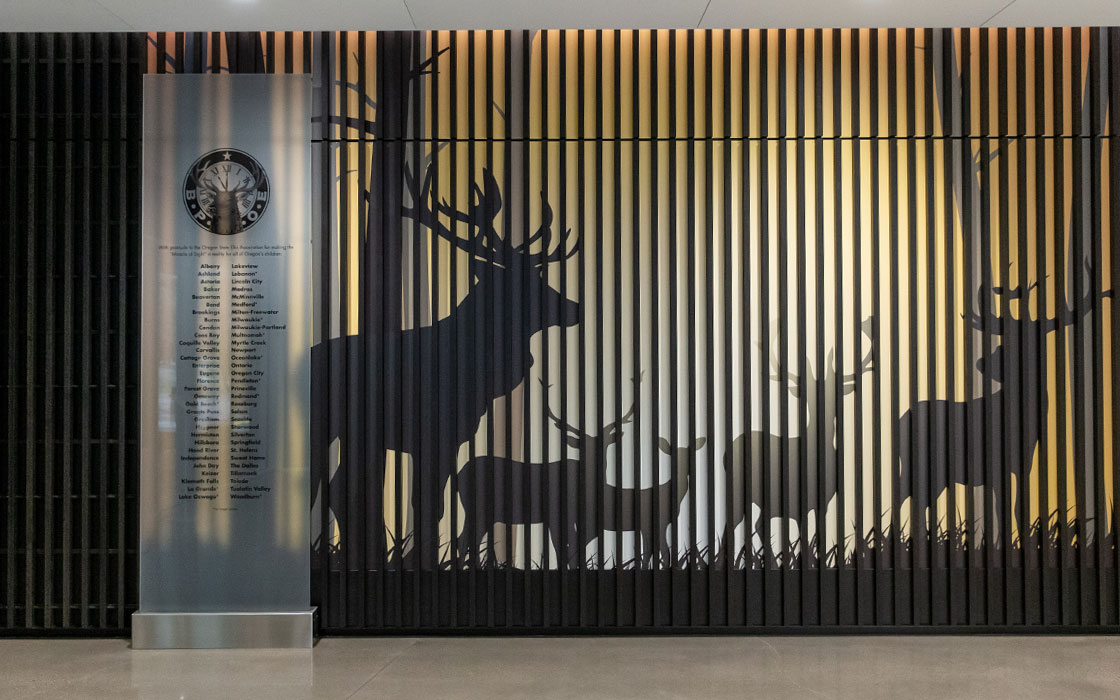 The most prominent exterior feature of the Elks Children's Eye Clinic building is The Marilyn & Glenn Hart Sky Bridge, which connects to the Casey Eye Institute building. Made of dichroic glass, it dramatically changes color in response to outside lighting conditions.
Cast in bronze by renowned wildlife artist Rip Caswell, the Exalted Ruler statue of a majestic elk was created in 1999 to honor the partnership between Casey Eye Institute and the Oregon State Elks Association. It sits at the entrance of the Elks Children's Eye Clinic building.
The Elks Children's Eye Clinic was thoughtfully designed for all ages and visual abilities. One example of the building's innovative features is the lobby's welcome desk, which helps visitors navigate their surroundings by using contrasting colors and a special railing to guide visitors around the desk directly to the elevator area behind it.
Kathryn Marxen-Simonson, MSOT, OTR/L, CLVT, helps a patient in the Vision Rehabilitation Center. The Occupational Therapy Visual Rehabilitation Room enables the clinic to better meet the rising demand for treatment and support services for people with low vision. Using tools and technology to measure and improve visual reaction time, like this Dynavision machine, occupational therapy can assist pe…
The Wold Family Macular Degeneration Center is at the forefront of research, education and patient care for age-related macular degeneration. Clinical trials coordinators (pictured above) enjoy their new, expanded space in the Andreé H. Stevens Clinical Trials Center. This specially designed space attracts patients from around the world to participate in groundbreaking clinical trials.
The Gene Therapy Center includes expanded space for patients and study coordinators, as well as a specialized room to house a mobility maze. Patients walk through the maze under controlled lighting conditions to test their vision before, during and after receiving treatment to track changes in their vision and help researchers measure the efficacy of novel therapies.
A pediatric patient visits one of the pediatric ophthalmologists in the Elks Children's Eye Clinic for an eye exam. With all new exam areas, including kid-friendly private waiting areas for families, children from all over the region receive eye care.
The Occupational Therapy Visual Rehabilitation Room has been designed specifically for our occupational therapy program a part of our Vision Rehabilitation Center. This space is used to evaluate patients and provide training in the use of visual aids, assistive technology and other skills to help negotiate activities of daily living, including reading.
The Optical Shop, located in the lobby, offers fittings and frames to patients of all ages who need glasses.
The new entrance from the fourth floor parking garage. This area has a friendly welcome desk that connects the Casey Eye Institute building to the Elks Children's Eye Clinic building.
The Paul H. Casey Ophthalmic Genetics Division will continue to advance Casey's position as a world leader in gene and stem cell therapies, creating hope for eliminating blindness. Casey already hosts more gene therapy clinical trials than any other eye institute in the world and will continue to advance breakthrough science and discovery.
The fourth level of the Elks Children's Eye Clinic houses the Douglas and Jo Peterson Retina Clinic and serves adult patients. The clinic is designed to provide comprehensive ocular imaging within each individual physician's suite of exam rooms. This enhances patient flow and reduces patient wait time.
Multicolor lights are strung overhead an outdoor patio, a space designed for patients and staff to relax.
This custom and unique artwork honors the $20 million gift from the Oregon State Elks Association to the Elks Children's Eye Clinic building, and includes a list of all the lodges in Oregon.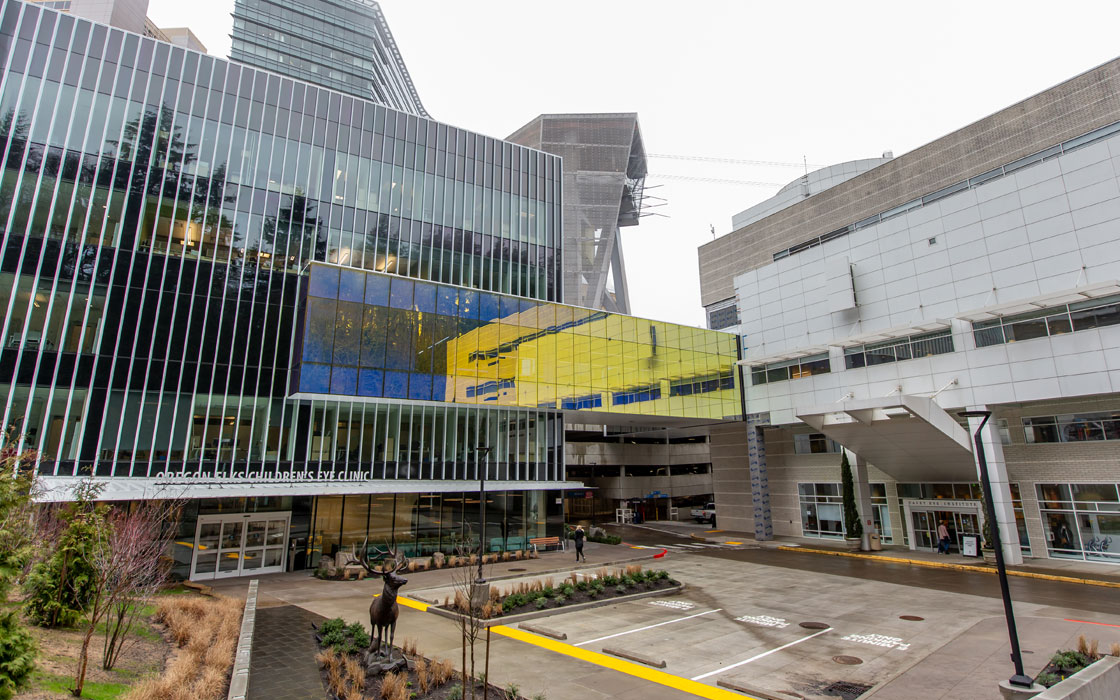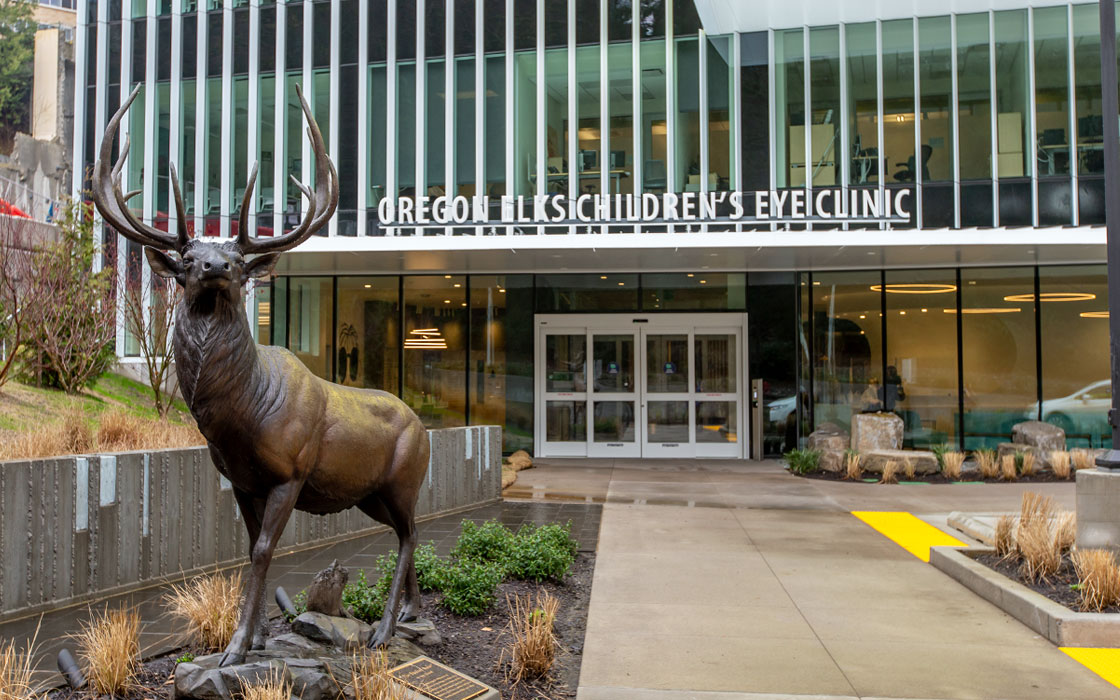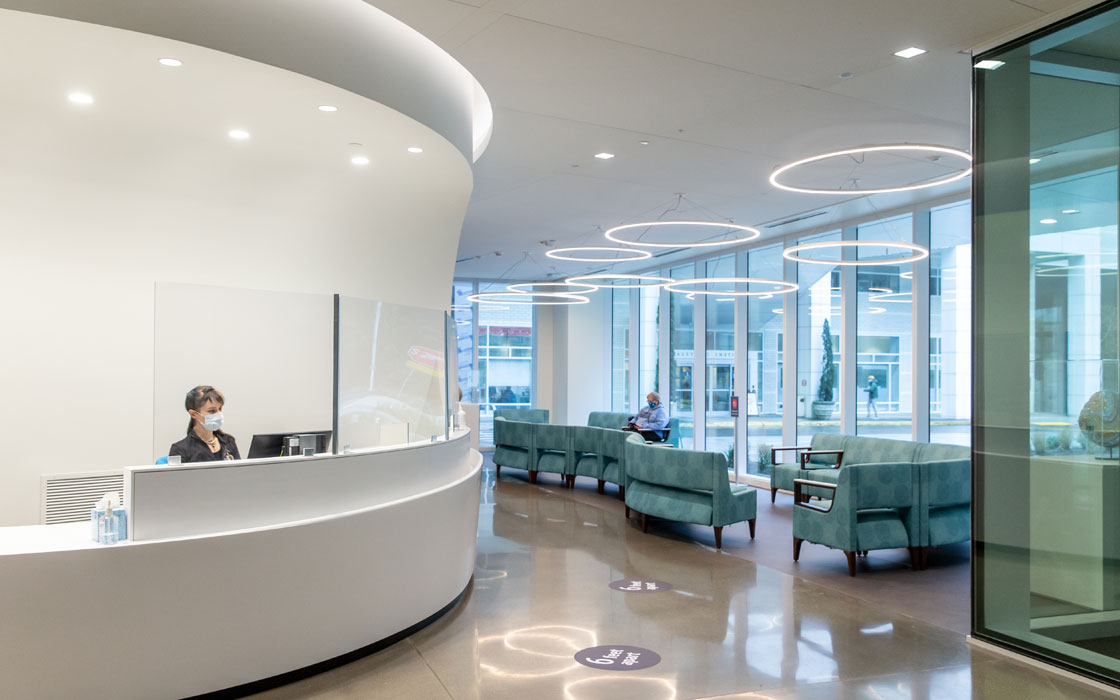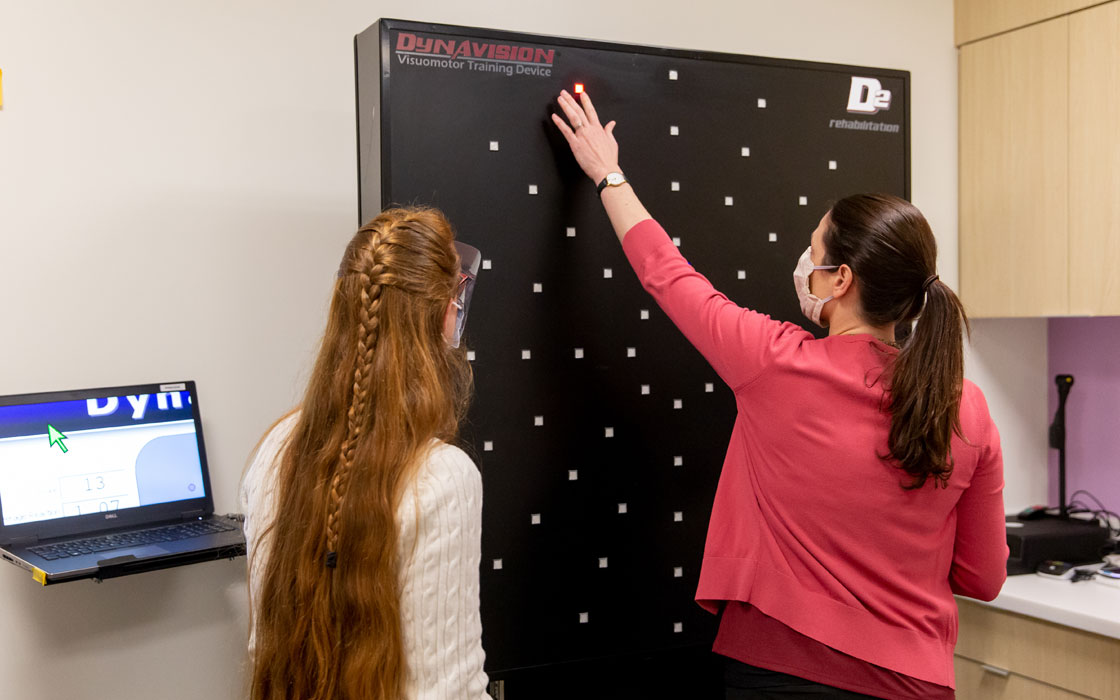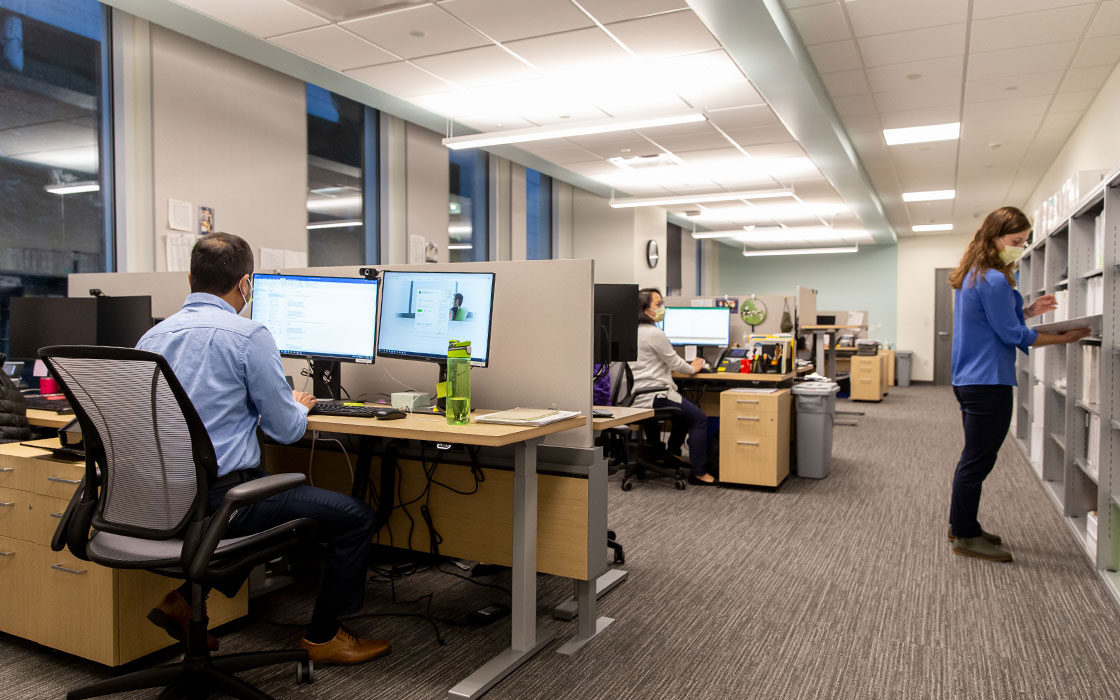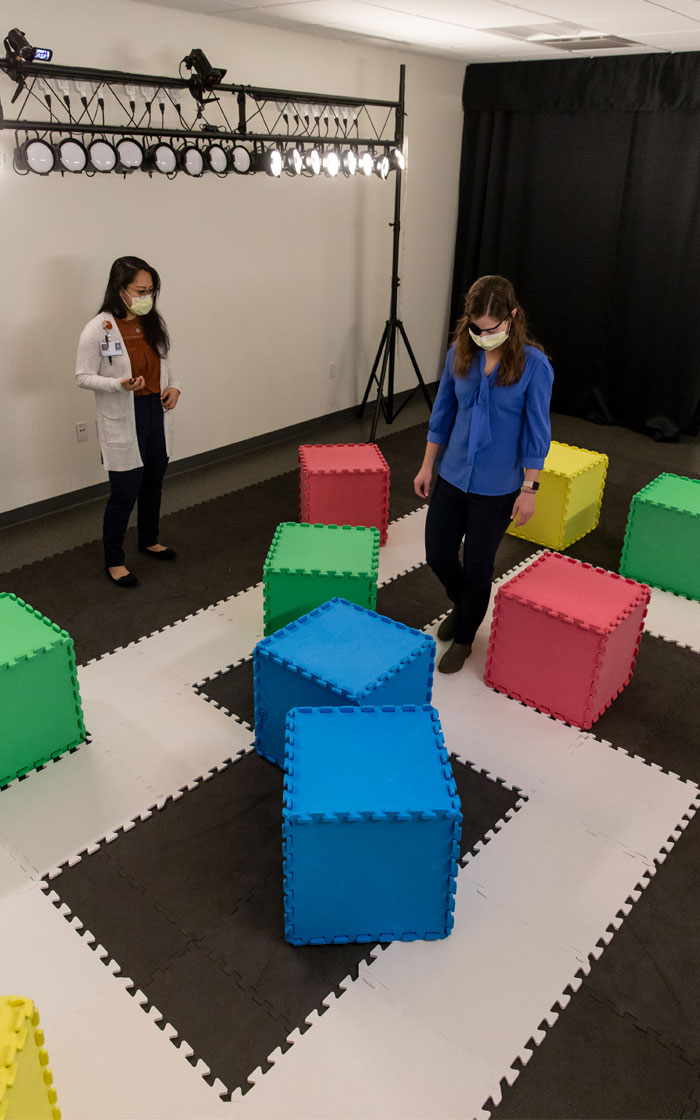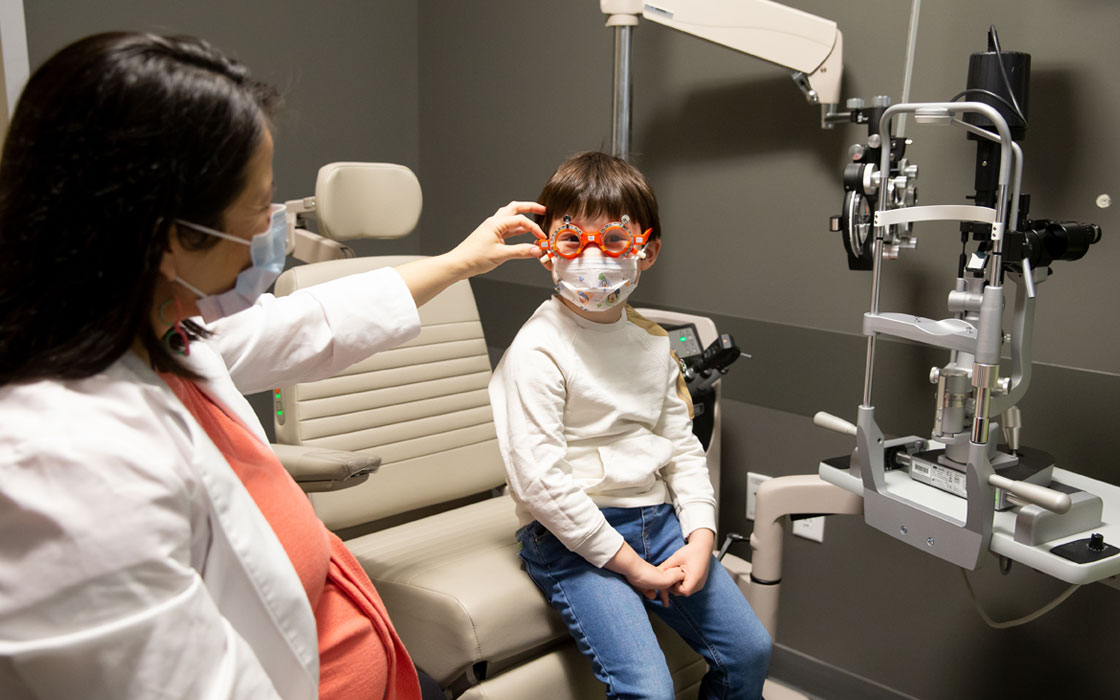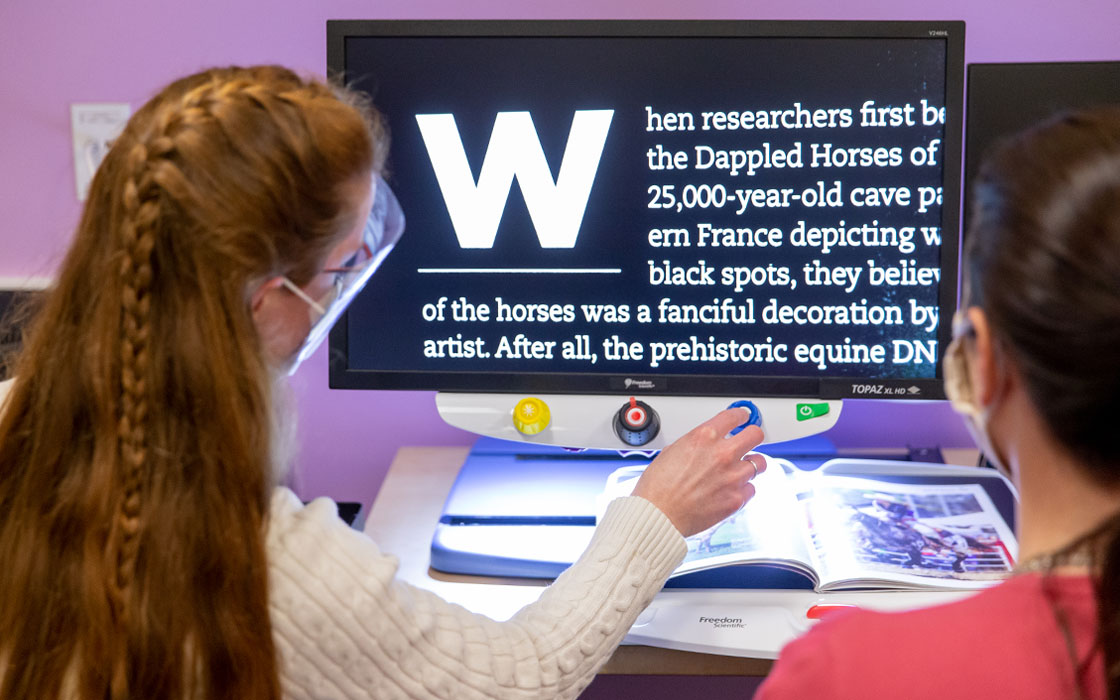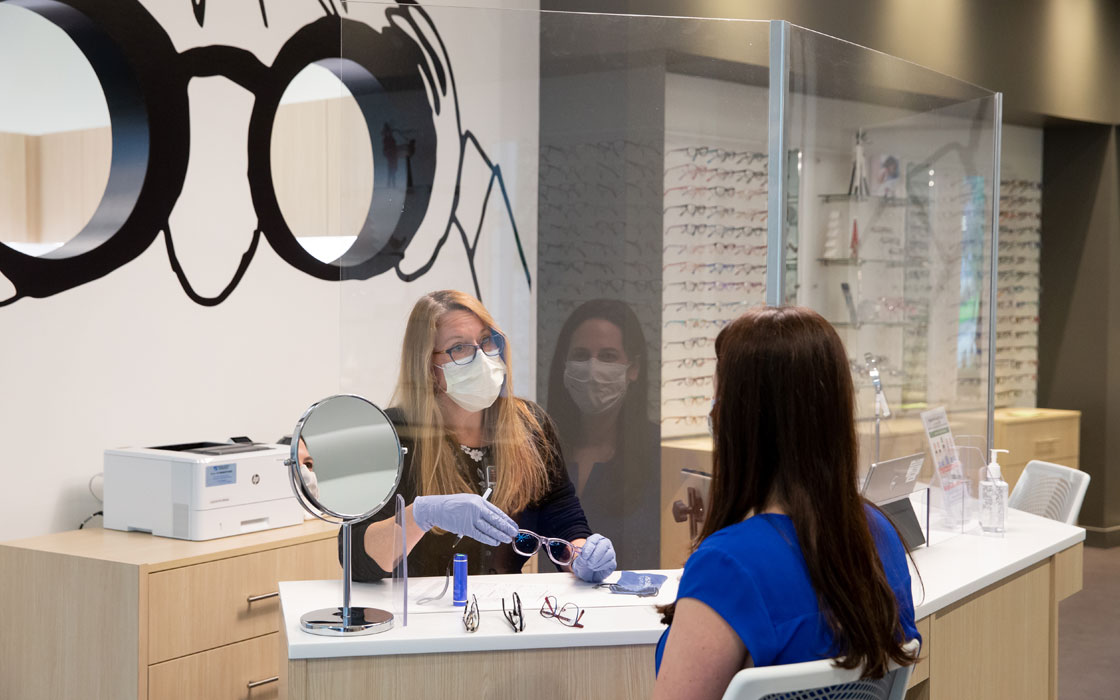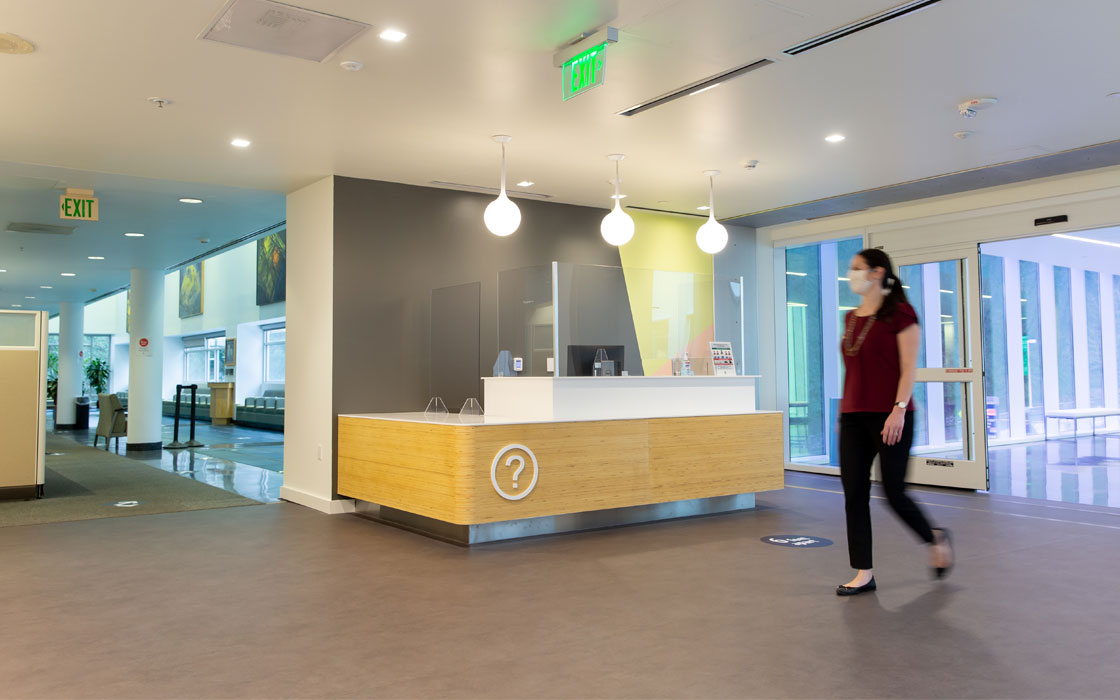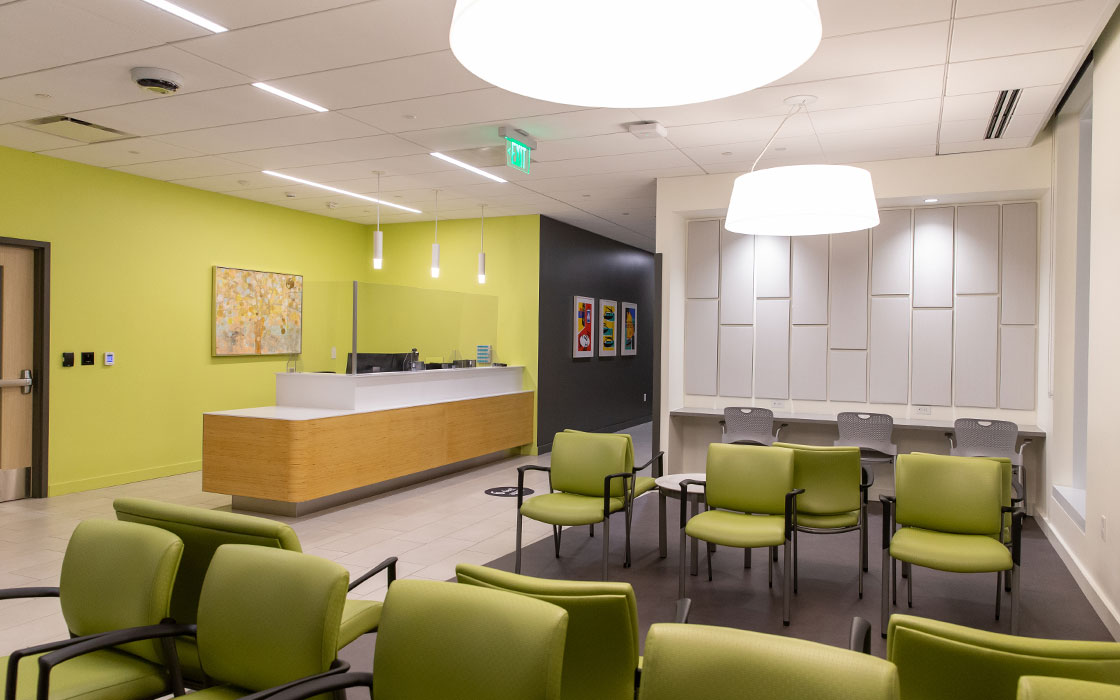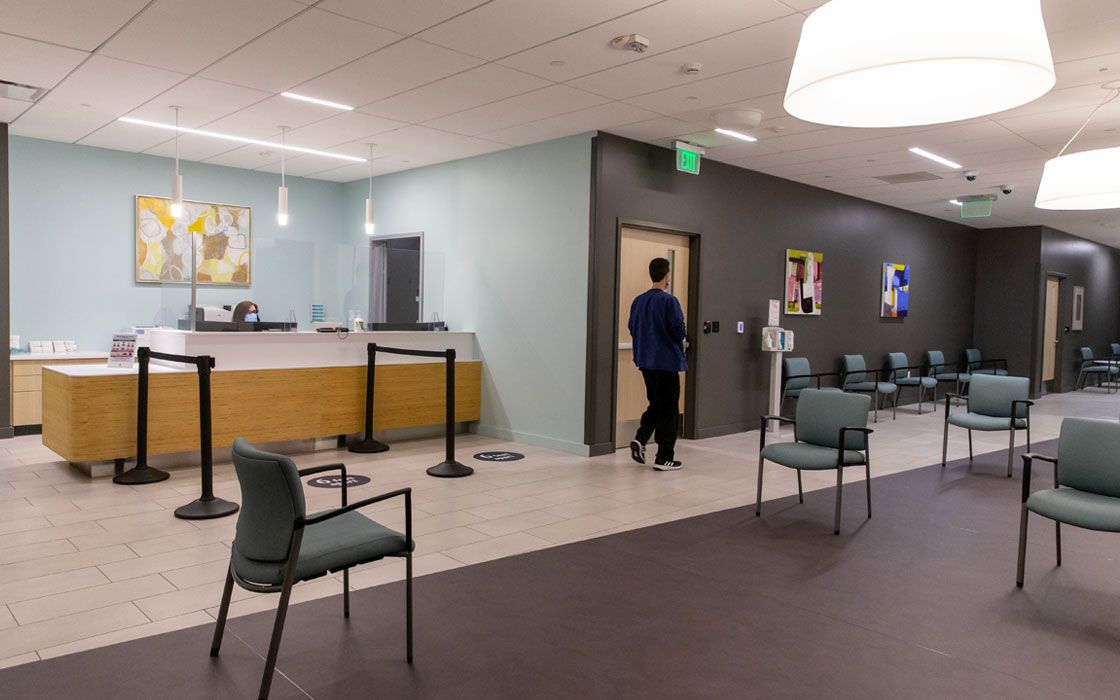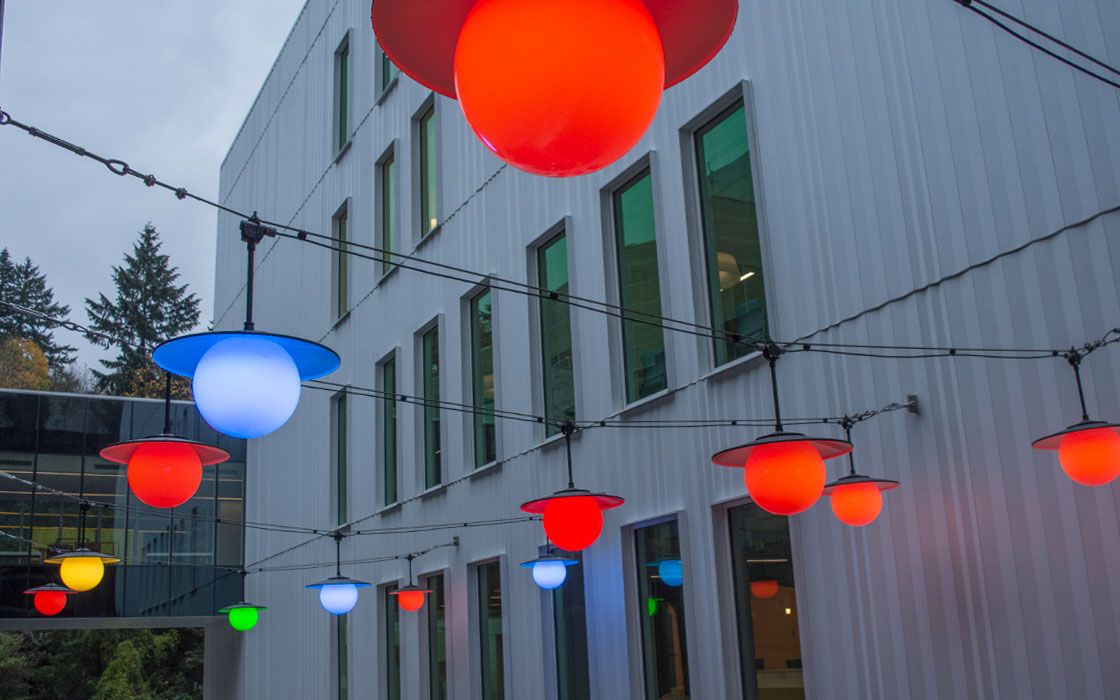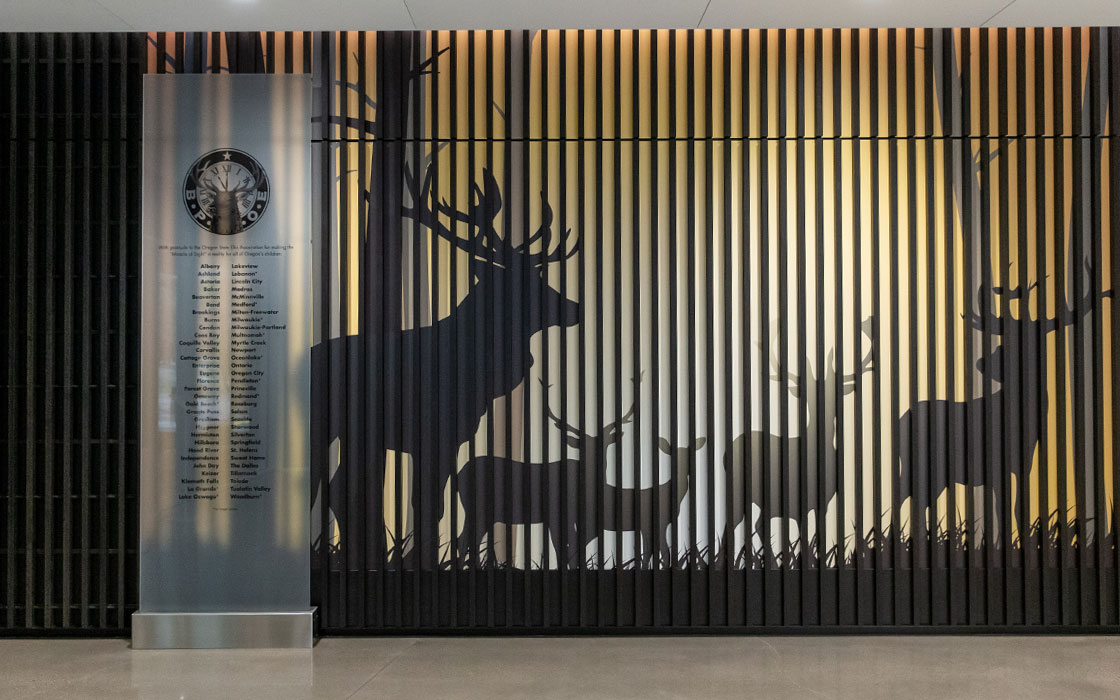 In December 2020, the Elks Children's Eye Clinic opened as the first free-standing eye institute for pediatric patients in the nation.
This new 60,000-square-foot facility provides additional space and resources to advance work in children's eye care, macular degeneration research and patient care, gene therapy, community outreach and more. The building reflects the generosity of many donors, and is named in recognition of the Oregon State Elks Association, which generously gave $20 million for the eye clinic and has supported children's eye care at the OHSU Casey Eye Institute for 70 years.
Learn more about the Elks Children's Eye Clinic and how this new addition is helping OHSU to eliminate preventable blindness.