Dr. Gordon Mills is stoked. He ought to be.
The Wayne and Julie Drinkward Chair in Precision Oncology at the OHSU Knight Cancer Institute is seeing outstanding early results in studies using cancer drugs in combination, like a one-two punch, to boost their effectiveness.
In one pilot study, four patients out of five are responding exceptionally well. Each patient received a combination of drugs selected to target vulnerabilities specific to his or her cancer.
Early results from a breast cancer study also have exceeded expectations. The study is combining an immune therapy with a targeted therapy drug and the Knight Cancer Institute recently secured funding to begin a larger-scale clinical trial.
A third study is yielding positive results against cancers driven by a mutated gene common in pancreatic cancer, and also ovarian, colorectal and lung cancers. The drug combination was first identified by Mills and colleagues based on laboratory studies looking for the Achilles heel of these dangerous tumors.
"I am really happy to say that no place, I mean none in the world, is doing the degree of indepth analysis of patients and their tumors that is happening here," Mills said, leaning back in a chair in his sunlit office at the new Knight Cancer Research Building. "This is it. This is as deep an analysis and as great an opportunity as anyone will have anywhere."
"This is it. This is as deep an analysis and as great an opportunity as anyone will have anywhere."

Gordon Mills, MD, PhD
A world leader in cancer research, Mills completed his move to OHSU in July from the renowned MD Anderson Cancer Center in Houston, his home base since 1994. Among many leadership roles there, he founded the first cancer systems biology department in the United States. He co-directed the institute's Cancer Moonshot programs for breast and ovarian cancer. He established MD Anderson's center for molecular markers that evolved into the Institute for Personalized Cancer Therapy, which he codirected. He has authored or co-authored close to 1,000 scientific papers, becoming one of the most widely cited medical scientists in the world.
His vision for the future of cancer treatment is precision oncology: understanding each patient's disease in enough detail to select precisely targeted drugs from the get-go that can halt tumor growth long-term — and with minimal side effects, unlike chemotherapy.
He came to Portland, he said, to help build the leading center for cancer combination therapy in the Pacific Northwest, and to make the OHSU Knight Cancer Institute one of the best places in the world for testing new ideas in cancer therapy.
"And we're gonna do that," he said. "That's why I'm here."
Precision Oncology, Ground Zero
Brian Druker, MD, Director of the Knight Cancer Institute and JELD-WEN Chair of Leukemia Research, established OHSU as a leader in precision oncology when he led the development of the drug Gleevec®. It targets a mutant protein, BCR-ABL1, that spurs the growth of a type of blood cancer called chronic myeloid leukemia, or CML. About 15 percent of all new cases of leukemia are CML. With the advent of Gleevec and related drugs, life expectancy for patients with CML climbed to a level equal to that of the general population. The breakthrough proved that understanding the earliest drivers of cancer formation can lead to better treatments that target cancer cells more precisely so that healthy cells are left unharmed.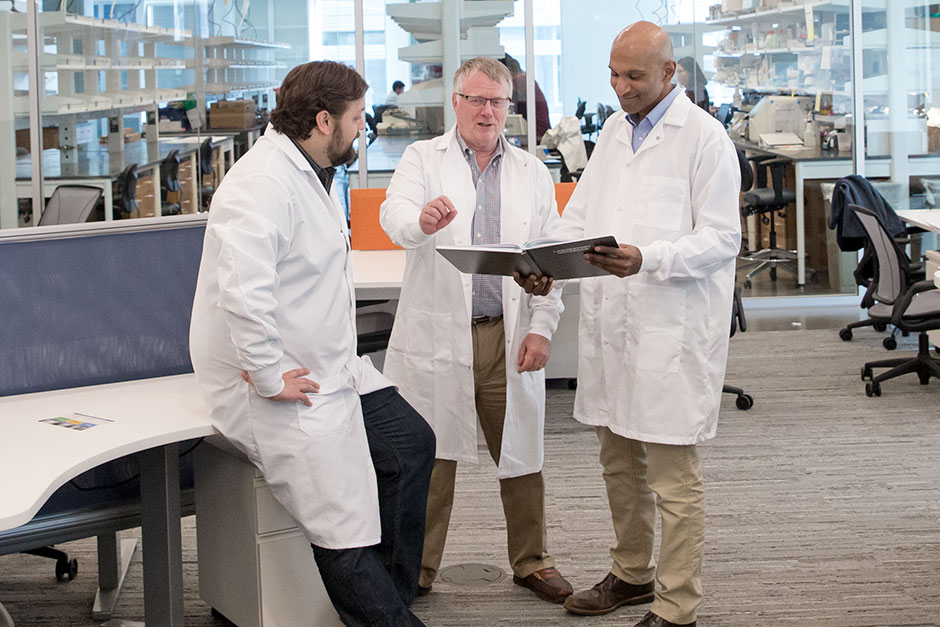 Other cancers, however, have not fallen so readily to the targeted therapy approach. The mutations and signaling modifications driving most tumors are more complex than the events underlying CML. When a targeted therapy blocks one cancer-driving signal, most tumors quickly develop resistance by switching to alternative signaling pathways to sustain growth.
That's why the field is shifting its focus to combination treatments aimed at blocking more than one growth pathway at the same time. "A single agent is easy to work around," Mills said. "A targeted combination is very hard to work around."
Tackling Triple-Negative Breast Cancer
The precision oncology program is aiming to do more than find out if new combination therapies can stop tumors. Mills and fellow investigators want to learn as much as they can about each patient's cancer, how tumor cells adapt to drug combinations and what indications tumors might give to reveal their vulnerabilities to specific treatments.
"We're excited about using this approach as a discovery platform," said Zahi Mitri, MD, an assistant professor in the OHSU School of Medicine's Division of Hematology and Medical Oncology, who is in charge of clinical trials for breast cancer in the Knight Cancer Institute. If the approach works, he said, "you could use it with multiple tumor types without having to reinvent the wheel."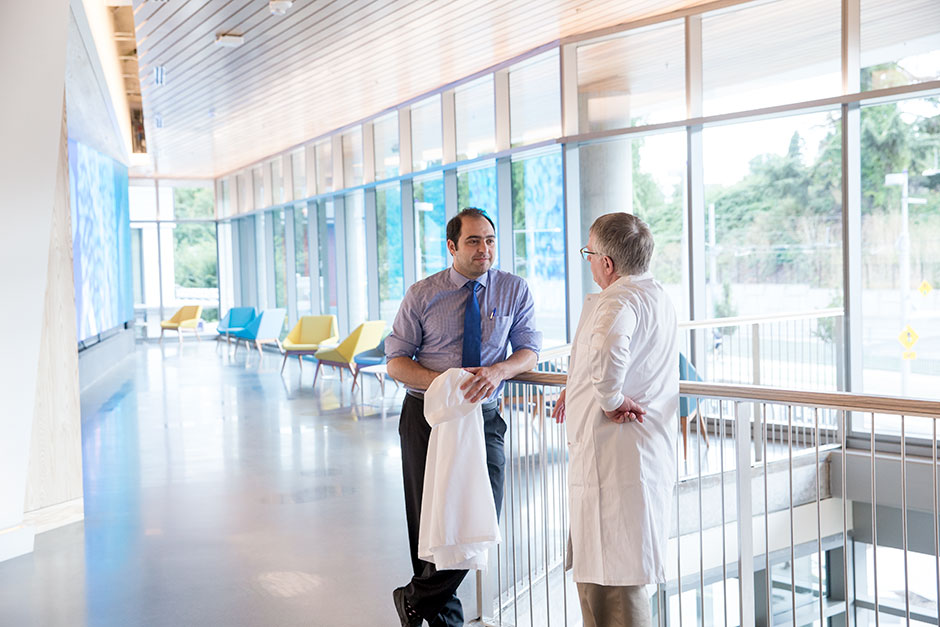 The first trial of the approach is aimed at triple-negative breast cancer, so called because tumor growth is not driven by the hormones estrogen or progesterone, nor by an excess of signaling molecules called HER2 receptors. Treatments are limited because HER2 and hormone signaling are used as targets for precision anti-tumor drugs. The trial is testing a targeted drug called a PARP inhibitor combined with an immune therapy drug known as a checkpoint inhibitor, both made by the pharmaceutical company Astra Zeneca.
The researchers will analyze each patient's tumor, before and during treatment, in deep detail. They'll look at proteins made by tumors, antigens marking the surface of cancer cells, gene mutations, immune system interactions and DNA from cancer cells that makes its way into the bloodstream. With the battery of tests, the researchers hope to find signals that can predict a tumor's sensitivity to specific drugs. They also want to understand how cancer cells evolve to resist treatment.
Working with Mills is exhilarating, Mitri said. "It's been a whirlwind. His experience, and his connections, and his vision have really pushed the program," he said. "I'm really lucky, at this stage in my career, to be working with him."
Mills is the kind of mentor who is brutally honest with his critiques "and that's huge," Mitri said. "If you don't get feedback, you don't get better. I appreciate the constant motivation to get better." He said Mills is also unusually generous with his time and always available when called upon for help. "Everyone knows about his successful background as a scientist," Mitri said. "I know from having worked closely with him for months that he's completely dedicated to mentorship."
"If you don't get feedback, you don't get better. I appreciate the constant motivation to get better. I know from having worked closely with him for months that he's completely dedicated to mentorship."

Zahi Mitri, MD, MS
Doing Things Differently
Mills said it's revitalizing for him to have the opportunity to work with young scientists such as Mitri, who are the ones who will take what their predecessors have learned about cancer and use it to improve outcomes for patients. "We have more exciting tools and more opportunities now to make a difference than ever before," he said.
The Knight Cancer Institute is positioned to make rapid progress, in his estimation. "It is young. It is flexible. And it is willing to do things differently," he said. There are many larger cancer institutes, but that size usually comes with a big, inflexible bureaucracy with built-in resistance to venturing into unknown areas.
Referring to Druker, Mills said: "The Knight Cancer Institute has a leader who is invested in change, who is invested in combination therapy, who is invested in making this institution better."
Early detection of cancer, a focus of the Knight Cancer Institute, fits well with the goals of precision oncology. As it stands, almost all targeted therapies have been developed to treat patients who already have been treated with chemotherapy or radiation therapy, and their tumors have had a chance to evolve and become more complex and resistant to further treatment. "By moving things up front to the first time we treat patients, and by treating earlier and earlier disease, we're going to have remarkable improvements in patient outcomes," Mills said.
Philanthropic support for the Knight Cancer Institute is making a big impact, five years after Nike co-founder Phil Knight and his wife, Penny, pledged to donate $500 million if OHSU could match it in two years. OHSU met the challenge with time to spare, with contributions from more than 10,000 people. At this time of unprecedented opportunity for progress in cancer research, federal support has stalled. From 2003 to 2015, the National Institutes of Health lost 22 percent of its capacity to fund research due to budget cuts and inflationary losses, according to the Federation of American Societies for Experimental Biology.
"Every penny we bring in from philanthropy is leveraged extensively," Mills said. Support from donors is enabling Knight cancer researchers to generate the preliminary findings they need to successfully compete for federal grants. Philanthropy is also essential for recruiting world-class talent. For example, Wayne and Julie Drinkward donated $2.5 million to establish an endowed chair in precision oncology, which helped make it possible to recruit Mills from MD Anderson Cancer Center. Support from donors is also extending the reach of research already funded by federal grants. A portfolio of philanthropic and federal support is helping the Knight Cancer Institute attract companies in the pharmaceutical and diagnostics industries for the collaborations needed to make discoveries available to patients.
"Every penny we bring in from philanthropy is leveraged extensively."

Gordon Mills, MD, PhD
"We are developing a public-private-industry collaboration that allows us to do things that we couldn't do otherwise," Mills said.
Cancer medicine is beginning a new chapter. Already, targeted therapy drugs and immune therapies are helping patients with cancers for which there were no effective treatments 10 years ago. The amount of work left to do is enormous, but the pace is accelerating. To imagine the progress, think in terms of compound interest, Mills said. Compound interest grows slowly at first, then starts to balloon.
There are powerful results coming out of the Knight Cancer Institute today. But wait until you see what's happening during the next five to 10 years, Mills said. "We are going to see wonderful things."