Across the state of Oregon, Tribal communities hold a rich tapestry of cultures. There are currently over 50,000 American Indian/Alaska Natives (AI/AN) in the state; however, woefully few of them go on to pursue careers in healthcare. Part of the reason can be attributed to the fact that many AI/AN youth have never met a health professional who looks like them — and it's hard to be what you cannot see.
Bridging the gap
To help pave the way for AI/AN, Black and Latinx youth, the On Track OHSU! program works with middle and high school students to increase the number of racially diverse students at OHSU. In a profound ripple effect, once these students become medical providers, they're more likely to serve racially diverse communities, where skilled health care providers can often be in short supply.
The program currently has a deep and continued presence in Warm Springs, where they serve Tribal students and work closely with Tribal, school and community leaders. The program also serves Black and Latinx students through partnerships in North Portland and in Woodburn.
Expanding the reach
The newest On Track partnership is with the Klamath Tribes and Klamath County Schools in southern Oregon, where the program focuses on serving Tribal youth. Thanks to a generous $180,000 grant from the Meyer Memorial Trust, On Track is working to deepen the sustainability and impact of this partnership. Susan Shugerman, Assistant Vice Provost for Education Outreach and Collaboration, explains why the region presented an ideal opportunity for the program.
"We were looking at communities in the state with OHSU resources in place that would allow us to expand geographically," she said. "Klamath Falls/Chiloquin students are over five hours away, which limits what we can offer here in Portland. However, we already have the OHSU School of Nursing campus in Klamath Falls, the OHSU Family Medicine Residency program, the Klamath Tribal Wellness Center, strong relationships with Sky Lakes Hospital and great partners at the Oregon Institution of Technology — all in Klamath Falls and Chiloquin. There's also a strong Tribal community there that was very interested in working with us to support their youth, so it was a natural fit."
"On Track has proven that they prioritize a community-centered approach," added Matt Morton, the Equitable Education Portfolio Director at Meyer Memorial Trust. "Representation is important, too. As with other On Track sites, members of the Klamath Tribes assisted in the hiring of the Program Coordinator, who is a Klamath Tribal member."
More than a program — a partnership
Dr. Shugerman is quick to emphasize that On Track is a two-way partnership between OHSU and the communities they serve. "We never approach a potential partner and say, 'Here's what you need,'" she explained. "We really work to listen and co-create something with our partners that will help them address the unique challenges and opportunities they're facing."
In every community partnership, On Track works to support racially diverse students in their career goals, whatever they may be. Engagement starts in the sixth grade and includes everything from classroom visits (virtual if need be) and checking in with younger students who may be struggling with attendance to helping older students with college applications and essays. The program also helps expose students to the world of science and health through visits with role models, field trips to the OHSU campuses in Portland or Klamath Falls, on-site simulation labs, job shadowing and research experiences, internships and more.
Finally, to help students see themselves in biomedical careers, On Track frequently invites graduates who have pursued a career in healthcare to visit partner communities and share their journey.
"Hey, I can do that!"
Lynden Harry is one such graduate. A member of the Confederated Tribes of Warm Springs, she connected with On Track when she was a sophomore in high school. "Back then, I didn't really have a path in life," she said. "I had dreamed about being a physical therapist because I've always been fascinated by how the body works, but as a Native American, you really don't see a lot of people like you in that profession."
At her basketball coach's urging, Lynden checked out the On Track program — and discovered a whole world that she never knew existed. "We went to Portland, where I met Native American doctors and toured OHSU and Doernbecher," she said. "I'd never been behind the scenes like that before — seeing students doing things like practicing with robotics was really cool."
The program also provided Lynden with an internship to a clinic in central Oregon, where she got to watch physical and occupational therapists in action. "That's when I said to myself, 'Hey, I can do that,'" she smiled.
Today, Lynden is pursuing a degree in Kinesiology at Warner Pacific University in Portland with plans to go into physical therapy, athletic training, or coaching. Wherever her career path takes her, she hopes to return home one day and use her medical training to serve her Tribal community.
For Thalia, her path led straight to OHSU
Thalia Padilla-Lazos isn't a Tribal student, but as a Latina and one of the earliest beneficiaries of the On Track program, she's fulfilling the program's mission to boost diversity at OHSU.
Growing up in Woodburn, Thalia's family was part of a large Hispanic population. Many community members came to Thalia's mother for holistic healing, even though she had no formal training. Like her mother, Thalia felt compelled to give back to her community. "These people didn't want to go to a real doctor, because with the language barrier, they didn't feel heard or supported," Thalia explained. "Even as a little girl, I knew that with my unique lens and cultural experiences, I could help this patient population one day."
A few years later, Thalia connected with On Track and went on field trips to OHSU as a middle school and high school student. And when it came time to apply to medical schools, Thalia knew exactly where she was headed. "Because I'd already seen all that OHSU had to offer, it was an easy choice," she smiled.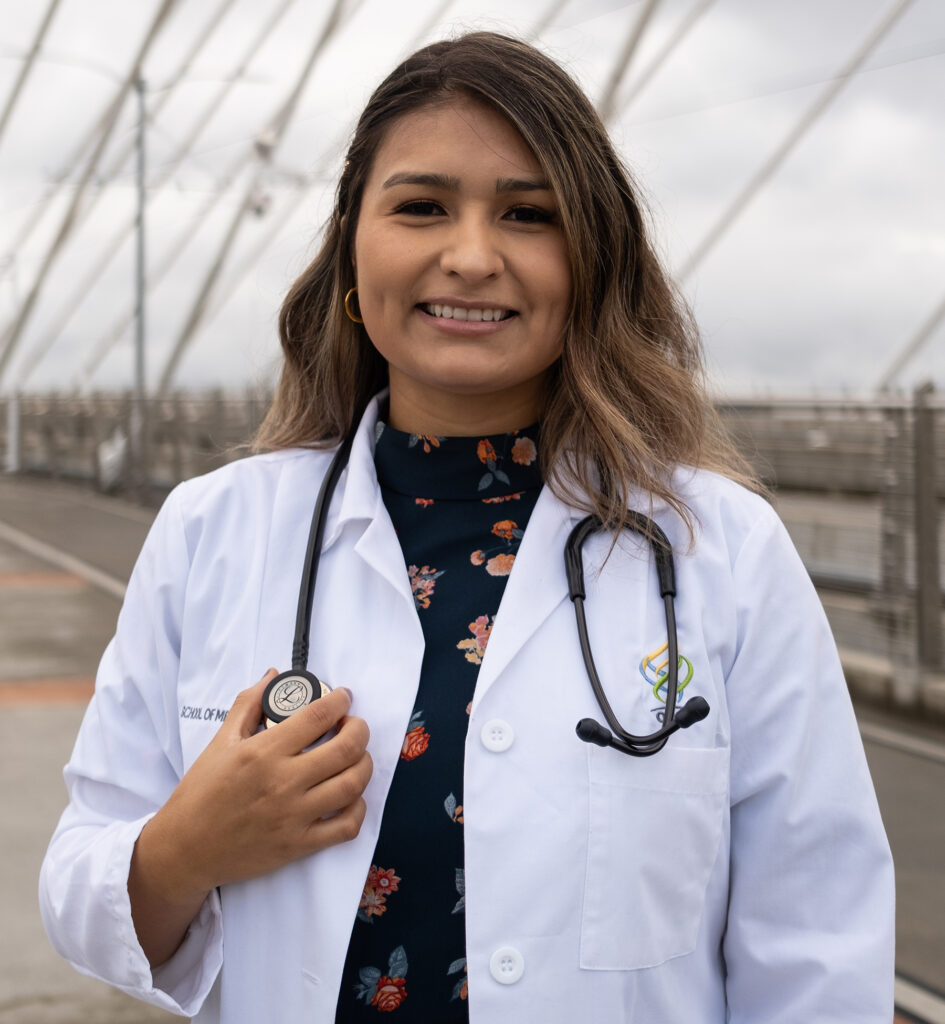 "I think it's powerful hearing from someone with a similar background. In a small town, you're really only exposed to a handful of careers. I want these kids to know what's out there for them."

Thalia Padilla-Lazos
As a second-year medical student at OHSU, Thalia is planning to pursue general surgery. She also makes it a point to pay it forward as an On Track volunteer, and recently visited her old high school to talk about her career path.
"I think it's powerful hearing from someone with a similar background," she explained. "In a small town, you're really only exposed to a handful of careers. I want these kids to know what's out there for them."
As for their own experiences with On Track, both Lynden and Thalia say they're filled with gratitude for the opportunities it provided, and for the people who made it possible.
"To the folks at OHSU and the Meyer Memorial Foundation, I just want to say thank you for everything you've done for communities like ours," Lynden said. "You've opened so many doors for us, and I can't wait to see what future students do with this program."
---
Your support can help On Track empower even more underrepresented students