After months of shutdown, OHSU labs are beginning to resume research efforts that were stalled by the pandemic.
As scientists cautiously return to the bench, we look back at their journey — and explore what their 'new normal' looks like now.
When the labs went dark
In late February, Marc Freeman, PhD, director of the Vollum Institute, received a troubling email from a friend who was the chair of neuroscience at Harvard. "He wrote, 'I can't believe it. The dean is saying we have to shut down all research.' So I emailed our chief research officer and asked if there was any chance that might happen to us. His answer was close enough to 'yes' that I was sufficiently worried."
Freeman was right to be concerned. Because when COVID-19 arrived in Oregon in early March, OHSU leaders made the difficult decision to shut down all research laboratories ahead of Governor Brown's stay-at-home order.
The reasons for the suspension were twofold: to preserve scarce personal protective equipment for frontline caregivers, and to reduce the chance for virus transmission among staff.
Freeman says the news took a moment to sink in. "I've never lived through a global pandemic before," he said. "It's nothing that anyone could imagine — the idea that as scientists, we would be told to work from home was just foreign."
Over the two weeks that followed, approximately 5,000 researchers, PhD students and lab personnel vacated the labs where they had spent so much time and energy. They powered down the centrifuges and incubators, checked the settings on equipment, turned out the lights and locked the doors, uncertain of when they'd be able to return.
Nearly 1,200 labs were shut down across campus, stalling critical research into early cancer detection, cardiovascular disease, HIV, multiple sclerosis, diabetes, Alzheimer's, epilepsy and more.
Freeman says the impacts were felt far beyond the research. Many PhD students' training was disrupted, putting their advanced degrees on hold. "It really affected the learning journey of our trainees," he said. "We also have post-doctoral scholars in our labs who had already received job offers. Many of those offers were rescinded because universities no longer have resources to support them. So there were a lot of lost opportunities, and a lot of anxiety around that."
Like so many others, researchers adjusted to working at home. They performed analyses, wrote papers and grants, and exchanged ideas over video calls. Many of them turned their attention to the most pressing medical question of the moment: How do we combat this virus?
Pivoting to fight the pandemic
With many of their projects shuttered for the time being, researchers across OHSU quickly changed course, lending their knowledge and skills to the COVID-19 effort.
First, physicians and scientists came together to build an in-house COVID-19 testing lab from scratch in just 14 days. Research labs donated over 399 types of critical supplies, from N95 respirators and gloves to hand sanitizer and testing swabs. More than 800 laboratory techs volunteered to perform tests, conducting over 400 a day.
The university also established a COVID-19 research task force, led by Jay Nelson, PhD, OHSU Vaccine and Gene Therapy Institute director, to ensure studies could be conducted safely.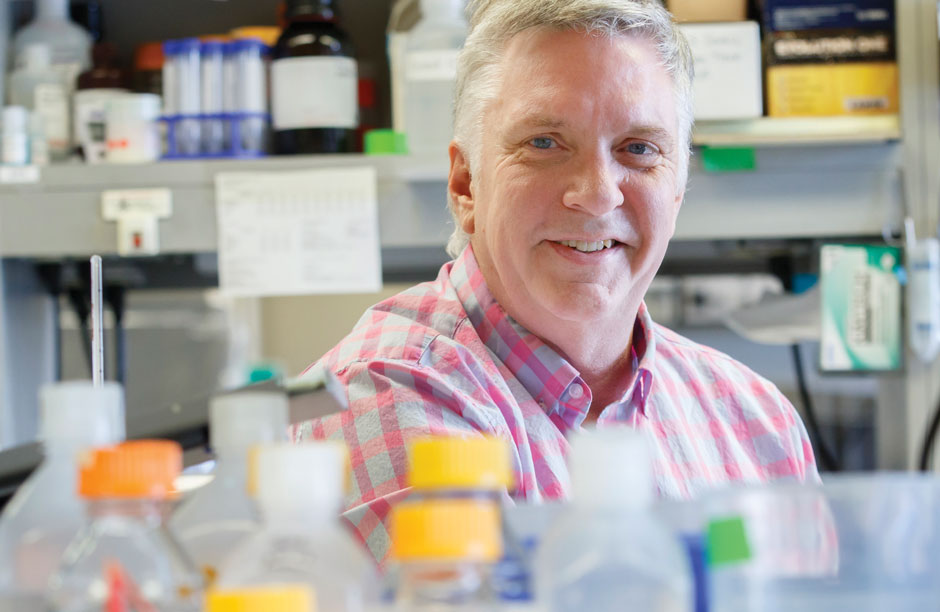 In quick order, an operational foundation was laid for the task force to greenlight nearly 175 research projects addressing every aspect of the disease, from basic science to diagnostics, therapeutics and vaccines.
"Our ability to adapt to this global crisis from a research perspective has been nothing short of heroic," said Peter Barr-Gillespie, PhD, executive vice president and chief research officer.
Rebooting the research
While the work around COVID-19 continues, OHSU leaders have begun making plans to resume all research projects on campus.
"The overarching goal is to get people safely back to work by prioritizing critical tasks so that progress is made with minimal risk," said Barr-Gillespie.
Under a trial run to determine whether the university was ready to move more broadly back into research, each department or center designated one lab to restart, or about 30 in all.
Missy Wong's lab was one of them. Wong, a PhD, is an associate professor in the Department of Cell, Developmental and Cancer Biology, and a member of the Knight Cancer Institute. When COVID-19 hit, she was knee-deep in a project to develop a biological marker for earlier cancer diagnosis. Seeing the writing on the wall, Wong and her team worked quickly to gather the data they'd need to continue their work remotely.
"We were pretty lucky," she said. "Several projects had a robust amount of data that could be analyzed remotely, allowing people to work from home."
Still, Wong says she missed the creativity and collaboration that comes from in-person interactions. "As human beings, we all need that kind of contact," she said. "And as scientists, sharing data by WebEx just doesn't compare to the excitement of brainstorming in person."
When OHSU leadership asked labs to submit their plans for safely reopening, Wong's laboratory was selected to create a robust safety plan and protocols for her team to return.
"Everyone performs daily self-monitoring, including taking their temperature," said Wong. When she couldn't find enough thermometers for her team in the Portland Metro area, she ordered them from Ebay.
Team members also have to be masked at all times, unless they're taking a break to eat or drink. "I sewed masks for all of my lab staff, then I sewed them for their friends and families. For a while there, I had a little mask factory in my home," laughed Wong.
Working with Knight Cancer Institute leadership and Cristina Tognon, PhD, in Brian Druker's, MD, laboratory, they developed best practices for other Knight Cancer Institute labs to follow, including how to ensure social distancing at the bench and safely share common equipment.
"We knew that whatever we established would be guiding principles for everyone else in our building, so we really tried to be mindful not just of our needs, but other teams' needs as we all move forward," Wong explained.
By late summer, nearly every research lab on campus had reopened to some degree, picking up where they left off and working to regain their momentum. As for Wong's team, she says her group has a strong sense of urgency.
"As cases climb in the community, it's in the back of our minds that we may have to scale back again," she admitted. "So right now I'm really encouraging my team to be thoughtful in how they approach their research. We need to boldly move our science forward while we can or we may miss the opportunity."
Whatever happens, Wong says she's grateful to have strong leadership guiding the way.
"This is new territory for everyone, and certainly a challenging time. But the university has done a tremendous job of listening to the voices of the research community and providing the support we need to continue our critical work."