Calvin Tanabe, M.D. '64, has had more time to read lately.
Retired in 2008 after nearly 40 years practicing neurosurgery in Portland, Tanabe's book selection typically centers on the nervous system and brain function — topics he didn't have ample opportunity to explore during his demanding career as a neurosurgeon.
Now, though, there's time. Time to broaden thinking, to understand perspectives, to satisfy curiosity.
Tanabe holds those principles dear, and they are at the core of the Calvin and Mayho Tanabe Address. Established in 2015 by Calvin and his wife, Mayho Tanabe, M.D., also an OHSU School of Medicine graduate, the lecture series brings thought-provoking speakers who are leaders in their respective fields to engage the public about topical and pivotal contemporary issues.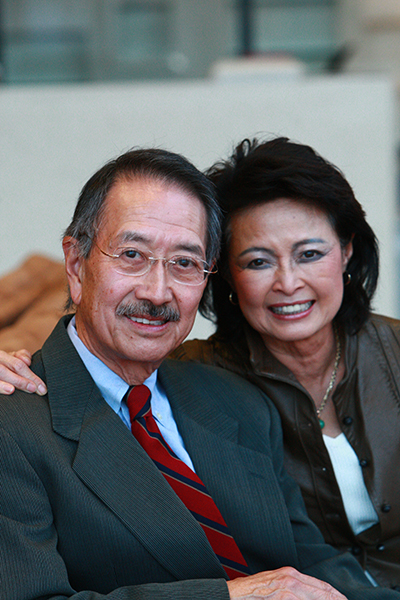 "We thought we could return the most to the community by getting people to think."

Calvin Tanabe
The Tanabes' vision for the address is to expand the breadth of OHSU's impact and challenge the community to see the university as not just a medical school and hospital, but as an institution of higher learning. For the Tanabes, whose early lives were negatively impacted by war and discrimination, the address also seeks to inform.
"Citizens need to be interested and give some thought to the world we live in," Calvin Tanabe said. "My wife and I — our lives have been affected by people who don't think broadly enough. … It's just crazy what wars do."
***
Calvin Tanabe's first memories are from inside an internment camp in Idaho.
In early 1942 — shortly after the United States entered World War II — the U.S. government forcibly relocated and incarcerated approximately 120,000 people of Japanese descent. Tanabe was 3 years old when his family was uprooted from their Portland farm and home and transported 550 miles east to an internment camp in southern Idaho.
Tanabe was a few weeks shy of his seventh birthday when they left.
"For Japanese Americans on the West Coast, that was a devastating time," he said. "Fortunately, I had some pretty bright, loving parents, so I was fine. But when I got to be older — 7, 8, 9 — that's when you start figuring things out."
The Tanabe family left Idaho and settled with relatives in Ontario, Oregon, where Tanabe grew up. After high school, in 1959, he was accepted to medical school at Oregon Health & Science University, which at the time was the University of Oregon Medical School.
Just days into medical school, Tanabe's father suffered a severe stroke. That experience, he remembers, stirred his interest in the brain.
After adding an extra degree during medical school — a master's in neuroanatomy — Tanabe spent two years as a surgical intern and general surgery resident at Washington University in St. Louis. He spent another year of neurology residency at the University of California, San Francisco, before returning to OHSU for neurosurgery residency. It was during this last residency stretch when Tanabe met his wife, Mayho, an OHSU anesthesia resident who'd graduated from the Keio University School of Medicine in Tokyo in 1967. The pair finished residency together at OHSU in 1970.
Shortly after, Tanabe's life was impacted by another war — the Vietnam War.
At the time, many American physicians were drafted to serve in the military. Tanabe applied to a program where his conscription was deferred until after residency. When his residency ended in 1970, he was sent to Da Nang, Vietnam, was assigned the rank of major and was stationed at an evacuation hospital, where he would tend to wounded soldiers flown in from the battlefield.
"It wasn't a comfortable time," Tanabe said. "But for the first few months, I learned a lot about surgery."
Tanabe served in the Army for two years — the first in Vietnam and the second at Letterman Army Hospital in San Francisco. When his service ended in 1972, he returned to OHSU to become an assistant professor. In 1981, Tanabe opened his own private neurosurgery practice in Portland. By the time he retired in 2008, his practice was one of the largest neurosurgery offices in the Pacific Northwest.
Fast forward to today. Tanabe reflects on his connection to Portland and to OHSU — how he always felt compelled to return. His grandmother arrived in Portland in 1907. He earned his Doctor of Medicine here, met his wife here, practiced here. It's always been his home.
So when the Tanabes had an opportunity to give back, they wanted to both engage the community and present a different perspective of OHSU.
"We thought we could return the most to the community by getting people to think," he said. "Government, ecology, energy, pollution, going to space — you name it. … Most people think, 'OHSU, that's a great medical school.' We wanted to show the community that it really is a university that is open to all thoughts."
---