It all started when Whit Deschner took a sideways glance at a salt lick.
"Doesn't that kinda look like a sculpture?" he asked a friend while sipping wine and gazing at a white block of minerals used to keep livestock healthy with craters and organic shapes licked out of it by a goat. His friend took a long look and hesitantly agreed.
From there, Deschner got the idea for the Great Salt Lick, an annual art auction in Baker City, Oregon, raising money for Parkinson's disease research at OHSU. Here's how it works: Ranchers donate salt licks from their livestock to compete for prizes and be auctioned off. Deschner says goats make the best artists forming intricate work, while cows are more impressionists. Horses? Those are hopeless — Whit says they tend to bite.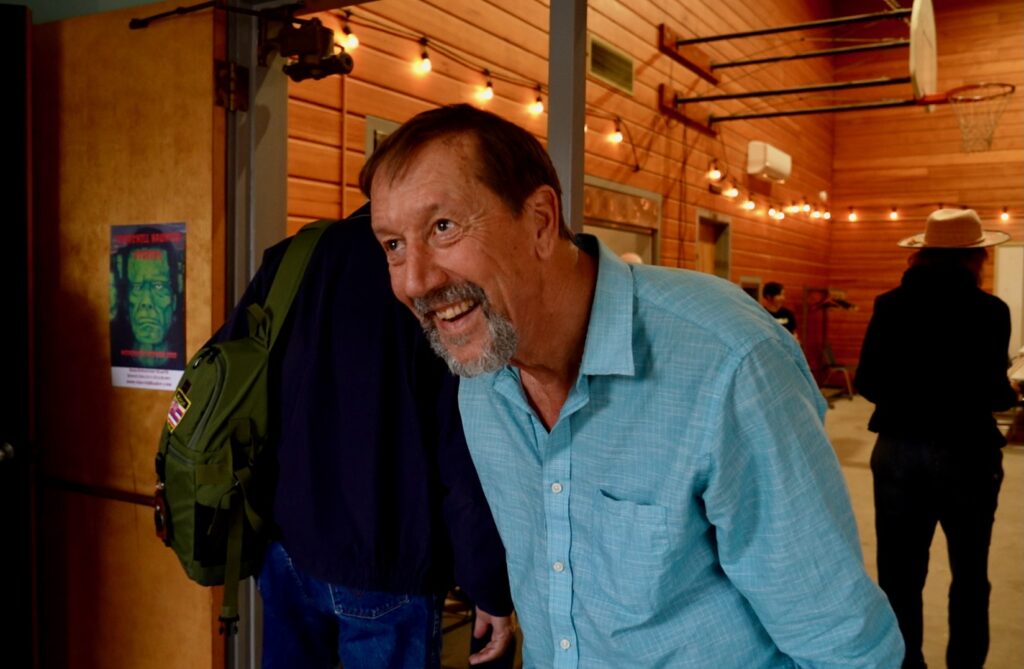 Deschner's unique way of seeing comes from a place all his own.
"I think I've always looked for the humorous side of things. I think that saved me a lot," he said. "'Amazing' is just a matter of seeing something a little different than everybody else."
Since its first year, the Great Salt Lick has grown from a few dozen attendees to a few hundred, some coming from as far away as California. 2023 was the event's 15th year and Deschner's last running the auction. At 70, it's time for him to pass the salt lick on to another group so he may follow his other passions as a photographer, self-identified cowboy poet and all-around troublemaker.
A lifechanging diagnosis
Deschner didn't start out as an event planner or even somebody who was into auctions. Deschner first came to eastern Oregon on a camping trip as a child and fell in love. Years later at age 29, he felt the call to move to Sparta, Oregon, from western Washington, where's he's built his life on the range for the past 40 years.
Deschner was diagnosed with Parkinson's disease in 2000. Time, he says, warps, turns and became central to his life after diagnosis.
"It can happen fast, or it can happen slow," Deschner said, referring to the progression of the disease, the perception of time and how he fills it as he reckons with changes to his health and life expectancy. This new focus on time and staying active is part of what drove Deschner to give back.
"'Amazing' is just a matter of seeing something a little different than everybody else."

Whit Deschner
Deschner's friends were skeptical of his auction idea at first, wondering who would want to buy a used salt lick. After the first year, however, his friends were convinced. Every year since, Deschner has welcomed more ranchers and farmers to contribute to the cause, enjoy each other's company and raise money for vital Parkinson's disease research. The Great Salt Lick convened a community from a small, dispersed county, bringing people together in the name of Deschner's values: giving, lightheartedness and fun.
Deschner's vision has translated to tangible impact for the Parkinson's Disease and Movement Disorders Program at the OHSU Brain Institute. Since the first Great Salt Lick, Deschner has raised nearly $200,000 for OHSU.
"It has been essential to our establishment and our growth over the years, which has been helped with future donations," said Lisa Mann, RN, B.S.N., M.A., a nurse in the Parkinson's Disease and Movement Disorders Program. "You start to see success. You expand the programs, and people are drawn to that because they learn who you are and what you do."
A lasting legacy
Deschner has earned quite a name for himself, appearing on NPR, The Oregonian, The Insider and more.
In 2014, Deschner received a $5,000 grant from the Ford Family Foundation to install an actual, 4-foot-tall bronze statue of a salt lick in downtown Baker City at the corner of Court Avenue and Resort Street. As such, Baker City has become the salt lick city.
"I think it has put Baker City on the map in a positive way," Deschner said. "I'd like to see the cause be synonymous with the town. Wouldn't it be great if small towns like Baker all took up a cause?"
Passing on the salt lick
Deschner hopes this year isn't the last lick. He's working with organizations in Baker City to find new hosts to continue the spirit of the auction. His only stipulations are that the Great Salt Lick continues to benefit Parkinson's disease research and they "keep politics out of it."
Deschner plans to spend his time writing poetry and, "enjoying every day, enjoy everything you can while you can."