When Joyce Ares developed a retinal condition in her right eye, a friend suggested she check out the OHSU Casey Eye Clinic for treatment. She did. Pleased with the care she'd received there, she opted to take part in an OHSU research study on aging.
Shortly after, she signed up for the PATHFINDER study at the OHSU Knight Cancer Institute, which evaluates the implementation of an early detection test designed to test many types of cancer through a single blood draw.
"I believe healthy people need to participate in medical research," Joyce said.
But Joyce didn't expect to test positive.
Testing, testing…
The OHSU Knight Cancer Institute is one of five sites across the country selected by GRAIL, Inc., a health care company dedicated to detecting cancer early. The test seeks signals of cancer that may be present; if those signs show up, the test can identify the location in the body the signal may be coming from.
A week after Joyce enrolled in the PATHFINDER study and had her blood drawn, OHSU researchers called her to explain they were going to need a little more time with her test.
Then they asked her to come in for another blood test, to confirm the results. A week after her second blood draw, researchers called Joyce: Her blood test was positive for cancer.
"While I was waiting for more news, I didn't get upset, because you can't get upset about anything you don't know. Then when I read the biopsy report and saw the positive diagnosis, I did get a little teary," Joyce remembered. "Not a whole bunch. But a little."
The research team asked Joyce to come to OHSU for follow-up tests, which included a PET scan, to ensure the result was correct. Her PET scan showed possible lymphoma in one lymph node in her armpit: Joyce would need a biopsy.
In mid-December 2020, Joyce learned she had Hodgkin's lymphoma in a single lymph node.
"That was not exactly a merry Christmas present," she said.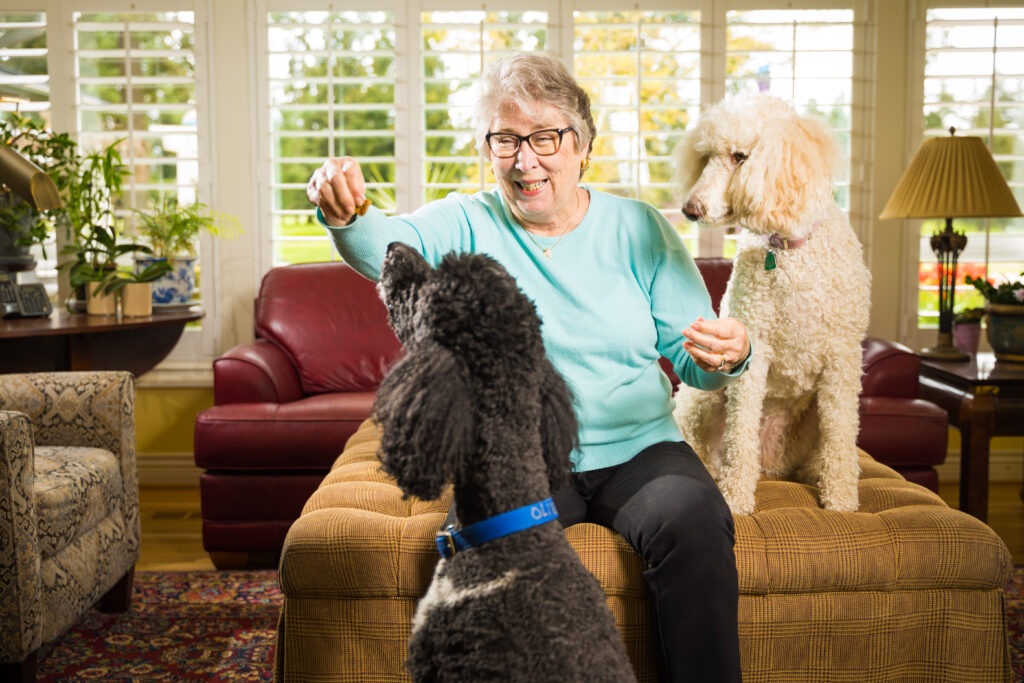 A broad base
"I didn't think they were going to find cancer, but the idea of the test is to find cancer early so it can be treated before it's life-threatening. If you can find cancer in its early stages, you are so far ahead of the game," Joyce said.
Because Joyce's cancer was caught so early, her treatment was shorter than it might have been if the cancer were more advanced. She began chemotherapy in January 2021, followed by radiation in April, followed by another PET scan to learn how the cancer had reacted to her treatment.
"I was so grateful that I didn't have to have more than that," she said. "I really believe what OHSU is doing is awesome."
Follow-up tests every three months have shown she's now cancer-free, she says. She has returned to doing the things she loves, such as gardening and grooming her beloved poodles.
Joyce remains thrilled to have participated in GRAIL. It's very important to take part in research, she believes, because you need a broad base of people to run a strong and thorough study.
"Get involved in research because it's good for the study, but it's also good for someone who is going to benefit from the knowledge that comes out of it. That person might be you! If you get a cancer diagnosis you learn what to do, and can hopefully address it early. Everyone who can should participate and pay it forward," she said.
About GRAIL
GRAIL's test is capable of detecting more than 20 types of cancer, including cancer types for which no screening tests currently are available. Men and women aged 50 or older who meet eligibility criteria and receive care at OHSU's main campus, community and participating health system clinics, may be eligible to participate in PATHFINDER, which currently is accepting applications.
Study participants will receive test results within 30 days or less from the time of the blood draw. To date, when the blood test signals the presence of cancer, it has assigned the correct organ of origin 93 percent of the time.
The PATHFINDER study aims to enroll more than 6,200 participants, aged 50 or older, who currently are cancer-free and meet the following criteria:
70% of the cohort will comprise those with an elevated cancer risk — those with a smoking history, genetic predisposition, cancer history.
30% of the cohort will comprise those with a normal risk of cancer — those with none of the above risk factors.
See more eligibility criteria for PATHFINDER on the OHSU and GRAIL websites.
To support the OHSU Knight Cancer Institute with a donation, click here.