Almost two-thirds of Americans living with Alzheimer's disease are women. There is a myth that the discrepancy is simply due to women living longer than men. But the truth is much more complicated.
Now scientists at OHSU have found a key to what might be causing the difference, and they are working to find a biomarker for early detection of the disease.
Julie Saugstad, PhD, professor, and Ursula Sandau, PhD, senior research associate in the Department of Anesthesiology and Perioperative Medicine Research Division, are exploring whether differences in microRNAs play a role in exacerbating Alzheimer's in women. MicroRNAs are small non-coding RNA molecules that regulate gene expression and influence many biological processes, including diseases.
Help OHSU advance research on Alzheimer's disease.
First: Finding a biomarker
Their discovery of sex differences in the disease came after a team of scientists had already done significant work on Alzheimer's disease biomarkers through a grant from the National Institutes of Health in 2013. That grant was awarded to Saugstad and Joseph Quinn, M.D., director of the OHSU Parkinson Center and Movement Disorder Program and a noted Alzheimer's physician scientist.
The long-term goal of the research team was to identify brain-related microRNAs associated with Alzheimer's disease that could be used as biomarkers for earlier detection of brain changes. Their discovery of sex differences in microRNAs related to Alzheimer's came later in the process.
Women with the genetic risk factor APOE4 for Alzheimer's have a worse outcome than men with APOE4. Because microRNAs regulate proteins, they used a computer prediction to see which proteins the microRNAs could potentially be affecting. That led them to focus on Intersectin 1 — a protein that has received little attention so far in Alzheimer's research. They applied for a new grant from the NIH to study Intersectin 1, but were told while the concept was interesting, the study was too small. They needed more data.
"That's when we realized we needed to bolster the data, and decided to apply for the Circle of Giving to help us do so," Saugstad says.
In 2018, Saugstad and Sandau received a grant of $125,000 from the OHSU Center for Women's Health Circle of Giving – a group of women who support research that leads to improvements in women's health.
For their Circle of Giving study, they collaborated with Randy Woltjer, MD, PhD, an associate professor of pathology in the School of Medicine and director of the Neuropathology Core at the Layton Aging and Alzheimer's Disease Center. Woltjer is director of the Oregon Brain Bank at OHSU, a repository of human brain tissue and cerebrospinal fluid for use in brain research. The brain bank stores tissue donated by dementia patients and their dementia-free loved ones who generously donate their brains after death because they are passionate about finding a cure for the disease.
The yahoo moment
Using brain tissue from post-mortem Alzheimer's disease and control subjects — men and women — they looked at the protein levels for Intersectin 1 to see if their computer prediction aligned with human samples. What they found was a "yahoo" moment for the team: the protein was decreased much more in females with Alzheimer's disease than in males with Alzheimer's. If they could understand what is influencing that greater decrease in women, they would have a better understanding of what's causing the disease.
"That was an exciting moment for us," Saugstad says. "We didn't know what to expect from these studies, but to see a sex difference was really amazing."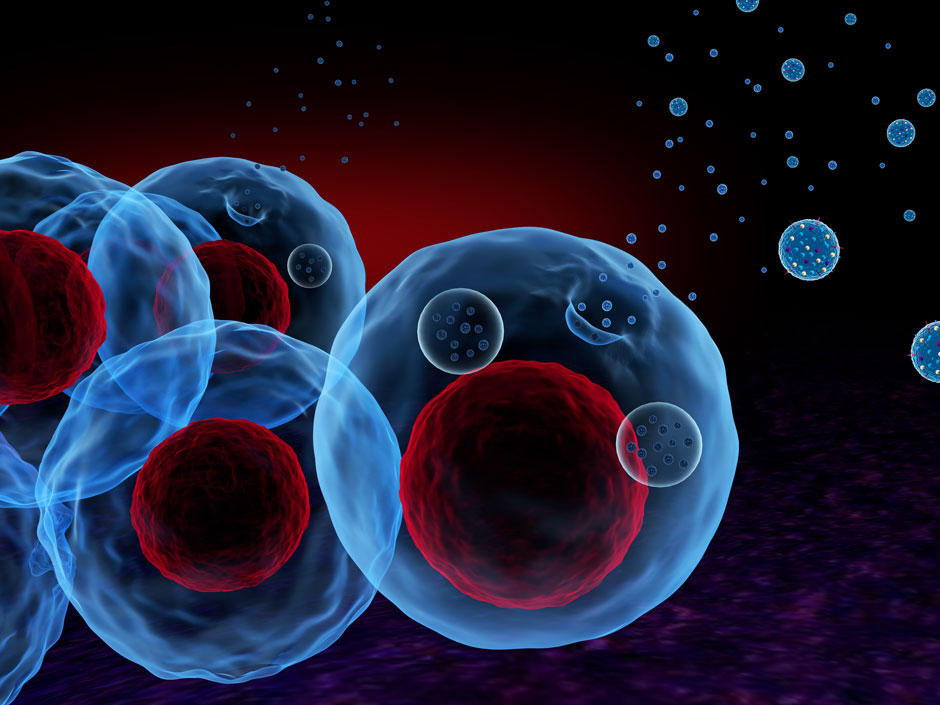 But why are they different? Saugstad and Sandau believe this may be due to extracellular vesicles. Like a neighbor bringing over a pie, Saugstad says, extracellular vesicles carry microRNA from one cell to another. Sandau isolated these vesicles, and the team made two exciting discoveries: the first was that the microRNAs were different between Alzheimer's samples and controls. But they also found that women with Alzheimer's disease had different microRNAs than men with Alzheimer's.
"Identifying sex-specific differences in microRNAs and proteins may provide better diagnostic tests or therapeutics for both women and men," Sandau says.
Grant provides a launchpad
Sandau and Saugstad say the grant from the Circle of Giving has significantly boosted their research, helping them to collect the data they need to apply for a larger grant.
"It's been hugely impactful," says Saugstad. "The arrays we run are expensive; molecular biology is expensive," she says. She estimates that the reagents for each sample they analyze cost about $500, which adds up quickly when you're running multiple samples. "Then you have to spend the time analyzing the data. So, having seed money for a project gets us to a point where we can make a study big enough where the NIH will consider our study."
Saugstad was so impressed by the women in the Circle of Giving, the caliber of their questions and their level of engagement, that she joined the group herself.
"They're a very smart group of women. They knew what they wanted to ask the grant applicants, and were really intelligent in their conversations and discussions. It was really impressive," she says.
Moving toward non-invasive tests
Saugstad has received a new grant from the NIH for the research team to move forward on the biomarker research. If microRNA biomarkers can be detected in plasma or saliva, that will have enormous implications for early detection of Alzheimer's and other diseases.
Their hope is to be able to develop simple blood and saliva tests that can be done in a patient's community. A simple test may not be a definitive answer, but it can be the first step for a doctor to recommend further testing at an academic health center.
Saugstad has been fascinated by microRNAs throughout her career, and she is a vocal advocate for exploring their roles in the brain.
"The microRNAs don't make a protein, but they do regulate whether a protein is made. Studies like these are fruitful, and non-coding microRNAs provide a treasure trove of important discoveries in many areas of human health."
In addition to the grant from the Center for Women's Health Circle of Giving, Julie Saugstad and Joseph Quinn received initial funding for the biomarker studies from the National Center for Advancing Translational Sciences at the National Institutes of Health as part of the NIH Extracellular RNA Communication Consortium, and Saugstad recently received funding from the National Institute on Aging to continue the biomarker studies. Saugstad and Sandau plan to submit new grant applications to study the differential expression of microRNAs in males and females with Alzheimer's disease.
Photo at top: Michelle Berlin, M.D., M.P.H, director, OHSU Center for Women's Health; Teri Oelrich, Circle of Giving co-chair; Julie Saugstad, Ph.D.; Ursula Sandau, Ph.D.; Patti Warner, Circle of Giving co-chair. (OHSU)