In 2019, seeing opportunities to improve health care through the rise and reach of digital tools, OHSU set a goal of doubling its number of patient virtual visits each year, aiming to reach 16,000 visits in 2020 and grow from there. During a virtual visit at OHSU, provider and patient connect for an appointment through a smartphone, tablet or computer using a secure video link.
This was an ambitious target, considering virtual visits numbered only in the low hundreds each month.
COVID-19 changed all that.
"In just one month — April 2020 — we surpassed our original target for the entire year," said Darren Malinoski, MD, FACS, chief clinical transformation officer and professor of surgery in OHSU's Division of Trauma, Critical Care, and Acute Care Surgery.
The growth of digital health tools
Malinoski co-leads OHSU's Office of Digital Health along with Mark Lovgren, interim vice president of OHSU's telehealth services. The department oversees online health care at OHSU in collaboration with partner health systems and information technology teams. Telehealth spans outpatient and inpatient services, including connecting OHSU specialists with community hospitals to support stroke, neonatal intensive care and virtual intensive care units across the state.
OHSU virtual visits
Malinoski said, "Because we had a digital strategy prior to COVID-19, with the contributions of many teams within OHSU, we were able to seize the opportunity to scale up quickly and implement the plans we had: We did five years of work in one year."
"We have seen massive growth in our capacity to serve patients and the community," added Lovgren. "Our goal is to focus on improving digital tools to make them become the new normal."
The COVID-19 Connected Care Center
Spring 2020 brought another crucial development in telemedicine: the COVID-19 Connected Care Center, a free public hotline made possible by a $1.6 million gift from the Morris-Singer Foundation. Callers to the Center with questions or concerns related to COVID-19 speak to OHSU registered nurses and other clinicians who can assess illness severity, provide education and coordinate care. The Center launched at the end of March 2020 to support patients in the emerging pandemic; it continues to answer questions on topics including symptom support, testing and vaccinations.
Anthony Cheng, MD, primary care physician and medical director for the COVID-19 Connected Care Center believes the hotline clearly demonstrates the importance of telehealth to support public health nursing and primary care. "We served many patients who would have otherwise not been able to access care," he said. "Our nurses have used the best of their clinical judgment, hearts and communication skills to make a huge difference in the lives of so many." (See page 28 for words from Serena Mott, a registered nurse who works at the Center.)
As of February 2021, there have been more than 110,000 hotline "encounters" — this includes both incoming and outgoing calls, test results delivered by MyChart, as well as patient questions asked using MyChart. Staffers at the Center have logged more than 12,000 hours of talk time.
Intensive care — up close and at a distance
Telemedicine is also taking intensive care to the next level. In June 2021, OHSU will launch the Virtual ICU (VICU), a partnership with General Electric supported by Phil and Penny Knight, along with Nike CEO John Donahoe and his wife, Eileen, and Nike executive chairman Mark Parker and his wife, Kathy.
The VICU can connect patients and providers in hospitals throughout the state: When a traditional ICU care model is unavailable or far away, the VICU provides services through in-room and mobile care equipment. This keeps patients in their local communities, reduces potential harm and costs in unnecessary patient transport, and supports local providers, said Malinoski. Additionally, during an infectious disease outbreak like the COVID-19 pandemic, the VICU also reduces personal protective equipment (PPE) usage and protects staff and patients from exposure to the virus.
The VICU software evaluates information gathered by the monitoring devices at the patient's bedside — such as heart rate, blood pressure, temperature, oxygen saturation levels and medication information — and helps the team predict potential medical issues that could arise. This enables the care team to stay one step ahead of a crisis. Through two-way video connections, providers can assess a patient as if they were there, but they're off-site.
"Our nurses have used the best of their clinical judgment, hearts and communication skills to make a huge difference in the lives of so many."

Anthony Cheng, MD
"The VICU provides a second ICU team that reviews a patient's vital signs and electronic medical record in real time and collaborates with the patient's existing care team at the bedside," said Malinoski.
Marshall Lee, MD, is the medical director of the VICU and has been working with GE to help develop the user interface for the VICU software. "If you're working with six different hospitals, you might have six different types of electronic medical records. We've designed our VICU so each patient's information and notes from other providers are all presented the same way," he said. This can streamline care; providers won't waste time looking for or miss critical information about a patient's health.
Currently, all adult ICU beds at OHSU as well as at OHSU partner hospitals Hillsboro Medical Center and Adventist Health Portland are connected; starting in mid-June, providers will work in the VICU patient support center in the Center for Health & Healing Building 2 on OHSU's South Waterfront to monitor patients at OHSU and Hillsboro, with additional offsite partners to join beginning in autumn 2021.
Matthias Merkel, MD, PhD, chief medical capacity officer for OHSU's Mission Control and professor and vice chair of critical care, says philanthropy let OHSU pursue next-level care when COVID-19 struck. "With lightning speed, we created a bed-tracking system which monitored a majority of hospital beds across Oregon in real time, in case of a surge in patients hospitalized with COVID-19. Philanthropy also allowed us to launch the full technology-enabled VICU, which brings us quickly to a patient's bedside — but allows the patient to stay in their community. That's a huge benefit. Family support is a crucial part of a patient's recovery."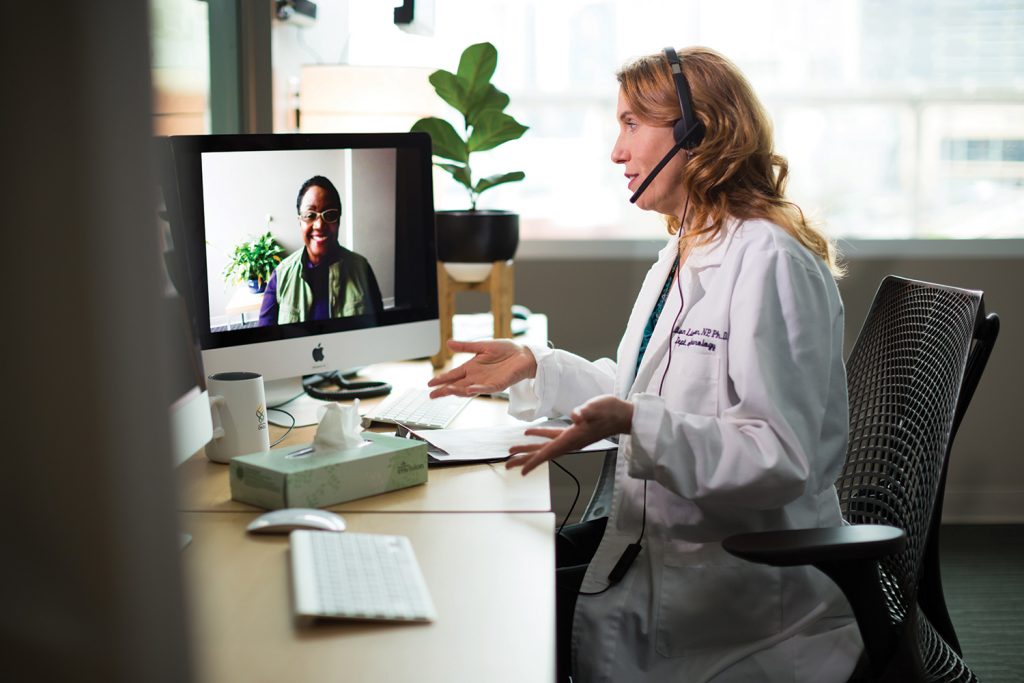 Endeavors such as the VICU will not only increase inpatient capacity in hospitals, but will also expand the capability for care at home. Hospital at Home, a pilot program with Medicare, will bring inpatient-level care to patients in their homes through telemedicine.
"Virtual health care and telemedicine are here to stay," added David Zonies, MD, MPH, associate chief medical officer overseeing critical care for OHSU health and professor of surgery. "There are amazing opportunities for education — our critical care fellows want to be part of this, because it's going to be a part of their normal workload. We have the chance to use this virtual platform to provide community outreach services with our health care partners at smaller sites. We can also apply it toward our academic mission, and study it to figure out the best practices in delivering advanced critical care."
Digital equality
Another tool that's crucial to the digital health experience is MyChart, a free website or app for all OHSU patients that can also link with records at other health systems. MyChart offers patients secure access to portions of their medical records; they can also contact providers, request prescription renewals, or send messages to their health care providers.
The digital health team is working on how to make MyChart work even better for patients and allow them to navigate what can be a complex system.
"We may head out to vulnerable communities to help overcome barriers to some patient experiences. We may create something like Apple's 'Genius Bar' where we show people how to sign up for MyChart and use it in creative ways," Lovgren said.
But even more important than tweaking the patient digital experience is ensuring those options are available to all who need them. Online tools, knowledge and access continue to be a challenge for underserved communities.
The team is developing new approaches, including aligning with OHSU's Diversity, Equity and Inclusion (DEI) efforts to connect with underserved communities. Research teams are also collecting data to identify specific disparities in digital health care; the goal is to better understand barriers to accessing digital tools so these barriers can be reduced.
Although that will take some time, the team also collaborates with health insurance plans and social workers bringing together resources to let patients access tools such as phones, broadband Internet and computer literacy programs. Those efforts will need to be as forward-thinking and as nimble as technology itself.
"Our biggest challenge is digital equity," said Lovgren. "When you introduce new modes of care, you have the potential to affect health care disparities. When it comes to technology-based solutions, we need to be proactive in identifying and addressing them."