Feb. 14 is World Congenital Heart Defect Day. In honor of the patients and families who navigate congenital heart defects, we asked Ashok Muralidaran, M.D., a few questions about his work, his passion for this topic and what the future holds for his field.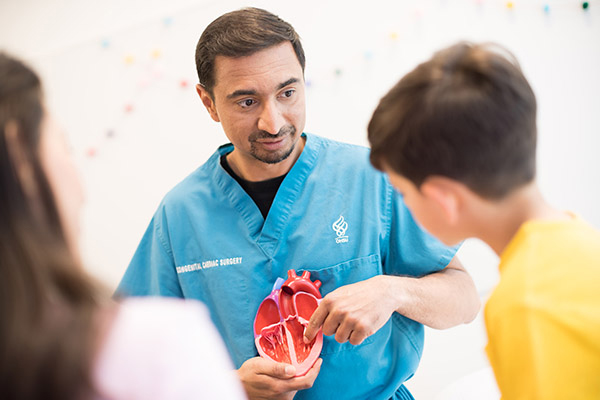 Muralidaran is the section chief of pediatric and congenital cardiac surgery at OHSU Doernbecher Children's Hospital, as well as an associate professor of surgery and pediatrics in the division of cardiothoracic surgery in the OHSU School of Medicine. His training and career have taken him from Chennai, India, to Yale University/Yale New-Haven Medical Center to Stanford University. Besides being an expert in cardiothoracic surgery, he has experienced this field as a parent after his daughter required open heart surgery to repair a congenital defect.
Here is what he had to say.
What excites you about coming to work in the morning?   
I really like what I do for a living. It is a true privilege and honor to be trusted by parents to take care of their child with heart problems — a responsibility none of us takes lightly.
A huge added bonus is the fact that I love our team, especially the camaraderie, collegiality and care we display toward each other.
What inspired you to specialize in pediatric cardiothoracic surgery?   
Pediatric cardiac surgery seemed to fall in the magic zone where multiple of my interests overlapped. I wanted to take care of children, wanted to be a surgeon and developed a fascination for congenital lesions of the heart during medical school. This specialty fell right at the intersection of these Venn diagrams — to my good fortune.
What research are you currently working on?  
We onboarded a surgeon, Yoshio Otaki, M.D., Ph.D., to the division of cardiothoracic surgery at the School of Medicine last year. He handcrafts PTFE (Teflon) grafts with valves that we use for certain surgeries. We are collecting data on the performance of these grafts. Other research items include a basic science study of a narrowed portion of the aorta in patients with a condition called the coarctation of the aorta. The narrowed portion is resected during surgery and collected. We are trying to find out the type of cells that present in this lesion and what led to this condition. We also recently performed lung function tests on newborns with critical heart defects in conjunction with Cindy McEvoy, M.D., M.C.R., a nationally renowned researcher in this field. We obtained some interesting data, which is being actively studied.
What is something you wish more people knew about congenital heart defects? 
I'd like people to know that congenital heart defects are fairly common and that even the most complex ones can be very successfully treated with good long-term benefits to the quantity and quality of life. In fact, in North America today, there are more adults living with repaired birth defects of the heart than children — so that says something! We still have miles to go and lots to learn, but we have come a long way and the future looks very promising.