Age: 12
Hometown: Ridgefield, Washington
Diagnosis: Hemolytic uremic syndrome (HUS) survivor
Shoe: Nike Air Presto
When Kylee was just 23 months old, an E. coli infection ravaged her body, especially impacting her brain and kidneys. She became confined to a wheelchair, unable to speak and needing a life-saving kidney transplant. However, this spunky, never-give-up girl knows exactly how to get her message across using a computer, eye movement and a series of expressions that her mom Jill calls "emoji language."
Despite all her physical challenges, Kylee is determined to get the most out of life and has no problem connecting with others. Kylee enjoys TOPSoccer, using her walker with her pals and is an active Girl Scout with some serious cookie-selling skills. (In fact, she's so good at it, her friends and family call her "Cookies.")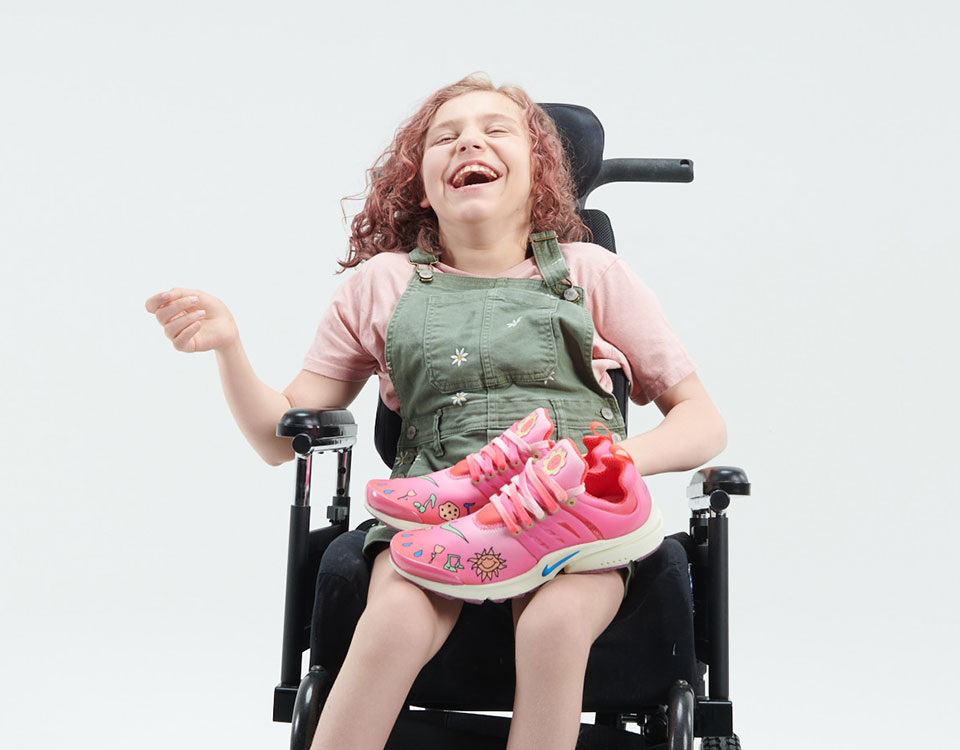 Kylee's love for art and fashion was put to good use in the creation of her Nike Air Presto. She used her communication device to select the colors, materials, and graphics, which are inspired by all the things that bring Kylee joy. Because she loves being in nature, Kylee's bright pink upper features a friendly sun, spring flowers, and raindrops to help bring on the blooms. The outsole is made from glittery rubber and you'll find her nickname on the heel.
According to her Nike design team, working with Kylee was just as much fun for them as it was for her. "It's been the best experience," said Nike Design Team Member. "Kylee is so positive and collaborative. It was an honor to bring her insights to life."
Her Doernbecher team is also filled with praise for this remarkable young patient. Doernbecher pediatric nephrologist Dr. David Rozansky says of Kylee, "Kylee always has a brilliant smile for all her friends, family and caregivers. She's also very artistic and loves all types of projects, from creating fairy houses to making collages and paintings. As a Freestyle designer, Kylee now gets to share her creativity with the world, and I have no doubt it will inspire others."
We couldn't agree more.