As our frontline workers, researchers and staff have rallied around the challenge of COVID-19, so have donors like you. Together, we have raised more than $11 million to support OHSU's response to this global pandemic — and we are fighting COVID-19 at every level. Read on to see the many ways that OHSU has responded to this crisis.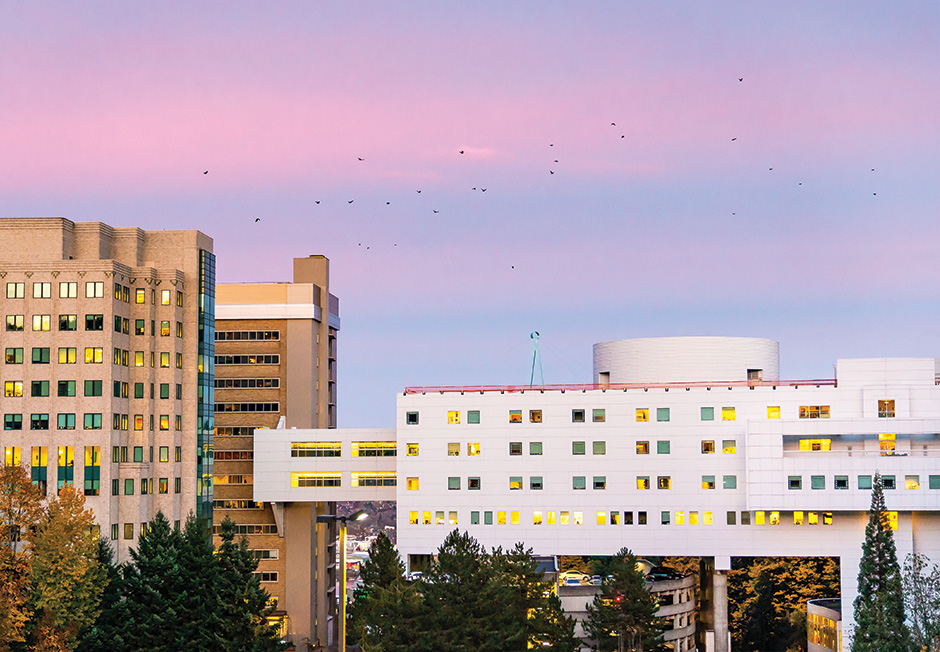 Health System
Enhancing Oregon's capacity to care for those with COVID-19

Virtual intensive care unit: When traditional bedside care isn't possible, a virtual ICU lets telemedicine providers collaborate with onsite teams.
Tracking hospital capacity, statewide: OHSU Mission Control analyzes data to match patient needs with available resources — a valuable tool should Oregon hospitals experience a rise in COVID-19 cases.
Training health care providers: You help OHSU maintain the highest educational standards while keeping students, faculty and patients safe through distancing measures.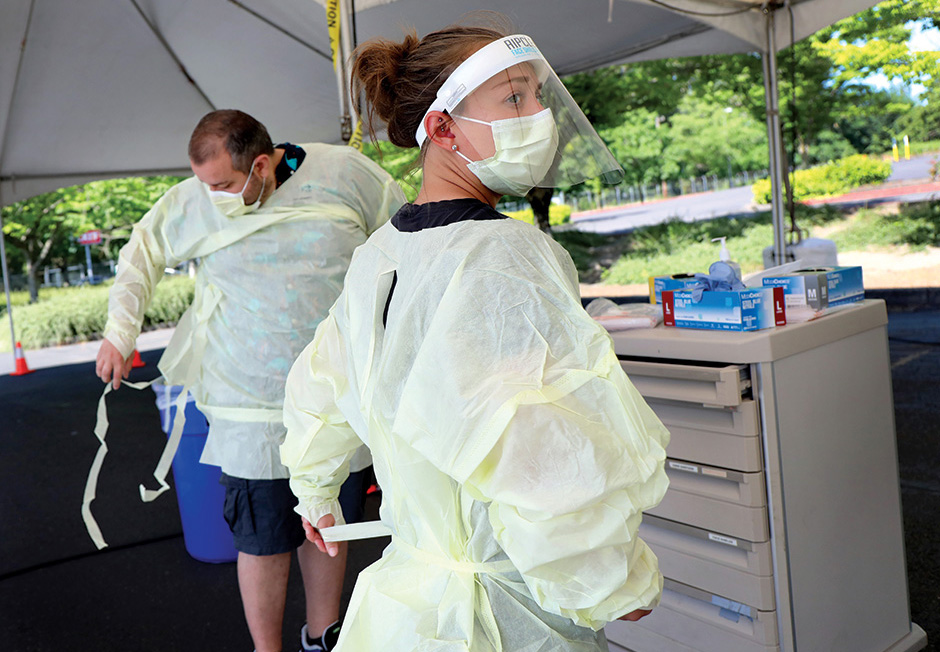 Community
Public information and testing

Telemedicine: OHSU expanded its ability to provide care through virtual visits, allowing patients to interact with providers from home: Visits skyrocketed to more than 20,000 by June.
Connected Care Center Hotline: Oregonians can call a toll-free hotline, staffed by OHSU primary care clinicians, to seek guidance about symptoms and care for COVID-19.
Coronavirus testing: OHSU built a clinical testing laboratory for COVID-19 — all from scratch. The brand-new microbiology lab lets OHSU researchers process 900 COVID-19 tests a day.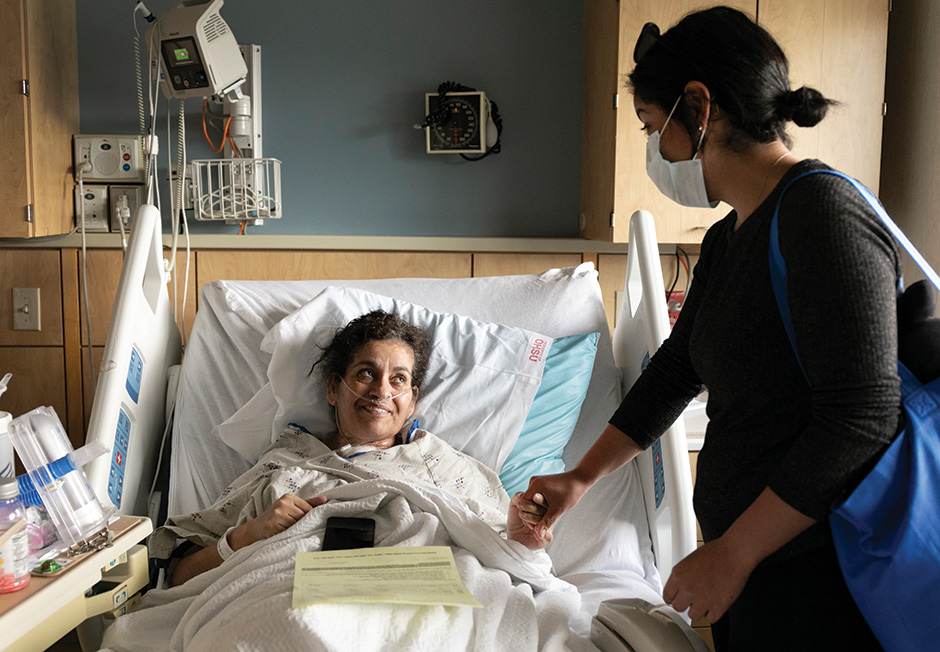 Human
Supporting the sickest patients and their caregivers

Ventilators and life support: OHSU researchers designed a 3-D printed ventilator using materials that cost less than $10.
Tablets for virtual visiting hours: Technology keeps patients and families connected when they can't be together.
Personal protective equipment: Your help ensures health care providers have the supplies required to do their jobs safely.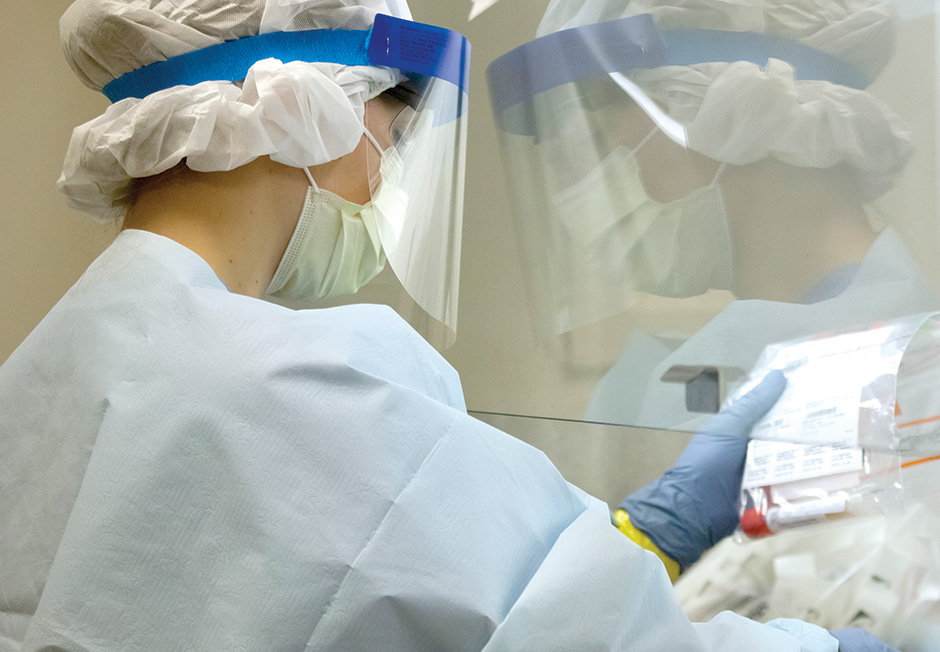 Microbial
Understanding the biology of COVID-19

Tracing the virus' origins and spread: OHSU researchers are using gene sequencing to learn how COVID-19 is spreading around the state, country and world.
Viral and antibody testing: OHSU is developing new kinds of blood tests to find COVID-19 antibodies. Researchers are studying if infected people acquire immunity to the virus.
The pandemic is affecting all of humanity, all over the world. Lives depend on accessing care, implementing successful public health initiatives, and fueling new discoveries. And OHSU is leading the way as Oregon's academic medical center. In just a few months we have accomplished so much. As OHSU's frontline workers, researchers and staff have rallied around this challenge, so have donors. Together we have been able to plan for an anticipated surge in patients with COVID-19, help flatten the curve by curbing the disease's spread, support our health care providers and mission-critical staff, and prepare Oregon to return safely to work and school.
Thank you.