Age: 14
Hometown: Winston, OR
Diagnosis: Traumatic accident
Shoe: Nike Go FlyEase
It was a morning like any other. Chris was riding his bike to school, thinking about his upcoming football game, when he was hit by a car. When Chris regained consciousness, he was at Doernbecher, fighting for his life.
The accident amputated his left leg and tore his aorta, while the impact damaged his spinal cord, restricted essential blood flow to his abdomen and shattered his left arm. Yet despite losing his leg and facing a long healing journey, Chris never lost his courage or positivity.
"I truly believe that his energy, kindness and strength contributed to his great recovery," said Doernbecher pediatric surgeon Elizabeth Fialkowski, M.D., FACS.
These days, Chris is back home and adjusting to his new reality by doing the things he loves best: hanging out with friends, playing video games and honing his woodworking skills with his grandfather. While he's in a wheelchair for now, he'll soon be fitted with a prosthetic leg that will allow him to start working toward his goal of returning to the football field.
Chris' Nike Go FlyEase reflects his love of Japanese culture and features a kimono-inspired wrap design and a cool graphic of Mt. Fuji on the tongue. Be sure to check out the inside, where you'll find a friendly panda hanging out with Chris on the beach. As for the phrase Smarter than you think on the sockliner, that's a nod to his passion for math. "I'm already doing algebra at the 11th grade level," he said proudly.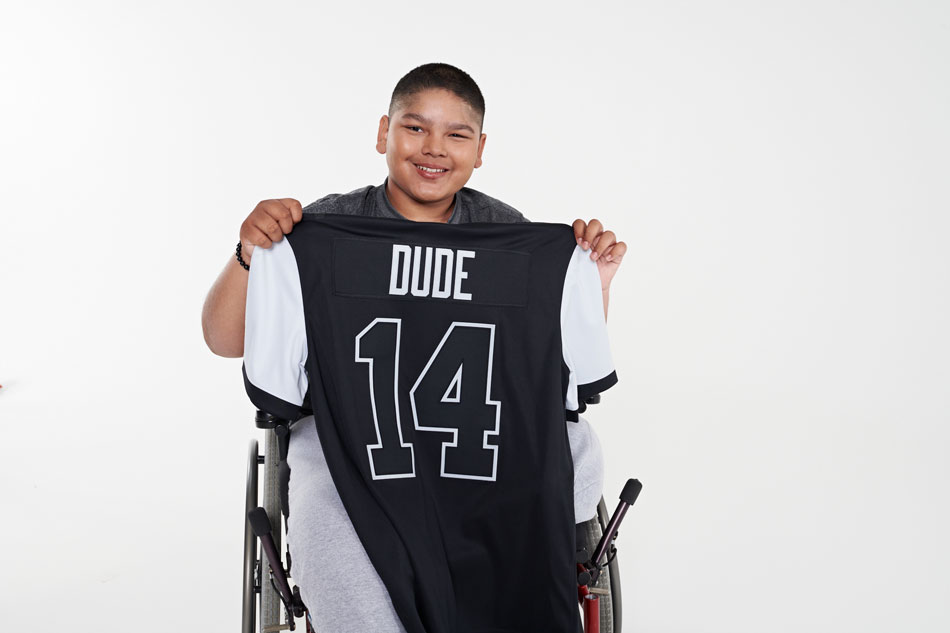 As he continues to recover, Chris relies on his faith and his family to help him get through the toughest days. He's also profoundly grateful for the medical team that helped save his life. "My doctors and nurses were so great," he said. "They made it possible for me to go home to my family and go back to school. I can't thank them enough."