Everyone at OHSU has a story. Patients, researchers, students, nurses, professors, doctors – each person has a story to tell.
Stories of resilience and healing, discovery and hope. Sometimes of loss, always of strength. Stories of family, of community. Stories of game-changing breakthroughs. Of transforming medicine. Stories of health and joy and life.
Stories of impact.
Your impact. When you give to OHSU and Doernbecher Children's Hospital, you change lives. You make thousands of stories possible, every year. Here are a few of the stories from the past fiscal year that illustrate the power of generous philanthropy.
Thanks to all our supporters and friends for being part of our larger story, and helping to create a healthier world.
---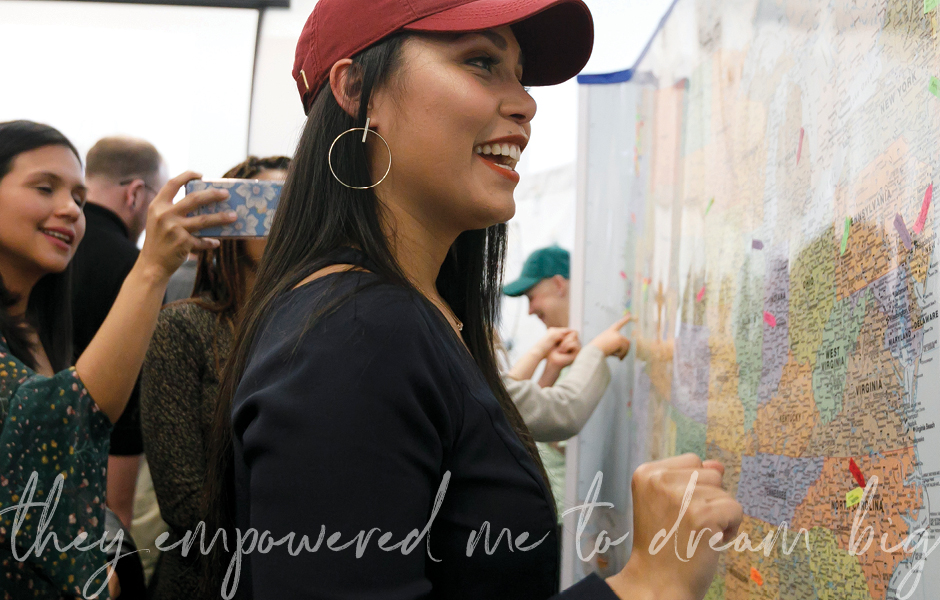 "I owe to OHSU a lot of who I am. They supported me, they encouraged me, they empowered me to dream big. I've found people who have motivated me, who've shown me the way, who paved the path before me, so that I could be an orthopedic surgeon."

Nattaly Greene, MD '19, OHSU School of Medicine graduate
Nattaly Greene arrived in America from Colombia at the age of 19 with two 55-pound bags and the drive to become a physician. She graduated from the OHSU School of Medicine in June 2019 — and will complete her residency at her top choice: Harvard.
For the second year in a row, the OHSU School of Medicine posted a 100 percent match — continued affirmation of OHSU students' excellence and their competitiveness for residency programs with the MD program's competency-based curriculum.
---
"It's one of the best groups of researchers studying ADHD in the country, if not the world."

Joel Nigg, PhD, director of the OHSU Center for ADHD Research
OHSU announced the establishment of the Center for ADHD Research in June 2019. The center's goal will match what Joel Nigg, PhD, has been working toward for two decades: to understand different causes of ADHD, find ways to detect it better and earlier, and then develop more effective treatments.
---
"My shoe is about what I've lived through, how much my family has supported me, and how much I love them."

Kirsten Brown, 16-year-old Freestyle designer
Doernbecher Freestyle celebrated its 15th year in 2018. Year after year, these young designers show the meaning of grace and courage to the world. By supporting them, this one-of-a-kind fundraising program has raised nearly $24 million.
---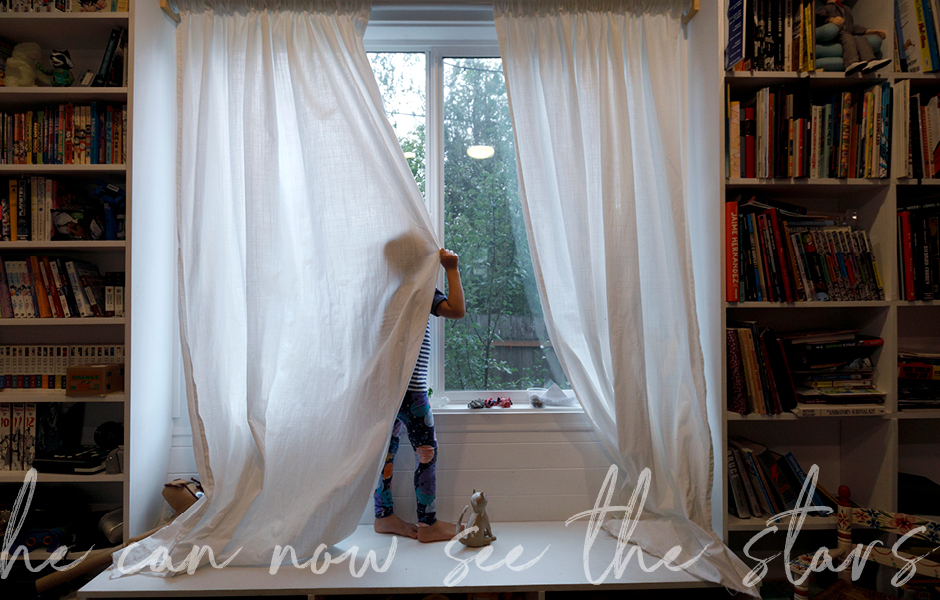 "Caspian can now see the stars. He no longer needs a cane. He can even read the cover of a book. To give him the opportunity to experience these things is indescribable."

Krista Soto, Caspian's mom
At age four, Caspian was the second patient in Oregon to receive a new gene therapy treatment to correct a genetic mutation that turned his vision dark and blurry. Until his treatment, his parents thought he would eventually go blind. Caspian's vision is already improved, and his parents have high hopes for his future. The OHSU Casey Eye Institute is one of nine U.S. institutions that currently offer the therapy, and is also participating in clinical trials for several other ophthalmologic gene therapies.
---
"I think one of the most striking and exciting elements of the new Knight Cancer Research Building is the 10,000-dot donor art piece in the entryway. I purposely walk in that entrance every day to remind myself of the greater purpose we're here for. Of how many people we are going to help."

Samantha Savage, senior research assistant, Knight Cancer Institute's Cancer Early Detection Advanced Research Center
The Knight Cancer Research Building opened its doors in September 2018. This unique new building houses a large and growing group of multidisciplinary researchers innovatively attacking cancer from every angle, including the largest early cancer detection program of its kind.
---
"Being able to give back as a nurse after my experiences at Doernbecher as a child is the most rewarding feeling in the world."

Alyssa Holmgren, OHSU nursing student
When Alyssa Holmgren was 13 years old, she had brain surgery at OHSU Doernbecher Children's Hospital. The nurse who cared for her before her surgery became Alyssa's greatest role model growing up. Now, she's attending the OHSU School of Nursing to bring the same kind of comfort to kids facing scary medical experiences.
---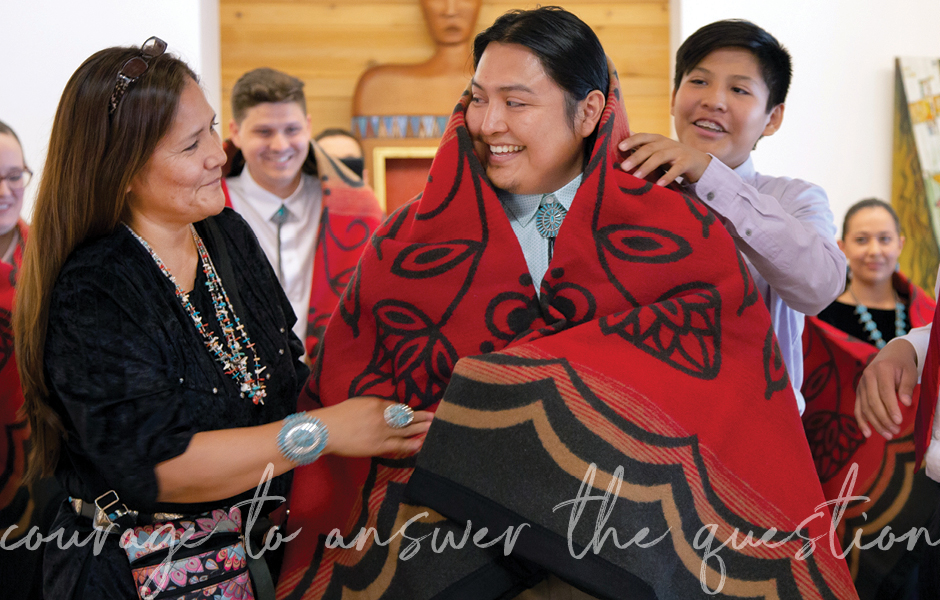 "When I look at you, I see the thousands and thousands of patients you will treat. And, one day, years later in a clinic, I see a child who will have the courage to answer the question 'What do you want to be when you grow up?' with 'I want to be a Native American doctor, just like you.'"

Erik Brodt, MD, founding director of the Northwest Native American Center of Excellence at OHSU
OHSU's School of Medicine is the only medical school in the country with a director of tribal engagement dedicated to bridging the gaps between medical institutions and the tribes they serve. Erik Brodt is working to build programs that provide a practical pathway to the medical profession for American Indian and Alaska Native people. NNACoE relies on philanthropic support for these key programs.
---
"It means a lot to us to be able to stay here at the Rood Family Pavilion. It's beautiful, it's peaceful, and it helps to be around others who have some idea what we're going through."

Walter Lathe, Jr., guest at the Gary & Christine Rood Pavilion
The Gary & Christine Rood Family Pavilion opened its doors in spring 2019. This new home for healing has already served 1,440 families, who have traveled long distances to OHSU and Doernbecher Children's Hospital for specialized care unavailable in their home communities.
---
"When doctors deliver bad news to their patients, every word carries meaning, and you need to choose your words very wisely. All doctors can learn these skills, and the good news is that there are now excellent training programs available to support them."

Ron Naito, MD '78
The OHSU Center for Ethics continues to advance its leadership in training current and future physicians to communicate bad news with compassion. Katie Stowers, MD, a palliative medicine physician and assistant professor of medicine, will teach serious illness communications skills as the inaugural holder of the Ronald W. Naito Directorship in Serious Illness Education, made possible by a generous gift from the Ronald W. Naito MD Foundation.
---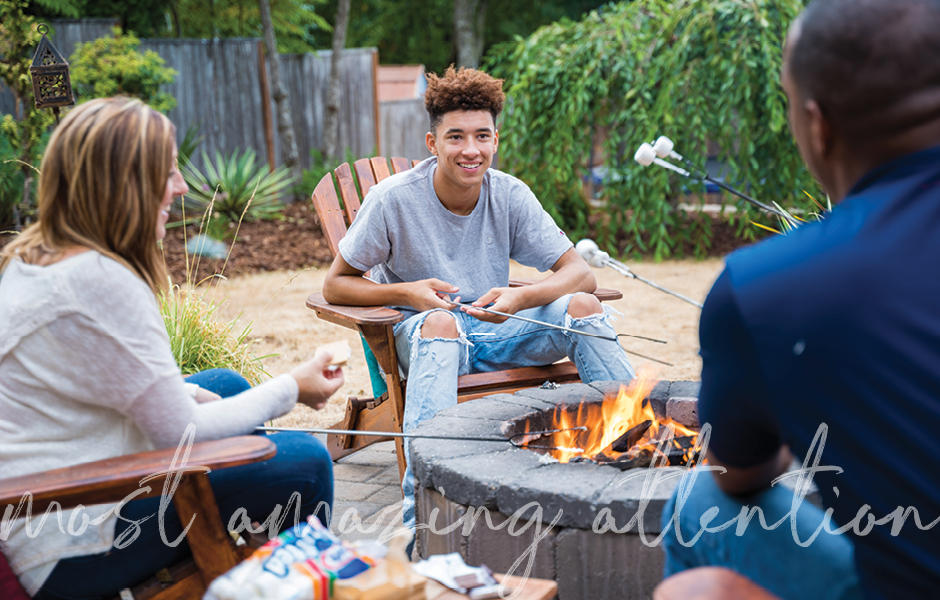 "We saw the most amazing attention paid to our son during the most traumatic time of our lives."

Melvin Young, Jordan's dad
Jordan Young was born with a bad heart valve. He faced the possibility of never being active. A lifetime of sitting on the sidelines. But Jordan didn't give up. And neither did his incredible team at Doernbecher. Over 15 years and through two open-heart surgeries, they made sure Jordan stayed in the game.
---
"I am really optimistic. I hope that this will literally be a missing link that could change the lives of people with MS."

Laura Wieden, OHSU multiple sclerosis patient
Researchers at OHSU have developed a compound that stimulates repair of myelin, the protective sheath that covers nerve cells in the brain and spinal cord. This scientific breakthrough provides new hope for millions of people living with multiple sclerosis, as there are currently no drugs available that promote myelin repair. It's one of many discoveries the OHSU Brain Institute is making to advance brain health across the lifespan, from childhood autism to late-stage Parkinson's and Alzheimer's.
---
"Today, Paul Casey continues to propel the OHSU Casey Eye Institute's bold mission of eliminating blindness."

David J. Wilson, MD, Paul H. Casey Chair in Ocular Oncology, director of OHSU Casey Eye Institute
Paul Casey made a $5 million gift to the OHSU Casey Eye Institute that will dramatically enhance the institute's ability to expand its gene therapy work. The Paul H. Casey Ophthalmic Genetics Division in the new building currently under construction will accommodate a growing number of clinical trials and gene therapy patients from throughout the world, and closely collaborate with the Elks Children Eye Clinic to care for pediatric patients with genetic eye disorders.
---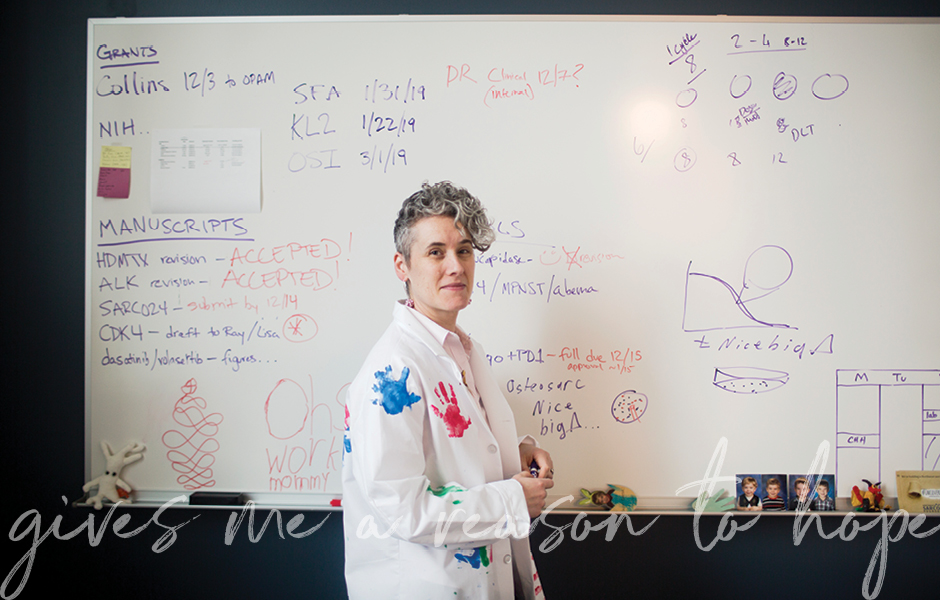 "Treating patients in the clinic gives me a reason for doing the research. And doing the research gives me a reason to hope."

Lara Davis, MD, physician-scientist at the OHSU Knight Cancer Institute
Lara Davis is on a crusade against sarcoma. Her research focuses on finding new combinations of drugs that will effectively treat this aggressive, devastating cancer. Recently, Davis was one of 10 researchers nationwide awarded with a Cancer Clinical Investigator Team Leadership Award.
---
"We need a Dr. Chang there for every Oregonian, at any time, in their moment of need. Philanthropy is at the heart of making that happen. To bring the best and the brightest, equip them, retain them, and fund the research they do requires transformational philanthropy."

Nate Selden, MD, PhD, FACS, FAAP, Mario and Edith Campagna Chair of Pediatric Neurological Surgery
One year after a devastating car accident, Ana Wakefield returned to OHSU to say thanks to the doctors who saved her life.
---
"We have more exciting tools and more opportunities now to make a difference than ever before."

Gordon Mills, MD, PhD, Wayne and Julie Drinkward Chair in Precision Oncology at the OHSU Knight Cancer Institute
The OHSU Knight Cancer Institute launched a promising cancer-fighting technology called SMMART. This new treatment platform uses drug combinations, like a one-two punch, to stop tumors before they can adapt and become drug-resistant. Already the technology is experiencing exceptional success in its first clinical trial of triple-negative breast cancer.
---
"Our journey started with complete uncertainty. Because of our prenatal diagnosis and the supportive care team at OHSU Doernbecher, we have our son and his future is clear and bright."

Bianca Anderson, Jacob's mom
Five months before he was born, Jacob Anderson V was diagnosed with a congenital heart defect. The OHSU Fetal Therapy Program monitored Jacob's fragile heart in the womb and, together with his parents, put together a customized care plan. When Jacob was born, OHSU was ready — saving Jacob's life and setting him up to thrive.
---
"This collaboration marks a significant milestone for the state of Oregon."

Danny Jacobs, MD, MPH, FACS, president of OHSU
OHSU and the University of Oregon announced plans to create a joint center in biomedical data science, empowering researchers at both institutions to attack cancer with big data. The initiative combines the expertise of UO graduate programs in areas such as computer science, math, life sciences and ethics with OHSU's large-scale efforts in precision medicine to more quickly identify cell abnormalities that lead to cancer and other diseases.
---
"Here at OHSU we love the big challenges. We are here to do the hard work, ask the biggest questions. We aren't just doing this because it's cool technology. We want to save lives."

Luiz Bertassoni, DDS, PhD, assistant professor, School of Dentistry
Luiz Bertassoni is an international pioneer in bioprinting, where scientists use 3D printers to create or "print" human tissue. He was recruited to OHSU to expand the research program at the OHSU School of Dentistry, and he is also a member of CEDAR at the Knight Cancer Institute. Bertassoni and other researchers have engineered a material that replicates human bone tissue with an unprecedented level of precision, from its microscopic crystal structure to its biological activity. They are using it to explore fundamental disease processes, such as the origin of metastatic tumors in bone, and as a treatment for large bone injuries.