Pediatric nephrologists are a rare and special breed. While adult patients generally come in one size, these kidney specialists work with preemies as small as one kilogram – and teenagers with their own set of health challenges. But there are far fewer pediatric specialists than adult nephrologists, and kidney centers reside in urban centers, so children and families often have to travel long distances to see a children's kidney doctor.
When Randall Jenkins, MD, nephrologist at OHSU Doernbecher Children's Hospital, heard from a former medical school classmate that they needed help in Idaho, he went. Once a week, for 18 years. During that time, Jenkins was the only doctor who served children with kidney problems in the entire state of Idaho – and he fit in these appointments on top of his regular schedule of patients in Oregon.
Jenkins was recently recognized for his dedication to young kidney patients across the region when he was named the inaugural Y. B. Talwalkar Professor in Pediatric Nephrology. The endowed position was established by the Talwalkar Family Charitable Fund, a private family fund based in San Francisco, to honor the legacy of Y.B. Talwalkar, MD
"Randy is not just an excellent physician scientist – he's also a good person. He's already earned a reputation for tackling the most complex kidney cases, and it was a pleasure to see him receive this distinction. I know he will go on to do great things in nephrology."

Sharon Anderson, MD, dean, OHSU School of Medicine
Dr. Talwalkar was a pioneer in the field of pediatric nephrology in the late 1970s and early 1980s, when Dr. Jenkins served his residency at OHSU.
"We had similar interests," said Jenkins. "He was interested in dialysis of infants, a field which was just beginning at that time. He liked tinkering with new inventions and new procedures, all of which made me interested in pursuing nephrology."
Changing the patient experience
There are two kinds of kidney dialysis: hemodialysis, which requires patients to go to a kidney center to have the procedure three times a week, and peritoneal dialysis, a technique patients can do at home.
The in-home method, which is used by 60 percent of children who require dialysis, was pioneered by Dr. Talwalkar in the late 1970s, and it was a game changer. As described in a tribute to Dr. Talwalkar, continuous ambulatory peritoneal dialysis was new to Oregon in 1979 – and the world. The method increased survival rates and made dialysis less of a burden for families.
Dr. Talwalkar's dedication to advancing nephrology and bringing hope to young patients made an enormous impact. Dr. Jenkins is a physician scientist who has continued his legacy, says Sharon Anderson, MD, dean of the OHSU School of Medicine.
Anderson, a nephrologist herself, spoke at the investiture ceremony when Dr. Jenkins received the professorship: "I well remember a time when Randy was the only pediatric nephrologist in the state – and was always available to take our calls when we needed help."
"Randy is not just an excellent physician scientist – he's also a good person," said Anderson. "He's already earned a reputation for tackling the most complex kidney cases, and it was a pleasure to see him receive this distinction. I know he will go on to do great things in nephrology."
Jenkins and the kidney team at Doernbecher Children's Hospital handle the most complicated kidney cases in the region. One of his extraordinary patients is Logan, who was life-flighted to Oregon from Idaho as a baby and needed both a kidney and liver transplant to survive. His mother donated both. She remembers Logan's first smile occurring at Doernbecher after rigorous treatment. Today, Logan is a 14-year-old who loves basketball and running on the track team.
Support in perpetuity
Endowed professorships are given to faculty members who have achieved exceptional distinction in their field, and they allow world-class physicians and scientists to pursue promising work at OHSU that will hasten the pace of discovery.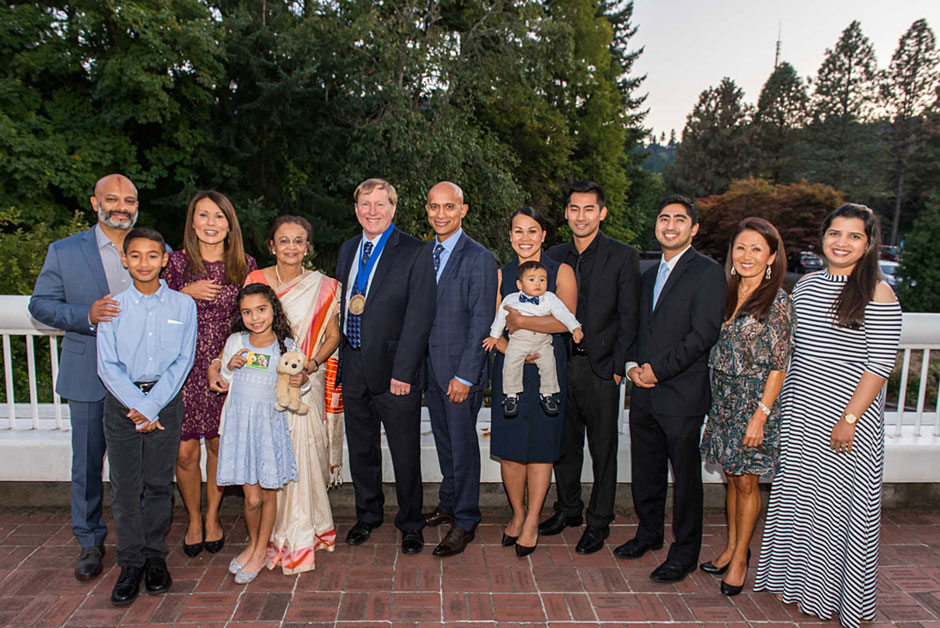 How does it feel to be the inaugural Y.B. Talwalkar Professor?
"It's a little daunting," Jenkins said. "I feel responsibility to use what they provided wisely. They want to see the program flourish. That's something I need to help make happen."
Dr. Jenkins serves as the head of OHSU's Division of Pediatric Nephrology, and the Talwakar Professorship has given him the resources to recruit more staff – and do more research.
Jenkins is currently poised to publish research that could have far-reaching impact for all children, not just kidney patients, after he and his colleagues observed a strange phenomenon with tiny patients in the Neonatal Intensive Care Unit (NICU). These infants were leaving the NICU with high blood pressure.
After collecting data, Jenkins, and David Rozansky, MD, PhD, professor of pediatrics, and Ladawna Gievers, MD, assistant professor of pediatrics, published a paper detailing this newly-discovered type of hypertension in the journal Pediatric Nephrology. What would cause high blood pressure in premature infants? They suspect that plasticizers, called phthalates, are to blame. These compounds, which make plastics soft, are found in the medical equipment in NICUs around the world, but they also appear everywhere in modern life – in scented products, in carpeting and car interiors.
"This isn't just applicable to premature babies. It raises blood pressure in everyone who comes in contact with it," Jenkins said. "And it's not just in medical devices and plastics. Mac and cheese is loaded with it."
Jenkins' research team is scheduled to present its study in January 2018. They have submitted a paper to the New England Journal of Medicine. If it gets attention, Jenkins' research that started with premature infants could influence an entire industry.
Read the story of Logan and his mom
Read a tribute to Dr. Y.B. Talwalkar
Read about the Talwalkar investiture ceremony and learn more about the Talwalkar Family Charitable Fund